The launch of our DBMH CAMP is finally here and in fact, you can practically smell the S'mores roasting on the campfire.
Until then, though, you can feast yourself on a few of the content tidbits we're exclusively previewing — if you haven't checked them out already, head over to our blog to see the rest.
In this post, we'll dip into one of our DBMH Online Workshop Speakers', Benj Haisch's, Camp session: 'Creating Your Legacy and Finding Your Why'.
If you like the sound of what Benj's got to say, then make sure you check out our online course asap!
For now, let's cut to the chase.
You're angry about shooting shit weddings, huh?
Well. "There are no shit weddings", says Benj.
Here's why…
True, Not All Weddings Will Give You The Creative Outlet You Crave
Sometimes you get those absolute dream clients — the ones who totally get you and what your photography is all about. They challenge you creatively. Their interests and visions help push you out of your own comfort zone. And you learn so much from working with them.
Sometimes you get those clients. Other times you don't.
And that's absolutely okay — not every wedding will be your style, not every photo shoot will end up in your portfolio.
So just because a certain project might not ignite a fire in you, doesn't mean you should approach it any differently. It's still someone's most magical day of their lives. Their wedding has still had the same amount of love, energy and passion put into it… Even if the end result isn't quite to your taste.
Every client deserves your very best!
Do Try Your Hardest To Fit In
As a wedding photographer, you need to be both – best friends with everyone in attendance and be a fly on the wall, to capture authentic, unposed moments.
You've kinda got to fit right in, right away.
… and you still need to be friends even if the groomsmen get a little drunk or the bridesmaids ask for a hundred photos to be taken until they find one they're all happy with.
Even if the people you encounter aren't an immediate match – they're part of your couple's big day. So focus on what's loveable about them and do your best to become a part of their friend group, if only for a day.
Do Make A Big Effort To Capture Everyone And Everything
Okay, so you're feeling a little deflated behind the lens. In those moments, it's easy to miss opportunities for great shots because you're just not feeling the vibe.
But just because you don't consider something interesting or "photo-worthy" doesn't mean that it doesn't mean something to your couple.
Maybe they've put a lot of thought into the decoration in that dark corner. Maybe grandma made that cake. Maybe the photos are a little awkward, but it shows the reunion with a friend they haven't seen in a decade.
By staying curious and going the extra mile you will get to know your couple better, understand what's important to them on the day and which moments matter to them. And whatever matters to your couples should matter to you, too.
Do Keep A Positive Mindset
Honestly, whether you're having the best or most boring time at a wedding, mindset is always what counts.
Your mindset is what your clients will remember you for: were you energizing and inspiring, fun and playful? Did you make all their photography dreams come true? Did you make them feel at the center of the universe?
If you let yourself fall into the trap of saying, "Well this is a shit wedding", then chances are your photos will turn out shit, too.
So, remember there are no "shit weddings" — only shitty mindsets.
Don't Forget: This Isn't About You
The bottom line? Each wedding you shoot is about the happy couple. Not about you.
It's easy to dismiss a project as a 'write off' if you don't vibe with the clients immediately… but don't lose sight of your purpose: to capture truly incredible wedding photos, that every couple can cherish forever.
If you need to learn more about keeping a positive, collaborative mindset — and prioritizing your clients' needs while still feeling creatively fulfilled — then make sure you sign up for the DBMH CAMP right here.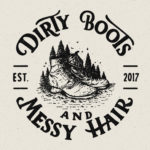 Written by:
Dirty Boots & Messy Hair Team
Connection is what it's all about. Feel free to reach out to us with any comments or questions you might have, even if it's only to say hello. If it wasn't for our beautiful community, this place just wouldn't feel the same.
Photographer Tips
09 Dec 2019