Have you heard the amazing news? We'll soon be launching our very own DBMH Online Camp to help budding and experienced photographers supercharge their business.
With lessons from industry professionals, the camp is a one-stop-course that'll help you build the sustainable, creative career you've been dreaming about!
Bringing the Camp to You…
Today, we're excited to share with you an exclusive preview of Anni Graham's workshop on how to become an elopement photographer.
Anni is a super talented, world class photographer who knows better than most what it takes to book your first elopement shoot. From attracting clients to delivering a gold-standard product, her insight is sure to grow your business to new heights.
Ready to learn more?
Let's go!
Tip 1. Show What You Wanna Shoot
When booking an elopement photographer, couples are going to look for whoever most closely matches their wedding vision.
But what do you do when you're trying to book your first elopement shoot, and haven't yet got any experience to shout about? Or you're looking to move into a new niche, and just need your big break?
It's simple: show what you want to shoot.
And if you want to photograph an elopement shoot — just do it!
Find a couple that is up for a little adventure. Get in touch with vendors and wedding dress designers and ask them whether they'd like to provide you with some flowers, details or stylish clothes in exchange for a bunch of cool images. Hop in a car. Book a flight. Go to the kind of places you'd like to be booked for.
By showing what you can do before expecting to get paid for it you are way more likely to attract clients who want the kind of work that aligns with your creative vision.
Tip 2. Target Your Ideal Elopement Client
Whilst you'll probably already be used to targeting general wedding clients, reaching elopers can get a little trickier.
You've got to:
present yourself as an expert in elopement photography, and;
specifically present this expertise to the right clientele.
But how do you reach the clients that are right for you? The answer lies in thinking like an eloper, and homing in accordingly.
Instagram, for example, is a very popular platform for eloping couples. So, to get in on the demand, upload your favorite elopement shots on the regular, make sure you add relevant hashtags and also include a geotag to target people researching specific areas you'd love to be booked for again.
To further establish your expert status, you can also write blogposts with elopement tips – either for your own blog or online wedding magazines. Use every opportunity you can to prove to your clients that you know exactly what you're talking about – and that the path to their dream elopement is through you.
To target your ideal clientele, you've got to act like your ideal clientele. Think like they do, be where they are and put yourself right at the center of their day-to-day lives.
Do this, and you'll boost your booking rate in a flash.
Tip 3. Work Through The Logistics
It's easy to get lost in the romance of elopement.
But step away from all the excitement, and you'll soon realize that there's a lot of work that goes into planning an elopement before all the fun kicks off.
That's why it's so important to work through the logistics of accompanying your elopers before they sign on the dotted line.
Sure, you might be super eager to seal the deal on your first elopement but taking the time to get organized is the key to making that first booking one of many.
How are you going to get to the destination?
What kind of clothes do you need?
What's the weather like?
How remote is the shoot going to be?
These are just some of the questions you're going to need to answer if you want your first elopement shoot to be a success.
You're also going to need to cover the technical stuff, too. Make sure your gear is well-protected for whatever the environment might throw at you.
And don't forget about your own well-being, either. Are you up for the challenge?
Whatever the context, an elopement shoot can be a logistical nightmare — but it doesn't have to be!
Get one step ahead, be prepared and take some time to work through the logistics of your first elopement booking. Trust us (and trust Anni!) your organization will seriously pay off.
Whoever looks at Anni Graham's portfolio can't help but be impressed by her fantastic eye for emotional moments, her high-profile clientele, her busy travel schedule.
It would be easy to assume that she's just naturally gifted and got super lucky, but that couldn't be further from the truth.
The name of the game? Hard work, smart goal setting, a commitment to her craft.
Back in the day Anni was shooting local church weddings, dreaming of building a business around her love for travel, adventure and more intimate weddings. Unlike others who would've quickly dismissed the idea as unrealistic, she found a way to make it happen.
These days she is in the top percentage of elopement photographers, highly sought after by couples getting married all around the world.
Anni invites you into the heart of the DBMH Online Camp. This is where she will be sharing her best kept secrets and step by step approach to transitioning into elopement photography.
Can't wait to hear more?
Click here to be the first to know when the DBMH Online Camp goes live.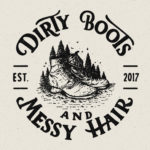 Written by:
Dirty Boots & Messy Hair Team
Connection is what it's all about. Feel free to reach out to us with any comments or questions you might have, even if it's only to say hello. If it wasn't for our beautiful community, this place just wouldn't feel the same.
Photographer Tips
08 Dec 2019