No need to sit tight (and sign up, by clicking here!) for the full DBMH Camp, our 17+ hours comprehensive online workshop featuring four mega stars of the wedding photography world (shout out to Benj, Janelle, Peyton and Anni!) – because the DBMH Online Camp is live, friends!
Trust us, we cannot wait to invite you in and hang out at the virtual campfire with all of you.
This post is another way we wanna give you a little taste of what's to come.
The incredible Janelle Elise, brilliant wedding photographer and DBMH Camp speaker, is booked solid all year round (and by that we mean: you gotta check out the dreamy winter weddings she captures on the regular!). But she's not only a super talented photographer, she also knows exactly what it takes to turn early inquiries into successful bookings.
Want to learn how?
Read on for three top tips on how to turn inquiries into bookings, below!
(And remember — today's blog only scratches the surface! Keep checking back to learn how Janelle runs her successful business – or better yet, sign up here to get on the DBMH CAMP list)!
#1 — Reply As Quickly As You Can
We've all been there.
Reaching out to a business and waiting days and days (sometimes even weeks) for a reply.
It's unprofessional, shows a real lack of customer service, and usually gives us enough time to seek out someone else for the job.
The truth is: in a world where most business communication is digital, slow replies are a serious turn-off. No one has the time to wait endlessly for a response, and no one wants their project to fall behind on the back of a slow pace.
That's why replying quickly — right from the very start of the first inquiry — is the key to booking success.
In quickly replying to those first inquiries, you'll show your couples that you really care about them and their shoot. You'll also prove that you're on the ball, you work hard and will get things moving right from the word go.
To a potential client, these are qualities that'll help you and your business seriously stand out from the crowd. With speed, focus and diligence… you'll be turning those inquiries into full bookings in no time!
#2 — Always Make It Personal
A couple photoshoot is a private, intimate and romantic affair — so why should you be picked to capture it?
Sure, you might be the best photographer around, but there's a lot more to booking clients than having the technical talent.
The key is to instill a trust in your client — a trust that you understand them, their relationship and the vision they have for their shoot.
But how do you achieve that trust so early in the booking process?
In three words: make it personal.
By tailoring your communication to specific clients, you're more likely to turn their inquiry into a full booking.
Make yourself accessible, be there when they need support, and deal with each client's request as quickly and as specifically as you can.
Put simply, treat each client uniquely and pay careful attention to what they're looking for. Do this and watch your booking rate soar!
#3 — Target Your Ideal Clientele
A high inquiry-to-booking rate depends pretty heavily on what those initial inquiries actually are.
Are they well-targeted inquiries?
Or were they never quite right for you, in the first place?
The answer to these questions is the reason for your success — or lack thereof — in converting early contact to fully-secured clients.
Why?
Because if you're targeting the wrong market: you're going to really struggle to achieve any genuine leads.
The key, then, is to gain interest from clients that are right for you… clients that are actually suited to what you offer.
What couples does your brand and marketing strategy target? Does your portfolio represent the kind of work you'd like to shoot more of? Who is the demographic that it will appeal to?
Take it from us: potential clients will quickly filter out any photographers who don't fit the aesthetic they are looking for. And that's totally fine, because not everyone is going to be your ideal customer. But, to first get inquiries, and then turn them into bookings, you need to know who is going to want your specific type of wedding photography.
So, because of that, you should target your portfolio, website and overall advertising — very specifically — to couples who want what you're selling!
This way, any inquiry your targeting attracts will have a much higher chance of becoming a full booking.
So, from your pricing, right to the highlight shots you share online — the trick is to always target your dream clientele.
And that's the key to booking success!
Hopefully, you're now feeling super eager to turn all your inquiries into new and exciting bookings.
But before you do, there's so much more to learn about attracting clients, impressing them, and building a photography business that's seriously successful.
So, to achieve just that: sign up for the DBMH CAMP and get ready to learn from the amazing Janelle!
Hope to see you soon, campers!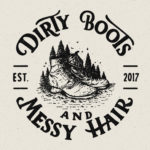 Written by:
Dirty Boots & Messy Hair Team
Connection is what it's all about. Feel free to reach out to us with any comments or questions you might have, even if it's only to say hello. If it wasn't for our beautiful community, this place just wouldn't feel the same.
Photographer Tips
09 Dec 2019