If you're an adventurous bride, then finding a gown for your day is only half the equation. You need to couple your dress with the perfect hair style to compliment your sassy, daring spirit.
With so many amazing looks to choose from, it can be difficult to know where to begin. So if you're searching for inspiration for your wedding hair style, then look no further. We've rounded up our favourite looks for the soon-to-be wild bride to get your hairspiration flowing! 
Every wild queen needs a crown, and there are few crowns more fitting for a wedding than one adorned with flowers. 
You can either opt to purchase a faux flower crown (check out Etsy for tons of choices), or you can craft your own with fresh stems. Simply pick flowers that fit the vibe of your day, or that match your bouquet, and with just a few simple materials you can create your own floral masterpiece.
 Take a look here for a simple DIY guide to create your own flower crown.
If you're a wild bride in search of a simple, understated hairstyle, then this beautiful chignon up do could be just for you. This half up, half down style is the perfect way to create a relaxed look that will be just as beautiful when you walk down the aisle as it will be practical when you make shapes on the dancefloor!
Braids are a great way of expressing your wild personality and adventurous spirit. Opt for a simple half-up, half- down look with braids framing your face coupled with toussled tresses for an effortlessly elegant look. 
The great thing about braids is that you can be super experimental. A braid look can be both simple and intricate, so experiment to find a style that suits your unique vibe.
For something a little more quirky, go for a fishtail braid (which uses four rather than three strands of hair). 
Pull the finished braid wide let strands fall loose around your face and et voila! You've got a goddess-like wedding style that will have you oozing sultry, sassy, sexy vibes. 
If you're a wild bride, then chances are you'll need a hair style that is versatile and low-maintenance. That's why we're so in love with keeping it simple with a down-do. 
Create simple curls or waves and then accessorize with something that speaks to who you are as an individual, Let the breeze flow through your hair and embrace having a style that will truly allow you to feel wild and free.
We are so in love with this relaxed look. This chignon up-do is the perfect way to create a relaxed up-do look that will both frame your face and put your dress front and centre. 
Curl your hair before putting it up and leave a few strands loose to create gentle lines around your face. The best thing about this look is that it will look more and more gorgeous as the day goes on and it becomes more unstructured.
Having short hair shouldn't restrict you with your wedding day look. We absolutely love this textured short bob look. Use salt spray and scrunch dry your hair for an edgy finish that will have you looking utterly smokin' on your big day.
And there you have it, our fave wedding hair styles for the soon-to-be wild bride. Whatever you decide for your day, make sure it will be able to withstand all the things you have planned. The last thing you want is a hairstyle that leaves you feeling restricted or uncomfortable, so play around ahead of the big day and get creative!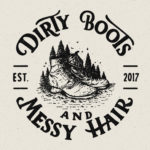 Written by:
Dirty Boots & Messy Hair Team
Connection is what it's all about. Feel free to reach out to us with any comments or questions you might have, even if it's only to say hello. If it wasn't for our beautiful community, this place just wouldn't feel the same.
Wedding Planning
10 Oct 2018