Getting married is hands down one of the most beautiful and exciting things you will do in your life. No matter what kind of day you go for – be it an elopement or a more traditional wedding – it's important that you choose the right wedding photographer to capture your day.
But with so many different styles of wedding photographers out there, how do you find the perfect person for you? In this article we've pulled together some tips and tricks to help you make the best decision for your day.
Create a social media shortlist
Social media is literally jam packed full of the most incredible wedding photographers. Hit Instagram and start searching for different accounts to hone in on the style you like. Some great hashtags to find wedding photographers are #destinationweddingphotographer #adventurouswedding #weddinginspo #indiewedding and #coupleshoot, or you can always browse through the selection of super talented photographers that we have curated @dirtybootsandmessyhair. 
When you start to browse different photographer accounts you'll begin to get a feel for the general style and vibe that you like. Are you a more traditional kinda couple? Do you want edgier, more desaturated shots? Do you like natural shots or posed? You'll only really get a feel for what you like when you see other shots in action. So grab a coffee, cosy up on the sofa, and spend some time simply creating a shortlist of photographers that fit your style and that shoot in your location. Instagram have a really handy bookmark feature which is great for this.
Choose someone who feels like a friend
When you've created your shortlist and whittled down to a handful you really like, it's time to start reaching out to them. It's important that you arrange to meet or Skype with your potential photographers to see how you gel with them. You might absolutely love someone's creative style, but for whatever reason feel stiff or uncomfortable around them. And this will really show in the final photographs. 
Don't settle for less than a photographer that you really connect with. Grab coffee, chat, see what you have in common. Make sure they feel like someone you could spend a whole day with. When it comes to your wedding day, your photographer is going to be up close and personal all day. You want to make sure it's someone you fully trust, and who won't feel distracting.
Make sure they are open and transparent about their pricing
The cost of a wedding photographer is understandably an important deciding factor for many couples. That's why it's so important that your wedding photographer is open with you about the true cost of their services. Most photographers will offer a variety of packages to suit different budgets, so be sure to ask questions about exactly what will be included within your price bracket. 
It might feel a little awkward, but it's really important to ask about any hidden extras, for example additional VAT charges, or travel expenses. Before agreeing anything with your photographer, first create a detailed quote together so that you can be sure you're both exactly on the same page.
It's really easy to fall into the trap of choosing the photographer that gives you the cheapest quote. This is a biiiig mistake, and is one of the most common reasons that couples end up disappointed with their final photos. The age old adage "you get what you pay for" is certainly true for wedding photography. Great photographers, like the ones we feature on DBMH, are artists. Their way of seeing and capturing the world is a talent, and that comes with a price tag. 
Cutting corners on your photography budget is only likely to leave you frustrated in the long run. So – within reason, of course – allocate the biggest budget that you can afford for your wedding photography. You won't regret it.
Review full portfolios from similar weddings
Every photographer and every wedding is different. So even if it seems like you've found someone who can do the kind of thing you are looking for, it's always important to check their portfolio to see how they captured similar weddings. This is particularly true if you're looking for someone to shoot an elopement, which requires such a different, more intimate style of photography. Take a look at previous examples to make sure that this is really someone you can trust to capture your day the way you want it.
It can be tricky to review a portfolio if you don't have much experience with photography, but you should also try to check for technical ability. Look for the crispness of images, the lighting and the composition. Are they done in a way that matches what you're looking for? If so, great! If not, then it's probably wise to keep looking.
A lot of people don't realise that many contracts give the photographer full rights to all the images taken. This means that your wedding photographer can use the pictures in social media and for self promotion. If this is something you don't want, then you should make a clear agreement about the usage rights of your wedding photos upfront with the photographer. Depending on how you would like to use your wedding photos later down the line, this is super important to be totally clear on to avoid any surprises down the line.
It's also important to set up a thorough contract with your photographer that describes what will happen in case of anything unexpected. You want, for example, to set clear expectations about what happens should your photographer fall ill on the day, or if there are any accidents.
Get a clear explanation of what to expect after the wedding
Most photographers take between 4-8 weeks to edit your photos after the wedding and get back to you with your proofs. This is when you select the final photos that you would like. Before you agree anything with your photographer, you should get a clear explanation of the following:
–  How many images you should expect
–  What quality will your proofs be delivered to you in
–  Will you be able to then get them printed yourself?
–  Will the proofs be the final version or will they be edited after you've selected your final photos?
–  Are there any additional costs for retouching after the proofs are delivered?
Be absolutely clear on all of these details before you begin working with your chosen photographer. Trust us, all too often great relationships go sour because the exact details of what a couple would receive, when, and how weren't clear upfront.
If you have found a photographer that on paper ticks all the boxes, but for some reason it just doesn't feel right, then walk away. 
The photos will be your lasting memories of the day and it's so important that you have a photographer by your side that you totally trust to capture each moment. From the small details you've designed, right through to the raw emotion between you and your loved ones, you want to know that you can count on your photographer to document they magic of your day. 
So even if their portfolio is breathtaking, and even if the price seems right, if your gut is getting you that you just don't click with this person, then it's usually best to continue your search.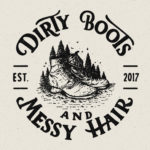 Written by:
Dirty Boots & Messy Hair Team
Connection is what it's all about. Feel free to reach out to us with any comments or questions you might have, even if it's only to say hello. If it wasn't for our beautiful community, this place just wouldn't feel the same.
Wedding Planning
28 Jul 2018