As wedding photographers, we are spoilt for choice when it comes to digital tools. With thousands of powerful programs to choose from, it's now easier than ever to capture, edit and share beautiful images. But – with so much choice, it can be difficult to know where to put your focus.
That's why we've created a shortlist of the 5 best wedding photography tools that you should definitely use. With these tools you'll have all the digital capability you need to speed up your workflow, edit your work, and manage client relationships. So, without further ado, let's take a look!
Great for: showing your edited pictures in a beautiful gallery to your couples
Remember the days of delivering edited photos to couples on USB drives? It almost seems to crazy to think of now, huh? Thankfully, nowadays there are lots of digital tools to deliver your beautiful photography to clients in an online gallery.
One of our personal favorites is Pic-Time. It allows you to upload your images to a branded gallery, where your clients can then select – and even purchase – their favorites from within the gallery itself. It handles all payments if you want to sell your prints online, and photos can also be downloaded directly from the platform too.
Best of all, Pic-Time is designed for the social generation. Social sharing is built into the platform, so – with the right permissions – your clients can share your branded work to their social networks, giving you priceless exposure!
Cost: There is a free package coming with 20GB storage, but most professionals will benefit from one of the pro accounts that starts from $17 per month.
And guess what: There is a 30 day trail! PLUS if you love it and sign up via DBMH you can add:
two additional FREE months on top your monthly membership

 

or

three additional FREE months for your

 yearly subscription
by using this special offer for DBMH readers. So if you were ever looking for an amazing deal or Pic-Time discount here is your chance!
Great for: compressing images after exporting in Lightroom
Have you ever been flummoxed by how to handle the sheer amount of storage needed for your work? Us too. That's until we discovered JPEGmini, which allows you to compress photos to the smallest possible file size without compromising the quality of the image.
Using their patented technology, JPEGmini allows you to reduce your image file size up up to 80%, but the resolution and quality will stay the same. That means no more dragging around numerous external drives, or long upload/download times. It even plugs in to Lightroom, so you can export directly to JPEGmini after editing, allowing you to enjoy a more seamless workflow.
Cost: Free trial, then $99+ VAT (Pro Version)
Great for: viewing, organizing and exporting digital photos
As soon as you finish shooting a wedding, your post-processing begins. But with potentially thousands of images to sort you, even just organizing your work can be a time-consuming, tedious task. That's why we love Photo Mechanic.
It allows you to very quickly rate all of the pictures you took at a wedding and pick your favorites, direct from the memory card. Traditionally you would have had to wait for previews to load before being able to select your final shortlist. Photo Mechanic resolves that, making your initial post-processing quicker than ever before! This frees up your time to get on with the fun task of actually editing the images.
Cost: Free trial, then $150 for a single license
Great for: batch editing in just a view clicks
If you have a lot of photos that you want to apply similar presets or edits to, then Lightroom is the essential tool for you. Part of the Adobe family, Lightroom is a cloud-based editing software that allows you to easily edit your work in just a few clicks. Best of all, because your work is automatically uploaded to the cloud (if you have a Creative Cloud plan, which starts at $9.99), you can edit your work on the go, on any device.
Though Lightroom is part of the same family of editing tools as Photoshop, it has been designed with specific functionality to manage and edit a large number of images, in one place. Whilst Photoshop is a very advanced editing tool, it's not designed to be used to edit and organize hundreds of images at the same time. In fact, until recently, photographers were faced with an almost impossible task of archiving images post-production. It was an inefficient and tedious process that required lots of time.
Lightroom solves this issue. It reads the metadata that's stored with the image when you take a shot, and then automatically catalogues according to that. This makes it effortless to sift through hundreds of images and edit in batches. Yeah, did we mention we love Lightroom?!
Cost: Free plan, then starts from $9,99 per month
Hop over to get the Dirtyboots look on your pictures!
Great for: surprising your couples with a beautiful slideshow before you send them the whole gallery
Have you ever wishes that you could share snippets of your work with clients before the final delivery? Well, with Smartslides, now you can.
It's never been easier to get your clients pumped, and a little emotional, about the hard work you've put in to documenting their special day. You simply choose a soundtrack from some available tracks, add your photo selection, and then customize to create a presentation to suit the couple. And that's it, you're done. All that's left is to share the presentation (which is hosted online) with your clients. They can even download the slideshow directly from their browser, giving them total freedom to enjoy and share their memento of their special day.
Cost: Starts from $8 a month
Discount Code: MESSY222
Offer: Get 25% off your annual plan with Smart Slides and Smart Albums, too with our code MESSY222.
And there you have it – our top 5 pick of the essential digital tools for any wedding photographer. We hope this helps you to speed up your workflow and produce your most beautiful images yet!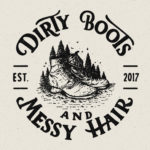 Written by:
Dirty Boots & Messy Hair Team
Connection is what it's all about. Feel free to reach out to us with any comments or questions you might have, even if it's only to say hello. If it wasn't for our beautiful community, this place just wouldn't feel the same.
Photographer Tips
03 Jun 2018