If you're planning a wedding, then you'll know better than anyone just how much there is to think about. From the logistics, to the guests, to the event planning – there's a lot to keep on top of. But thankfully, gone are the days of trying to manually keep on top of things with pen and paper.
These days there are a ton of digital wedding planning tools to make the process as smooth and stress-free as possible. In this article we run through our pick of the 5 wedding planning tools that every couple needs, no matter what kind of wedding you're planning.
This app is like having a personal wedding planner in your pocket. If you feel overwhelmed by the things you need to organize, and aren't sure when you need to do them by, then WeddingHappy has you covered.
It comes with pre-defined tasks to support you through the whole wedding planning process, and it notifies you when your deadlines are approaching. Simply input your deadlines when you know them, and WeddingHappy will let you know exactly when the RSVPs are due, or when the venue invoice needs to be settled.
You can even share access with your bride tribe so that they can help you with the planning process. Life saver!
When it's time to start planning your wedding, there will be lots of details that you need to communicate with your guests to keep them in the loop. There are lots of websites that help you do this, but we especially love With Joy, which allows you to build a website, create and manage your guest list, send paperless Save the Dates and invitations, share details about your event, and much more.
It is completely free, and comes with an app so that you can track your RSVPs on the go. If your guests download the app, they can upload all their photos to your wedding account so that everyone can share in the magical loveliness of the day.
Let's face it, it's really easy for wedding budgets to spiral out of control. Set yourself up for success by creating a clear budget and organizing your finances in one place. There are lots of options, but our personal fave is Mint. It syncs directly with your bank account and credit card, and will automatically categorize your expenses for you.
So if you set up some rules (i.e. all purchases from Etsy' wedding category), then Mint will do the hard work for you to track your spend. You can define a total wedding budget upfront, and Mint will even show you how much you have left in the pot, keeping you well updated with weekly emails a text reminders. Keeping your finances healthy whilst planning a wedding has never been so easy.
If you need help organizing your gift registry, then Zola is the service you've been looking for. It not only gives you the option to select high-street goods for your gift list, but it also allows you to set up a honeymoon or charity fund if you prefer.
Guests can opt to pitch in together for group gifts and – as an extra bonus – you even get a discount on all items on the site for 12 months after the wedding. Perfect for couples who are moving into their first home or need vacation goodies for the honeymoon!
Great for sharing pictures of the day: Private Facebook Group
Sometimes, simple is best. There are loads of apps out there that are specifically designed for sharing wedding photos between guests. But all of them require all of your guests to download something extra onto their phones and sign up to a new service, which is a bit of a pain.
So instead, we suggest you keep things simple by creating a closed Facebook group for all of your guests where they can upload all of their snaps from the day. If you give your guests admin rights, they can even organize the photos into albums based on which part of the day they're from, or which guests they feature. You should also create your own Instagram hashtag so that your guests can tag their posts on the day for everyone to share. Did someone say #weddingbells?
When the wedding has been and gone (* sheds a little tear *), it's time to thank your guests for being part of your special day. Rather than send cards through the post – which can be time-consuming and get expensive really quickly – why not simply send a beautiful digital thank you card with Paperless post?
You can pick from a suite of stunning card designs that will be delivered straight to your guests inboxes. When they open the card they'll have a digital card opening experience (think, animated envelopes and typing scripts, very swish). You can customize the cards however you please, or even create your very own design from scratch, so the end result will be uniquely yours. The perfect way to round off your digital wedding experience!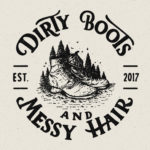 Written by:
Dirty Boots & Messy Hair Team
Connection is what it's all about. Feel free to reach out to us with any comments or questions you might have, even if it's only to say hello. If it wasn't for our beautiful community, this place just wouldn't feel the same.
Wedding Planning
26 May 2018