As we say goodbye to another year — and, in fact, a whole decade! — we want to tell you how grateful we are that you guys choose to take this ride with us!
2019 has certainly been action-packed and all the exciting, inspirational stuff we've done couldn't have happened without your support.
So, here's to you, as your involvement in Dirty Boots Messy Hair has allowed us to:
Hold our very first live workshop set in the epic scenery of Yosemite National Park
Grow our DBMH community to include 959k Instagram followers and over 7.2k Facebook members (we still have to pinch ourselves to believe this!)
Grow our team to an army of nine incredible humans and collaborate with lots of freelancers and supporters all around the planet
Launch tons of new and exciting features on our blog to achieve our ultimate mission: to support you guys to achieve your creative and professional potential as photographers. This includes our first wedding guide and a bigger, better newsletter to share behind the scenes tips and content from the DBMH team.
Looking into 2020, we can't wait to deliver you more wedding photography content — including more 'how to' guides and immersive online courses.
It's our dream for DBMH to become an educational space for wedding photographers just like you. So if there's anything you want to see, that we haven't thought of yet, please do get in touch and let us know!
You are our constant source of inspiration and we'd be absolutely thrilled if you'd help us co-create what 2020 looks like in some way.
We can't wait to kick off the new year with our inaugural DBMH Camp online workshops. It's coming January 14! You can stay updated on everything DBMH Camp here – we also have a newsletter-exclusive launch deal for our subscribers, so get on that list asap.
Until then, have a very happy holiday! And we'll catch you on the flipside, with a whole new decade and another year of enjoying this kickass community.
Once again: thank you so much.
All our love, Merve and Nils x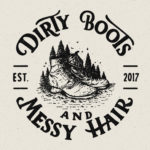 Written by:
Dirty Boots & Messy Hair Team
Connection is what it's all about. Feel free to reach out to us with any comments or questions you might have, even if it's only to say hello. If it wasn't for our beautiful community, this place just wouldn't feel the same.
Photographer Tips
24 Dec 2019