Sitting down in front of your computer for a long, hard editing session can feel like a bit of an anti-climax after a day of shooting.
Staring at a screen for hours on end can leave the best of us bored, edgy and searching for things to distract us. Rather than switching on that podcast you've been meaning to listen to, turning to an old sitcom for the seventeenth time, or even dusting behind the refrigerator, why stick on some tunes and get your feet tapping along as you tweak your latest snaps.
We've put together the ultimate playlist to keep you motivated, pumped and hard-at-work during your post-processing. So stick your headphones on, turn up the volume, and get funky!
You might be working on something deeply annoying, unable to fix some tiny detail, and feeling the rage building. Switch over to these for a more mellow mood to keep your frustrations in check.
Cinematic Orchestra – To Build A Home – the perfect song to help you focus, to take your mind off the deadline and let you enjoy your work. The rest of the album isn't half bad either, and time will fly by if you listen to the whole thing!
Morcheeba – The Sea – a slightly deeper offering from one of the biggest names to come out of the UK triphop scene.
Air – Kelly Watch The Stars – this French duo will keep the mood chilled and calm, with a slightly more cheerful approach.
Zero 7 – In The Waiting Line – like a hug for your brain, this lovely tune will have you destressed in no time. Their other songs with with Jose Gonzalez are also well worth a listen.
Toto – Africa – it is impossible not to sing along to this karoake classic, and it is guaranteed to put the smile back on your face!
Tunes to keep you distracted
The grind has got to you, and you feel like you've sharpened the same face over a hundred times. Take a break, grab a coffee, and have a little dance to distract you, before getting back down to it. You've got this!
Tina Turner – Proud  Mary – a slow start builds to one of the roughest, rowdiest, danciest covers of a country classic you are ever likely to hear. 
Janelle Monae – Q.U.E.E.N. – one of the best contemporary funk artists around, Janelle Monae absolutely slays with this dirty, jagged piece of jazz funk excellence. 
Bruno Mars & Mark Ronson – Uptown Funk – impossible to restrain yourself from dancing along to this slice of slick funk. Watch the video, learn the moves, and get down.
Taylor Swift – Shake It Off – a genuinely good mood song to get your head shaking and help you keep up the pace of work.
Enrique Iglesias – Bailando – does exactly what it says. Feel the rush of 'bailar' and lose yourself to the dance. 
Tunes to keep you ticking over
Sometimes you've just gotta keep going. These picks will keep you rolling on when you might otherwise just want to quit.
Lorde – Royals – something a bit more relaxed to sing along to, and keep you entertained as you push through a difficult job.
Johnny Cash – Ring of Fire – the rolling chorus of this fantastic country number from The Man In Black is the perfect driving song, and works equally well to keep you focused on pressing on with work.
Dolly Parton – Nine to Five – the ultimate ballad to the working day. This timeless tune will keep you working as long as you need.
Camila Cabello – Havana – a little latin rhythm to keep you fired up and dreaming of a Cuban holiday.
Stevie Wonder – Superstition – a truly wonderful groove, from one of the pioneers of popular funk. One of his signature tunes, the bassy, brassy riffs will brighten up even the most tedious of projects.
Tunes to finish on a high
It's always worth keeping a banger for the end, so you feel like a champ as you cross the finish line. As you are putting the finishing touches on the job, stick these on and crank the volume!
Kansas – Carry On My Wayward Son – an American rock classic. The guitar solo midway through is just the appetiser for a massive, celebratory ending…just what you might need after a long day's work.
Funkytown – Lipps Inc – if this disco smash hit doesn't have you putting on your finest threads and busting some shapes on the dance floor then nothing will.
Journey – Don't Stop Believing – whether you've always loved Journey, or you are a Glee-influenced convert, this tune will have you standing on your seat with your hands in the air by the end.
Pharrell Williams – Happy – the most cheerful song ever? Perhaps, perhaps not, but it's guaranteed to get you smiling as you add the finishing touches to your snaps.
Lady Gaga – Applause – what more do you need to celebrate a job well done than a round of applause?
These are some of our fave songs to keep us going through the slog of editing and post-processing. You may well have your own, all killer no filler soundtrack, but we hope this list will inspire you to add a fresh backing track to all your future jobs! Better yet – why not check out the official DBMH editing playlist now?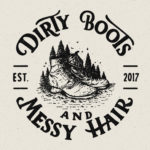 Written by:
Dirty Boots & Messy Hair Team
Connection is what it's all about. Feel free to reach out to us with any comments or questions you might have, even if it's only to say hello. If it wasn't for our beautiful community, this place just wouldn't feel the same.
Photographer Tips
05 Nov 2018