Patrick is a UK-based photographer with an incredible eye for documentary style wedding photography. Each and every shot is full of so much personality, capturing the essence of what makes each of his couples (and their love stories) so very unique. If you're a creative, alternative couple looking for a photographer who'll capture the essence of your fun-loving souls – then look no further than this ultra talented photographer.
Hey Patrick, where are you sitting as you are writing this right now? How's your day going? How are you feeling?
I'm sat in my favourite Glasgow Cafe tucking into a delicious salted caramel chocolate brownie whilst watching the world go by. Today's been pretty good so far. I started off with a rather wet and windy walk with my labradoodle Alva this morning, and have since been editing a gorgeous wedding I shot back in September at one of my all time favourite venues – Cambo House. I must say I'm in high spirits today, I've had a really productive morning and I'm super excited about going to see my new favourite band tonight – BC Camplight. If you haven't heard them yet check 'em out!
To those that might not know you just yet, please introduce yourself – Who are you? Cat or dog person? What's your photography style?
If you don't know me yet, where the hell of you been! (Just kidding!) I'm Patrick a Yorkshire boy living it up in Glasgow. I've been living in this amazing city for the past five years, and can honestly say I never want to leave! I love all animals, but I do have a soft spot for dogs, particularly my loveable Labradoodle Alva. She's just turned a year old, and is still as cute as the day we got her! I'd say my photography style is mixture of documentary and street photography, with a cinematic finish focusing on big, bold colours. My love of photography definitely stems from street photography, and this is something I always try to incorporate into my wedding photography. I'm always on the look out for those special moments that pass you by in a blink of an eye! 
What role does Instagram play for you as a photographer? Is it important for your business?
Instagram plays a huge role in my photography business. Its such a quick and easy way to share your work with a wider audience, whilst getting inspiration from all the other amazing photographers out there, of which there are so many! I try to post every day and mix up the photos to show different elements of a wedding day, from couple portraits through to table settings, I think it's so important to show a variety of your work to prospective clients. I would say that the majority of my bookings now come from people spotting my work on Instagram, and I'm now travelling further and further afield to shoot amazing weddings, which for me is a total dream come true!
Can you show us a photograph that is particularly meaningful to you and share the story behind it?
This picture is one of my early street photography attempts, and one I'm particularly proud of. It was taken in Nice on one of our annual visits to catch up with my wife's extended family who are from that wonderful corner of France. I'd been flicking through a book by Mario Testino called Any Objections which contains the most amazing photos of people lounging around on Copacabana beach, and was inspired to head out onto the beach with my camera! This photo actually kick started an ongoing street photography project called Une journée en France, which I've been piecing together over the last five years or so. The project is very much inspired by my love of French street photography and French culture. I always look back at this photograph as the one that started it all! 
If you had to pick just one thing, what do you love most about being a wedding photographer?
The thing I love most about being a wedding photographer is the variety of people I get to meet. Since starting out as a wedding photographer I've met so many awesome people, some of whom I'm still friends with today. Wedding's are a wonderful way of bringing people together, and being able to share in such special occasions and meet amazing people is a real privilege.
What's the biggest challenge you've faced that you could have a helpful lesson for other photographers?
I think the biggest challenge I've faced, as I'm sure lots of photographers have, is trying to both establish and maintain a presence within the wedding photography industry. There are so many amazing photographers out there that it's so difficult to break into the industry. The one piece of advice I would give is to find a style of photography your happy with that is reflective of you, and put your heart and soul into your work.
Who or what inspires you?
I'm inspired by so many things, it's hard to list them! I'm a big collector of photography books, I've developed quite a library over time. If I'm ever looking for inspiration or just fancy flicking through a book with a cuppa I'll grab a something off the shelf. One of my go to photographers for inspiration is Martin Parr, and a particular favourite book of his is "Life's a beach". I love the way he composes his photographs, and the comedic element to his work. I'm also a huge fan of the big, bold colours in his photographs, which has definitely inspired my photographic style.
What are your dreams for the future of your career?
My dreams and goals are to keep on developing as a photographer, and to travel far and wide with my work. I would love opportunity to shoot more weddings outside of the UK, so if anyone's thinking of getting married in a French Chateau anytime soon you know who to call!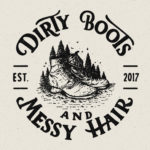 Written by:
Dirty Boots & Messy Hair Team
Connection is what it's all about. Feel free to reach out to us with any comments or questions you might have, even if it's only to say hello. If it wasn't for our beautiful community, this place just wouldn't feel the same.
Photographer Tips
06 Nov 2018