So, you've decided to elope, and you are planning the perfect place to say 'I do' to your soulmate. So many elopements take place in beautiful, natural landscapes, such as National Parks – after all, what better backdrop to your special day than the wonders of nature?
When planning a natural, outdoor elopement, it is incredibly important to think about the impact you may have on the environment you have chosen. Plenty of couples choose to elope specifically in order to cut down on waste and environmental impact, and it is therefore so important to be conscious of your surroundings when planning your elopement, and make sure that your big day is just as special for the place you've chosen to visit as it is for you.
We've put together some thoughts and practical advice on how to be respectful to the environment if you are planning to elope in the great outdoors. Now, read on to learn how to elope in an environmentally conscious way.
Take nothing but memories, leave nothing but footprints
A famous quote, perhaps overused, and maybe even a bit of a cliché these days…but absolutely spot on when it comes to an elopement in the great outdoors. You should try and ensure that you don't leave a trace of your wedding on the landscape.
If it was perfect for you, it should remain so for everyone else. Try not to be tempted into taking a memento in the form of a flower or similar. Keep the photos you take and the memories of your special day and leave the beauty of nature intact and unspoiled.
One of the best things about an elopement is that they are usually small, intimate affairs. This makes it more romantic for you, usually simpler to organize, and most importantly: has far less of an impact on the environment.
Keep this in mind when you are planning your location and try to avoid gathering too many people in a beauty spot (this includes curious onlookers as well as your own mini wedding party). You'll make less of a mark on the natural space, and the elopement itself will produce less waste, a sustainability double whammy!
If you've gone with our advice above and kept things intimate, then this should be a breeze! Save the dates, invitations and RSVPs generate an awful lot of paper, not to mention the carbon footprint of their delivery. If it is just you and your sweetheart, then fantastic. If you've got your family coming too, then tell them personally. A nice touch in its own right, and much better for Planet Earth.
Of course, if you are inviting even a small number of guests, then it becomes a little trickier. But in this case, why not look into digital options like Paperless Post – there are some truly stylish and classy options available these days, and they'll help you with the organization to boot.
They are an important and beautiful part of many wedding ceremonies…but cut flowers are not terribly sustainable. However, this doesn't mean that you have to forgo your bouquet or buttonhole in the name of environmentalism! Choosing locally grown flowers that are in season reduces the carbon footprint of importing and delivering those flowers, and it helps that you'll be helping the local economy too!
Another option, particular for decorative flowers, is to use living plants rather than cut bouquets. Just as beautiful, and you'll have something to take home with you as a memento afterwards.
For many people elopements conjure up an image of an elaborate destination wedding, bare feet on the sand of a deserted beach, or watching the sun set behind the mountains. But this isn't the only way to do things, and natural beauty can often be found close to home too.
Cutting down on travel for you and your guests is a great way to make an elopement more sustainable and choosing a local spot that is special to you as a couple can add an extra element of romance. Of course, you might be lucky to live by the beach anyway, in which case go wild!
Eloping itself is usually a more environmentally friendly thing to do than having a traditional wedding, but it is still worth keeping in mind how you can protect the beauty of the natural landscape that provides the backdrop to your big day.
If you are interested in a little more inspiration and advice, check out this post with some of the top tips on planning the perfect elopement.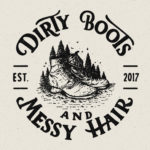 Written by:
Dirty Boots & Messy Hair Team
Connection is what it's all about. Feel free to reach out to us with any comments or questions you might have, even if it's only to say hello. If it wasn't for our beautiful community, this place just wouldn't feel the same.
Wedding Planning
02 Mar 2019