Hey there Dirty Booters! It's time for our newest weekly crush! This week, we are crushing on Katie Bergmann. Check out what Katie has to say below!  
Where are you sitting as you are writing this right now? How's your day going? How are you feeling?
Right now I'm sitting with my fiancé at our gate in the Portland airport (or as I like to call it – "my second office") waiting for our flight to take us back home to Spokane! It's 11pm and it's been the first time we've sat all day, but it's been so worth it because today, I found my wedding dress, got my engagement ring re-sized, bought my fiance's suit, ate pizza and ended my trip with friends and glazed donuts! It's been exhausting, but my heart has never been so full! It's honestly a little strange being on the opposite end of wedding planning lol but when traveling, friends and food are involved, nothing can go wrong for me!
To those that might not know you just yet, please introduce yourself – Who are you? Cat or dog person? What's your photography style?
Hiiiii I'm Katie and I'm an adventure seeker, taco lover and professional wedding + elopement photographer from the PNW (Spokane, Washington to be specific)! My happy places include spending time among the pine trees and beaches, at home with my fiancé watching our 80th re-run of The Office on Netflix or working out at my local CrossFit gym. I have an affinity for all things carb-related, a slight addiction to Amazon Prime and a fierce love for my german shepherd, River, and two cats named Kylo + Rey (because Star Wars is everythingggg!) With that being said, I'm neither a cat person or dog person – I'm 100% both! I just love love loooove all animals in general and can never choose! As for my photography style, I would say is very warm, earthy and moody for the most part, but I also try to be as true to life and timeless as I can! Photos that will look good 5, 10, 50 years from now is extremely important to me.
Can you show us 1 or 2 photographs that are particularly meaningful to you and share the story behind them?
Oh gosh, I have so many photos I could show! It's hard to pick just 1 or 2 when each hold so many stories and memories for me. I think one important one is this image of one of my couples (Presleigh + Jimmie). I shot their engagement session when I was just first starting out as a photographer and I distinctly remember taking this image and thinking to myself that maybe I can actually make this a thing! That maybe I was good enough and that I could have a genuine career out of this. They let me be as creative as I wanted, trusted me every step of the way and ran around mountains and fields with me for forever and we even ended up hanging out and going to Red Robin for dinner afterwards! This couple and their whole photoshoot left my heart feeling so incredibly full and instantly I knew that this was what I was supposed to be doing. It was such a pivotal point in my career I haven't turned back since! I met them at the session as clients and left as friends and their gallery will forever be one of my favorites because it always reminds me that everyone starts somewhere and that amazing things happen when you find people who truly believe in you. I get to shoot their wedding this June and I couldn't be more excited!!
What role does Instagram play for you as a photographer? Is it important for your business? 
Instagram has played such a big role for me as a photographer! Partially because I get most of my inquries from Instagram and I have also been able to connect with so many talented and incredible people that I never would have gotten the chance to otherwise! It's definitely an important part of my business, but I also don't like to put all my eggs in one basket. I use a ton of other methods to market and build my business too because one day, Instagram might not be around and I don't want to lose everything I've built because I only focused on one platform. While I do think Instagram is an amazing tool, I also know it can be a toxic comparison game if you let it be. It's important to realize that IG is just a highlight reel of everyone's top 1% moments and so I focus on using it more as a platform to have fun and connect with others more than anything else. If I don't post for a couple days in a row, I'm totally fine with it. I'm definitely all about the mentality of using the app and not letting it use you, but dang is it such a cool way to create connection and community!
If you had to pick just one thing, what do you love most about being a wedding photographer?
My favorite thing about being a wedding photographer is getting to create memories and document the legacies of my couples and their love stories that they will be able to share for generations to come. All my couples have such unique stories and photos hold so much power and emotion that being able to be a part of such a special and monumental moment with them is something I always feel deeply honored and humbled by. There's just something about capturing weddings specifically that lights my soul on fire like nothing else does!
What's the biggest challenge you've faced that you could have a helpful lesson for other photographers? 
I actually just wrote a giant post about this on my Instagram last week lol, but my biggest challenge has been dealing with people asking about free sessions / "friend" discounts and me feeling like I'm not good enough because of it. Nothing has hurt me more deeply since starting my business than knowing there are total strangers out there who see my value and invest in it while so many friends and family members who say they support me, only support me if I do it for free and walk away from me if I don't. Building a business is not easy and as a photographer, it's important to know you're worth and stand grounded in that belief that you deserve to have your time, knowledge and talent compensated for. "Free" doesn't pay the bills and devaluing yourself won't get you to where you want to go. I know it can sometimes feel hard, especially when you're first starting out but hold firm and the people who are truly meant to be your clients will come to you I promise. And only offer discounts if you really want too! Not just because someone asked.
Who or what inspires you?
Traveling inspires me like nothing else! Just something about a new place, a new scene, a new adventure just lights me up and gets me thinking about all the possibilities! Even just being outside in natural in my own backyard gives me inspiration. If I'm ever feeling uncreative, I usually find it's because I've been sitting in one place for too long. Getting out and moving around fixes that problem instantly! Other than that, I would also say my fiancé inspires me. He's in a totally different career field but he's the hardest working, determined and committed person I know! Having someone by my side who is constantly working towards his own goals, definitely inspires me to strive for my own.
What are your dreams for the future of your career?
My goal with the future of my career is to never forget why I started. I started not because I wanted to become insta famous or make 6 figures or shoot in incredible destinations (event those all would be amazing perks!), but because I truly believe in love and in the power of leaving a legacy. I wanted to capture moments that matter for people who put their love first and give them memories that will last a lifetime. If I am still loving the crap out of my couples, investing deeply into their stories, giving them the best experience possible and creating images for solely them and not for the sake of Instagram, then I know I will always be headed in the right direction. At the end of the day, that's all that matters!
There you have it folks! Major thanks to Katie for taking the time to answer our questions and share some insight on the industry. Be sure to check out more of her amazing work over on the gram!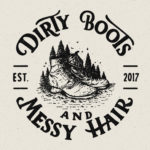 Written by:
Dirty Boots & Messy Hair Team
Connection is what it's all about. Feel free to reach out to us with any comments or questions you might have, even if it's only to say hello. If it wasn't for our beautiful community, this place just wouldn't feel the same.
Photographer Tips
24 Apr 2019