Being able to build your brand as a wedding photographer is important. Having a clear, attractive and successful brand as a wedding photographer will set you apart from the competition and will help you earn credibility and authority. 
A good brand is more than a name for your business, more than a logo, more even than your photography style.
Your brand is your voice, your personality, and immediately sets the tone for the work you will do, and the clients you will attract.
Consistent branding is vital across everything you do, and everywhere you are portrayed.
Getting your personal brand right can feel overwhelming and building it does take time.
Thankfully there are a few things you can do immediately, and a few hints and tricks we've picked up to help you nail some of the difficult decisions, and to fine tune how you present your business to the world.
Branding Tip #1: Building a brand with type
Putting together a great logo is obviously important, but perhaps just as important is the font you choose to go with your logo and to use across your brand.
Good typography can convey a huge amount to a potential client, giving them an idea of what sort of business you are, and how you work.
As a photographer, your focus will likely be on the visuals, but it is worth taking the time and paying attention to type as well.
Certain fonts convey different sorts of businesses, from traditional, to modern or whimsical, and so on.
Our advice is not just to settle for a free font for your logo. Creative Market has some great options if you are on a budget and not a designer yourself, but if you are able or willing to do so, a logo and brand suite designed specifically for you can make a huge difference.
Branding Tip #2: Usage of color
Often an under-appreciated element of branding, particularly for photographers, are the colors you choose for your brand.
Colors can have a huge impact on how you present yourself to clients. Since photography is a visual field, it's important that all of our stylistic elements, including brand colors, cohere with your style.
It'd be odd to see a light and airy photographer using a lot of dark matte colors on his or her website. On the other hand, it'd make sense to see an adventure wedding photographer use earthy colors.
Your brand colors should match the feeling you want your brand to convey – from bold, to boho, to airy, to mysterious etc. Colors can have a significant psychological effect on people, and things like gender and culture can strongly affect what tones are right for you.
For example, red, unsurprisingly, conveys a sense of romance, purple gives the impression of luxury, and yellow can show a summer-y, friendly aspect to your brand.
It is worth putting a bit of thought into the palette you choose, and of course making sure you use it consistently across all your assets.
Use a mood board, or Pinterest, to help solidify your brand appearance to make sure every element works well together.
Branding Tip #3: Sharing your personality
Sometimes it's easy to assume your brand is simply your logo or its physical appearance in your marketing or website. But that is not the case!
Your brand is often driven by your personality, and your voice, and building and developing your brand therefore also relies on developing your voice…and keeping it consistent.
Are you looking to create sentimental copy on your website, or lovey-dovey Instagram captions, or do you prefer to keep it witty and succinct?
Decide upfront, and then convey it across every channel you use to communicate with potential clients.
Stay true to yourself here. It's easy to see what's working for someone else and want to copy their style. But your dream clients are ones that you get along with, whose wedding style fits your own, and you can only attract them by being honest about who you are as a photographer and person.
Most people getting married aren't photographers, so while your portfolio and your past work will be important, they aren't the be-all and end-all.
Couples need to fall in love with you as much as with your photos – after all, they are going to be trusting you to capture one of the most important experiences of their lives.
Your voice on social media is therefore incredibly important, and a great way to introduce clients to the person behind the camera.
Branding Tip #4: social media
Continuing the social media theme, make sure your content and style is consistent (and attractive!) across your social media platforms.
This is particularly important on Pinterest, where you won't just be showing off your own work but putting together boards of the style of photos you love and want to take.
Whether you favor boho chic, beach weddings, or mountain elopements, a few inspiration boards give potential clients a wider idea of what you are all about as a photographer.
Use Instagram stories to show off who you are behind the camera and off the job. Building your brand means making your clients feel like they know you, even when they've never met you.
Making sure your brand choices translate across your social media gives you a perfect platform to show clients who you are, and what you are like to work with.
Consistent and regular social style is important, as is a friendly and responsive manner. Building relationships with clients, inspirational accounts and other professionals helps develop your own brand and get your voice out there.
Branding Tip #5: styled shoots
Styled shoots can be a really important part of building a wedding photographer's branding. They give you the opportunity to get the content that shows the kind of photographer you want to be.
Creating a steady stream of content styled around the impression you want to give clients… as well as the clients you want to attract, is an important part of creating a strong personal brand.
Again, consistency and clarity are key in allowing people to understand the work you do.
Similarly, styled shoots give potential clients and other vendors confidence in your work.
Weddings are some of the most important days in a couple's relationship and a person's life, so people will tend to hire photographers who can demonstrate that they've done the work before.
Mine your contacts and network to put together a strong portfolio of styled shoots which will demonstrate your abilities to their fullest extent.
Branding Tip #6: knowing your market
Knowing who your ideal client is does not mean you are only serving certain people. But it will help you attract the clients whose weddings you will be best person to photograph.
Wedding photography is not just a service, and it's not just an art, so knowing who you will serve best does matter for creating photos you are proud of and that the couple will love.
A great branding exercise is to build a client avatar – essentially a theoretical perfect client – and research their likes, needs and preferences.
Building a picture of the style your perfect client goes for, where they shop, what music they are in to and so on can be incredibly helpful in developing and targeting your brand to appeal to them specifically.
Getting your brand to reflect you is a huge part of wedding photography, and these tips will help develop and grow your branding, as your business expands.
If you're looking for a starter branding exercise, the 3 Hour Brand Sprint exercises are a great way to get going!
For more help with getting your business on track, check out this post on picking a name for your photography business.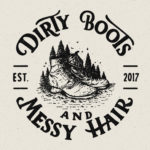 Written by:
Dirty Boots & Messy Hair Team
Connection is what it's all about. Feel free to reach out to us with any comments or questions you might have, even if it's only to say hello. If it wasn't for our beautiful community, this place just wouldn't feel the same.
Photographer Tips
21 Apr 2019