An interesting incident made the rounds on meme websites most recently when the agent of a social media influencer got in touch with London based wedding photography team Betrothed & Co.
The initial e-mail, rife with arrogance, read like this:
But Frankie & Laura wouldn't have it. And put together the following response:
Now it was on.
The PR person, Melissa, was quite baffled about the reaction she received in response to an offer she deemed impossible to pass up. And not only did she now try and guilt-trip the photographers by mentioning her client's sick mother – she even threatened to "name and shame" the photographers for their witty comeback.
But Frankie didn't want to leave it at that.
We'd love to know your take on the story!
Would you say 'yes' to an inquiry like that? Do you think it's cool to shoot an influencer wedding for the promise of social media reach and referrals?
Or is it a big no-no for you, no matter how promising the prospect of shooting a wedding?
We're working on a bigger story around the topic and would love to hear what you gotta say. Head on over to social media and discuss with us!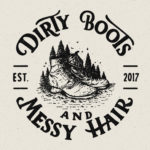 Written by:
Dirty Boots & Messy Hair Team
Connection is what it's all about. Feel free to reach out to us with any comments or questions you might have, even if it's only to say hello. If it wasn't for our beautiful community, this place just wouldn't feel the same.
Photographer Tips
21 Jul 2019