So, you love to take photos. Great! And you also have a soft spot for weddings. Perfect!
Perhaps at some point, you decide you're ready to take your passion to the next level — you want to be a wedding photographer.
First of all, congratulations on making this decision; you're in for a really fulfilling career path. But it's also hard work.
When you're thinking about how to become a wedding photographer, you'll need to be confident enough to build your photography brand and know how to grow your business even during low season.
If you are, here's a step by step guide on how to get started.
Step 1: Make Sure You're Up to The Challenge
You might love photography. You might really dream of being a wedding photographer. But before you make that leap, it's important to ask yourself if it's really what you want.
Being a wedding photographer is wonderful, there's no doubt about it. You meet amazing people, travel to amazing places, and get to capture one of life's truly special moments. But the flip side is that it can be really tough. It often involves long days, antisocial hours, and lonely working.
Make sure that's really what you want before thinking too intensely about how to become a wedding photographer.
"BEING A WEDDING PHOTOGRAPHER IS A MASSIVE RESPONSIBILITY – MAKE SURE YOU HAVE THE SKILLS AND EXPERIENCE NECESSARY BEFORE YOU GET OUT THERE AND OFFER YOUR SERVICES."
Before you dive fully into figuring out how to become a wedding photographer, put in hours as a second shooter. Get a feel for what it's really like by working with others and deepening your skillset.
If you decide to go for it (and we hope you do!), then start slow. Begin by taking on smaller projects and get used to shooting in every possible kind of condition. Build your experience at a pace that you can cope with comfortably without feeling overwhelmed and get really good at what you do. After all, being a wedding photographer is a huge responsibility. You're the one chance your couples have to capture their day, so it's not something to enter into lightly.
If you then make the decision to explore how to become a wedding photographer, congrats! You're about to embark on an incredible journey!
Step 2: Make an Investment — Upgrade Your Gear
Even if you've been an avid amateur photographer for many years, there's a marked step change between having photography as a hobby and going pro.
And you'll want your final output to reflect your new-found professional status, too.
So, it's a wise idea to invest in your photography gear wayyyyy before you launch — you don't want to be relying on older gear, only to have it bust on you once you've got a full diary of client commitments!
"THROUGHOUT A WEDDING DAY YOU WILL NEED TO KNOW YOUR EQUIPMENT INSIDE OUT – SO MAKE SURE YOU UPGRADE AHEAD OF TIME AND GET USED TO YOUR PROFESSIONAL EQUIPMENT."
Imagine being right up there, beside the altar, trying to capture the first look between two newlyweds, and then — crunch — your lens stops working.
Disaasaaaster.
Instead, spending some money upfront is an important, long-term investment. And taking out insurance on all your hardware is definitely a plus.
Be sure that you know your gear inside out before you hit the road. Practise, practise, practise – in every kind of condition. And remember to invest in backups too, just in case your camera has issues during a shoot.
And it's not just new hardware you'll need, but software too.
The demands on your editing process as pro wedding photographer will be far heavier than when you were doing it for fun, so make sure you've got all the software subscriptions a professional photographer needs.
Step 3: The Design Work — Start That Website!
As a visual artist, you should be able to have some fun in the designing of your website.
Start by deciding which platform you want to build your site on. You can opt for something super easy like Squarespace, or, if you want greater flexibility opt for something like WordPress or Webflow.
What colors, shapes and graphics best represent what your wedding photography offer is all about? Consider your target client: what will appeal to them? We can't overstate how important it is to think about these things. Professional branding creates trust in the brand.
But don't forget, written copy and content is equally as important as the imagery you use. And it's okay if you're not as confident with writing as you are with visual communication. You can either ask for help from a wordsmith friend, or read up on copy tips and tricks from other bloggers online.
"WHEN IT COMES TO BRANDING IT'S IMPORTANT TO PUT THE EFFORT IN – BUT NOT AT THE EXPENSE OF LOSING SIGHT OF WHAT'S MOST IMPORTANT: YOUR PHOTOGRAPHY."
But don't lose focus on what's really important on your quest to figure out how to become a wedding photographer: your photography. A simple, clean website is easily build and makes your work stand out.  When your brand takes off you can always focus on a more elaborate design.
Speaking of blogs: you should have one! Blogging is a great way to show your personality as a photographer and build up more of a backstory to your brand.
Weddings are one of, if not the most, intimate events you'll ever photograph. Clients will want to feel comfortable in your presence and bond with you pretty quickly. A blog will help them learn who you are, why you do what you do, and why they should book your service.
Honestly, it's easy to write great copy for your wedding photography website. You may just need to build your confidence a little.
Step 4: Make It Official — Register Your Wedding Photography Business
One of the key things you need to decide when it comes to how to become a wedding photographer is: what name will you give your business?
Naming is super important — it's one of the first impressions a prospective client will have of your business. You want to pick a name for your wedding photography business wisely.
As a quick checklist, your business name should be: memorable, unique and timeless. Maybe taking inspiration from your own name, too – if that feels right. Once you've decided upon a name, it's time to register.
"GETTING YOUR PAPERWORK IN ORDER IS A BIG MOMENT – YOU'RE OFFICIALLY A BUSINESS OWNER NOW."
This is a really exciting moment for any new business, so relish — and celebrate! — this accomplishment (did someone say champagne??).
We'd recommend you speak with an attorney and tax accountant to help you with any and all legal liabilities and paperwork for registering your business. It pays at this early stage to make sure you've crossed all the Ts and dotted all the Is. The required paperwork can be overwhelming. And the requirements change from state to state and country to country.
Step 5: The Promotional Plan — Share Your Portfolio
Now, you may be thinking: "Wait, I've not got a portfolio. I'm just starting out… why else would I be reading it?".
And you're right, but hear us out.
You will need a portfolio to attract clients, so you need to do whatever you need to do to build up a body of wedding photography work.
We suggest getting some gigs as a second shooter; sort of piggy backing on another photographer's client base, until you've got enough material to start promoting yourself. Be sure to communicate with any photographer you're working with during this time that you're using this opportunity to build your portfolio. Make sure they're comfortable with that, and discuss use of any images you take beforehand.
"BUILDING A PORTFOLIO IS HARD WORK – BUT WELL WORTH IT BECAUSE IT'S YOUR BEST SHOT AT ATTRACTING YOUR IDEAL CLIENTS."
You'll also have a valuable opportunity to shadow whoever you're assisting, and learn from what they do well (and maybe less so well!).
Then, once you've got your training hours up, you're ready to fly solo!
To do so, you'll need to promote, promote, promote!
Yes, it can feel a little uncomfortable when you're starting out, but trust us, clients don't often come a-knockin' for you. You'll need to go out there and find them.
Where? Instagram, Facebook, Pinterest – these are all perfect platforms for you to share your new portfolio and build a following around your brand.
If you're looking for a little nudge in the right direction, there are countless Instagram accounts worth following for wedding inspiration.
Oh, and brushing up on your knowledge of SEO — search engine optimization — will ensure your social media platforms are seamlessly linked to your website; driving organic traffic between the two.
If you get your promotion right, the client will soon start piling in.
Step 6: The Official Launch! — Your First Solo Gig as A Professional Wedding Photographer
Once you've registered and have bagged your first solo client thanks to an excellent website and social media campaign, all that's left to do is do it!
There's no need to be nervous. If you've made it this far, you're obviously committed to a new career as a wedding photographer and you've found clients who want to work with you.
So, go for it!
"NOW IT'S TIME TO PUT YOURSELF OUT THERE – BELIEVE US: YOU WILL LEARN AND GROW RIGHT ALONGSIDE YOUR WEDDING PHOTOGRAPHY BUSINESS!"
Sure, it won't always be easy in the beginning, but you'll undoubtedly learn and evolve as your business expands. And, for that bit of extra encouragement and support, you should head over to our article about the five mistakes every beginning photographer makes.
If you read about them, you can avoid them.
Best of luck! Don't forget to hashtag your masterpieces #dbmh so that we can see (and potentially share) your work.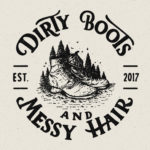 Written by:
Dirty Boots & Messy Hair Team
Connection is what it's all about. Feel free to reach out to us with any comments or questions you might have, even if it's only to say hello. If it wasn't for our beautiful community, this place just wouldn't feel the same.
Photographer Tips
22 Jul 2019