You know how they say, "There's an app for that"? It's certainly never been truer than today…
When Apple first trademarked that slogan back in 2010 – who could have predicted the sorts (and sheer mass) of apps we'd now have available?
But, back to business — there are of course a number of absolute must-have apps to help support your photography business, too.
From smoothing out bumps in your workflow to tracking your gear and staying organised at home and on the road – these magical little applications will make your life a lot easier. And free up your brain space so you can plot your next adventure.
We have found 8 must-have apps for photographers. We have found 8 must-have apps for photographers. From upgrading your Insta posts to effectively managing your clients, these apps do it all!
Let's get into it!
Best Apps for Photographers #1: Lightroom – The Ultimate App For Photographers
Ever coveted someone's IG feed, wondering how they got such beautifully consistent lighting and finishing results?
Chances are these have been achieved through Lightroom! We previously listed Lightroom as one of the top 5 tools that every photographer needs, cause it's just so damn powerful.
The great news: You can now achieve those fantastic editing results while on the go! The free mobile Lightroom App might have a lighter set of features. But it still enables you to make adjustments to photos and apply your favourite presets.
Still looking for the perfect style for your mobile shots? We've created the perfect mobile preset collection for the Adobe Lightroom App.
Best Apps for Photographers #2: Step into The Light With Sun Seeker
Pack away your sundial!
Predicting the best time and place for shooting in the sunrise, twilight and sunset hours is now so much easier with Sun Seeker.
We all know how stunning photoshoots in dawn or dusk lighting can be. But they can be hard to pull off in certain places – like the mountains. The Sun Seeker app is exactly what you need in your pocket to be prepared for these scenarios.
Simply use this app to plan your day around the light. We dive into light in a little bit more detail in this post on how to shoot amazing elopements, why not bookmark it to read over coffee later?
Best Apps for Photographers #3: Unum – Strange Word to Say Out Loud, But Impossible to Plan Your Instagram Feed Without
Confusing pronunciation and spelling aside, Unum has so much to offer wedding photographers.
Your photography brand and social media presence are some of your biggest selling points, so you've gotta make sure they're always on point.
Unum helps you control the visual consistency and cohesiveness of your IG account, as well as giving you the tools required to analyze data insights.
What's more: there are free and paid-for options. And you can have more than one account linked to it!
Best Apps for Photographers #4: If You're Not on Insta, Where Have You Been?
Okay, okay: hear us out. IG might seem like too obvious a choice to have on this list… but, it is a must-have! Without Instagram, you'd be failing to connect with a massive potential client base in your local area and further afield.
And the photos you share are only part of the picture; you also need to assess your strategic approach and copywriting skills.
There's so much to Instagram, and it can sometimes feel difficult to know where to begin. Here's a simple guide to cracking Instagram for wedding photographers to get you started.
Best Apps for Photographers #5: Post Unforgettable Instagram Stories with Unfold
After noticing a gap in the market, Unfold's creators set about to make professional, influencer-style IG stories achievable to everyone.
And with brands like Vogue, Topshop, Equinox and Revolve using the app, you'd be in very good company!
So how does it work?
Just select one of the app's sleek templates — seriously, it's as easy as that! Give it a try and see for yourself. There are a couple of templates available for free and then tons that they keep adding for a small fee.
Want Polaroid style frames or torn pages?! Unfold is the app for that.
You can also use Unfold alongside other IG story apps, but you don't need to if you find it overkill. In our experience, it's much better to stick with fewer apps rather than over-tooling. Just learn how to use them really well, and you're onto a winner.
Best Apps for Photographers #6: You're A Busy Bee; Get HoneyBook!
Okay, so moving away from photo editing, shooting and sharing, and into client management; another really important aspect of running your photography business.
When you're growing a business on your own, a client roster can sometimes (okay, quite often!) be nothing more than an Excel spreadsheet with names and dates.
And that's okay, when you're really busy and don't have time to reassess. But, the next time you have a little down time, it's a good idea to analyze the business processes which are taking too much time.
With HoneyBook, juggling clients and organizing projects couldn't be easier. You can give off the impression of being a super professional office-based enterprise, even if in reality you're booking clients from a table in Starbucks!
Why not make life easier for yourself and download the app? Having a one-stop-shop for enquiries, bookings, invoices and payments takes such a weight off. Plus never double book yourself again AND do everything from your phone. Even send your guides and templates!
And at $34 a month, we think it's well worth it!
Best Apps for Photographers #7: Lost Camera Bag? Not with Tile
We've all been there; beginner photographer or not. You turn up to a shoot or important meeting, only to realize you've left your favorite lens or — even worse! — an irreplaceable piece of gear at home or in the studio.
How did it happen? When you're busy with bookings, you're moving a million miles an hour. It's inevitable that things slip, right? Well, no. Not necessarily!
Even the most scatterbrained of wedding photographers can protect against these mishaps by investing in Tile; a cute, smart keyring which can be attached to any part of your gear, and tracked via a smartphone app.
Pop one of these on your camera bag, and you'll always know where it is. We love it especially when we're traveling, and our bags are in the overhead compartment a couple seats away! You'll know immediately if Bob in row 17 accidentally grabbed your camera instead of his laptop.
Best Apps for Photographers #8: Use Maps.Me — To Keep You on Track
And lastly, continuing the theme of location devices, we can't recommend WiFi Maps highly enough.
You may already be an avid user of Google Maps or Apple Maps, City Mapper or Waze – and these are all perfect for when you've got access to data.
But what happens when you have a booking in a beautiful remote wedding location, and suddenly your cell signal drops and you can no longer navigate your way?
Enter Maps.Me – an app which lets you download a detailed district map when you've got data, and then it's saved to use offline should you need to.
It's perfect for traveling abroad to cover elopement ceremonies too. Say "Ciao" to expensive data fees!
So that's it… have we missed anything?
That's our countdown of must-have apps! But is there anything you use, which we need to hear about? Drop us a line and let us know; share your app secrets please!
And if you're hungry for more app-related content, why not check out what DBMH has to say about dating apps? You know you want to!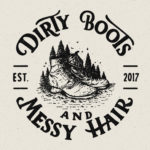 Written by:
Dirty Boots & Messy Hair Team
Connection is what it's all about. Feel free to reach out to us with any comments or questions you might have, even if it's only to say hello. If it wasn't for our beautiful community, this place just wouldn't feel the same.
Photographer Tips
29 Jul 2019