Our second showcasing of our Monthly Favorites post is coming atchya and boy is it amazing! We are always blown away by your talent! Here at DBMH, we strive to create a community where artists can post their work, ask questions, and develop lifelong friendships. Oh, and of course we absolutely love celebrating the work of our mega talented Facebook Community members! So, without further ado, here are our July monthly favorites!
"This was taken at Horseshoe Bend in Page, Arizona at the very end of blue hour! I drove from all the way Arkansas to Arizona to make this shoot happen!"
Photographer: Olivia Mayernick
"We hiked down to Taft Point to catch the most UNREAL sunset. Thanks to these two for standing so close to the edge, battling the hundreds of mosquitoes, and hiking back in the complete darkness. It was definitely one of the most magical experiences."
Photographer: Mariana Tey
This was a vow renewal. When I asked Hailey about her wedding day 10 years ago, this is what she said: 
"I was super young, had no idea what I was doing or what I wanted. All I knew was that I wanted to spend the rest of my life with this man." 
Photographer: Carla Collazo
"This photo happened during a strangers session. My goal was to see if I could capture real raw human connection between strangers.
They had never met before this session and it was just completely steamy and exceeded my expectations!"
Photographer: Ashley Smith
"Love someone who feels like home and adventure all at once."
Photographer: Christin Mortimore
Major thanks to all of our contributing artists! We love seeing your work so keep posting, keep tagging, and keep creating that magic! For those of you who haven't already, head on over to Facebook to join the fun here!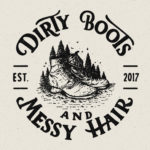 Written by:
Dirty Boots & Messy Hair Team
Connection is what it's all about. Feel free to reach out to us with any comments or questions you might have, even if it's only to say hello. If it wasn't for our beautiful community, this place just wouldn't feel the same.
Photographer Tips
31 Jul 2019