A wedding magazine aka wedding guide is a magazine-style guide that contains everything a photographers wants their couple to know in order to support them in the wedding planning process – and set things up in a way that will result in incredible photographs.
Being an amazing photographer gets you only half-way in creating a successful wedding photography business. The other 50 percent are all about getting the word out about your work – and building amazing relationships with couples that eventually lead to a booked-out calendar that thrives on client referrals alone.
But constantly exceeding your clients' expectation can seem difficult, when really it doesn't have to be. The most important thing is to get people talking about you. And the best way to do that? Surprise them. Support them. Gift them a little something. Like a Customized Wedding Guide.
You are still looking for a Wedding Magazine Template? Guess what, We created two beautiful wedding magazine templates, fully designed, already written out chapters. Here to make the process of getting one as easy as possible for you, so you can focus on what's really important – shooting incredible weddings and building connections. Check them out HERE!
So, why is it that you need a wedding guide?
We'll tell you why you will never regret getting one!
Because You Know That A Successful Business Is All About Building Amazing Relationships With Clients
We've said it before, and we'll say it again
: 
To build a business that everyone's talking about, you
will
need to
create an incredible 
customer experience. 
Imagine yourself in the shoes of the couple planning their wedding. They are overloaded with decisions and choice. Every which way they turn, there's something new and unexpected for them to think about. If you can do something to help guide them through that, you'll be
a
trusted partner in their wedding
planning
process. This is invaluable. 
A wedding guide is such a simple way to provide your couple with added value that extends well beyond the photos. It will cover every stage of the wedding process, not just those you are directly involved in. It might seem strange to gift something that isn't directly related to photography, but this is the single best thing you can do to ensure you have a relaxed couple. And they will be so touched that
you
care enough to look out for their overall needs.
Being a wedding photographer is not just about producing amazing work. It's about helping a couple achieve the best possible memento of an incredibl
y 
special day. A wedding guide will help you – and your couple – do just that. 
Because You Know That Small Adjustments Throughout The Wedding Day Can Make A World Of A Difference In The Images
We've all had those shoots where it seems everything's against us. The lighting's off. The couple is stressed. The expectations are all wrong.
Although on paper it looks like you have everything you need,
a 
potentially 
awesome
session 
has turned into a headache because small details accumulated into less-than-ideal
circumstances 
for your shoot. 
A wedding guide will help to eliminate those sticky issues. You can use the guide to help your couple make the best choices to set the day up for
incredible images
. From how to pick a location with 
favorable lighting 
for the getting ready
, to setting expectations for 
the timeline of 
the day, you will be able to actively influence things to set the day up for success.
You know better than anyone that small tweaks can have a huge impact on the overall quality of the work you're able to produce. Sending a wedding guide will help you to subtly guide your couple to optimise your chances of creating your most beautiful work yet.
Because A Wedding Guide Will Help
 C
ouples
A
chieve
T
he
D
ay
O
f
T
heir
D
reams
Great wedding photographers are truly passionate about not just documenting a beautiful day, but helping couples to achieve their dreams.
A wedding guide will help you to do just that.
By taking each part of the planning process, a wedding guide will demystify all of' the unknowns' for your couple. It will make sure they know all of the things they should be thinking about so that they can plan their wedding stress-free. Ultimately, this will help them to achieve the day as they imagined it would be.
There's nothing more upsetting for a couple than realising too late that they forgot to consider something. Or worse, that they made a choice which will negatively affect their day.
You can help to minimize that risk with a wedding guide. It's such a simple touch but it will have such a huge impact on the experience your couple has overall. Equip your couples with all the knowledge they need for an unforgettable wedding day, and they will love you for it.
Because You W
ant
T
o
T
ake
Y
our
B
usiness
T
o
T
he
N
ext
L
evel
With so many things to organise as a solo creative, finding ways to elevate your business is tough. But sending your couples a wedding guide will help to truly set you apart from the crowd. It will allow you to establish yourself as a wedding photographer who goes above and beyond for their couples, and this is the kind of thing that gets people talking.
Wedding photographers are so dependent on word-of-mouth recommendations. Gifting a wedding guide will actively encourage people to talk about their amazing experience working with you. Your bride might even bring it to her next ladies night, showing it around or loaning it out to a friend who just got engaged – what an amazing way to be found by potential clients. Priceless!
So, don't leave it to chance that you get the exposure you deserve for your work. Take control by gifting a wedding guide. It's a beautiful gift for couples looking for your expertise in planning a wedding day beyond the ordinary. Happy clients and happy photographer? That's a win for everyone!
Looking for a fully customizable Wedding Guide Template? Check out our DBMH Wedding Guide Templates for Photoshop & InDesign. We have two beautiful Theme (Minimalistic/Plaful) options in store, the copy is professionally written, so you only have to add your images and your guide is ready to go!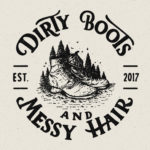 Written by:
Dirty Boots & Messy Hair Team
Connection is what it's all about. Feel free to reach out to us with any comments or questions you might have, even if it's only to say hello. If it wasn't for our beautiful community, this place just wouldn't feel the same.
Photographer Tips
20 Sep 2019