At Dirty Boots & Messy Hair, we're all about celebrating individuality and your inner free spirit. So for us, Valentine's Day gifts are not about consumerism, but about honouring the magical things that make your relationship unique.
But with February 14th right around the corner, you might be panicking if you're still sans gift. So we've pulled together 10 last minute, totally thoughtful gifts to let your special someone know just how loved they are.
We want to apologise upfront: this post is about to get disgustingly romantic…
We're all guilty of failing to dedicate quality time to spend with our other half. So this V-Day, why not plan ahead and create 52 pre-planned date nights, one for each week of the year? It's the simple things that are often the loveliest, so don't feel pressure to make your ideas big or fancy.
It could be anything from waking up to catch the sunrise, to cocktail nights at home. Think creatively about the things you love to do as a couple and jot them down into one surprise envelope to open each week.
If you're stuck for ideas or need some inspiration, take a look here for 101 creative date nights on a dime.
Or if you prefer, you can purchase a pre-made set of date night cards here.
2. Create an Insta Photobook
Valentines Day is the perfect time to take a look back and celebrate the moments you've shared together. If you're anything like us, some of our best memories end up on Instagram. So what better way to celebrate your moments shared than by creating an Instagram photobook?
Simply select the pictures that represent your best memories, print them out and find a suitable home for your prints.
Looking for something quick and easy? We love Knock, Knock Ussie a gorgeous, funny book to store all your ussies ( FYI: selfies + us = ussie )
Or, if you want to get crafty, why not try creating a photo scrapbook? Go nuts with glitter, stickers and annotations to help your loved one take a trip with your down memory lane. Don't worry if you're not a naturally crafty person, we think the best DIY gifts are the ones that look a little… ahem… rustic. Remember, it's the thought that counts, not how it looks. If you need a hand on how to piece it all together, check out this lovely version by Creme de la Craft.
You can either print your pictures at home using Instaport, or you can have them professionally printed using an online service like Social Print Studio.
Roses are red and violets are fine, but we prefer something with a more personal touch. Right now we're a huge fan of bespoke prints, and in particular we love these personalised location prints by Grafomap.
Whether its where you first met, took an amazing trip, got married, or fell in love – why not celebrate that space with a beautifully designed personalised map? Best of all, you can custom design your map to fit your special person's personality and taste.
04. Concoct a romantic meal with a magical twist
They say the way to someone's heart is via their stomach, but wouldn't it be cool to create your special someone a romantic meal with a twist? Well, fear not, the DB & MH love elves have been hunting around for something to spice up your dinner plans, and boy did they deliver….
This Valentine's Day, say goodbye to boring menus and instead transform your meal into a magical experience. Grab yourself a copy of this Harry Potter cookbook, which features spell-binding recipes as seen at Hogwarts, and conjure up a meal your special person will never forget.
Why not take the experience a step further and transform your dining room into a magical grotto? Dim the lights down and set the atmosphere with these magic-inspired scented candles. If you really want to go all out, you can even serve your meal from a tiny cauldron.
I know, how did we live in a world before we knew these existed?!
With a dash of imagination and touch of creativity, you'll create the Valentine's experience of a lifetime.
It's ok, you can thank us later…
05. Plan Your Next Adventure
The best moments happen when you get off grid and live wildly. So, this Valentine's Day set aside some time to plan the adventures that lie ahead over the coming year.
We love travel photo book The Bucket List, which contains 1000 bucket list ideas, big and small. Bookmark a couple of your favourite options and spend Valentine's Day drawing up plans for your next adventure.
06. Set Yourself a Creative Challenge
Creative opportunities are all around us, if only we know where to look. This Valentine's Day, you could gift your loved one something to help broaden their creative potential, or to give you fun challenges to do together during your spare time.
We're obsessed with this photo journal by Henry Carroll , which has lots of creative challenges inside for the budding photographer. If street photography is more your thing, Street Notes is an amazing resource with dozens of assignments and workshops to do on the go.
Prefer more variety to your creative challenges? Then reach for Creative workshop, which has 80 different challenges across a range of media to sharpen your general creative mindset.
07. Plan the Ultimate Movie Marathon
When's the last time you dedicated a day to just kick back with films, snacks, and your best buddy for company? It's probably been years, right?
So this V-Day, why not plan the ultimate movie marathon? We're thinking popcorn, snacks, drinks, pizza, film rentals lined up – the whole shabam. To help you get started, here's a movie night gift box, that comes with a huge selection of snacks and a film rental voucher.
Or, if you prefer something on the healthier side, we love this healthy snack pack, which contains all natural products and is also suitable for vegans.
Want to really go all out? This DB Power mini projector. Find a big white wall, the person you love, and enjoy a movie night made of dreams!
We're about to get real old-school here. If you're too young to remember the golden age of making cassette mix-tapes for your crush, then we hate to say it, but you kinda missed out. But fear not, digital nostalgics have made it possible to recreate the magic of the mixtape.
Simply find 15-20 of of favourite shared songs, and then you have two choices. If you want something quick, easy ( and free ), you can then bundle them up into a private playlist on Spotify, where you can even create a custom playlist cover using this easy guide for that extra special touch.
Or, if you want to do something a bit more reminiscent of the olden days, you can buy a usb cassette from Milktape, which looks like a cassette, but plays on a computer. Pretty genius, huh?
09. Buy Something Green and Watch It Grow
There's something really poetic about gifting your special someone a plant, and watching it grow alongside your relationship. If you're not a naturally green-fingered couple, then opt for something low maintenance. We love these build your own terrarium kits, which come with everything you need to gift your loved one something green.
If you're feeling a bit more adventurous then go for a durable, statement plant like a monstera. Under the right conditions and with the right amount of care it will grow quickly and can be nurtured into just about any size or shape you want.
Give it a go – and next year look back and see how far both your real and symbolic love have grown.
You know, all of the Valentine's Day gifts in this guide are really cute and thoughtful. But there's no substitute for going back to basics and just making an extra effort to let someone know how loved they are.
This Valentine's Day, instead of grand gestures or wild presents, why not simply give extra long hugs and kisses, breakfast in bed. Make the time to turn off all your devices and talk, free from distractions. Sit in peaceful silence. Reflect on moments past, and ones to come.
Make this 14 Feb a day to simply connect and express all the feels you have for your special person.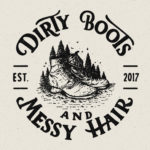 Written by:
Dirty Boots & Messy Hair Team
Connection is what it's all about. Feel free to reach out to us with any comments or questions you might have, even if it's only to say hello. If it wasn't for our beautiful community, this place just wouldn't feel the same.
relationships + dating
11 Feb 2018