Where are you sitting as you are writing this right now? How's your day going? How are you feeling?
My day just started. Its 6:17 am, I am pretty tired and I am just drinking my first coffee of the day. We just returned from the Florida Keys  from our last wedding of 2017 and wow what a perfect way to end and incredible wedding season.
To those that might not know you just yet, please introduce yourself – Who are you?
So my name is Gabe McClintock and I am a wedding photographer based in Calgary, Alberta, Canada. We have 4 children between the ages of 10 and 4 years old. If I am not traveling for work, I am at home cleaning up messes, breaking up sister disputes, driving my oldest to gymnastics or doing 5 loads of laundry a day.
Let's go way back. How did you first get in contact with photography? What was it that drew you in?
I first got in to contact with photography way way back when I was a kid, as my dad was journalist for the local daily newspaper in our town. But that wasn't what drew me into photography. I actually wanted to make ski movies (i.e. warren miller) and after high school and applied to the Cinema program in college. On the advice of my dad I also applied to journalism as a backup in case I didn't get in to Cinema. Well I didn't get into Cinema.
The second year of journalism there was the option for only 16 out of the 300+ students to specialize in photojournalism. I applied and was accepted and the rest is history. I was absolutely hooked. For me it was the ability to freeze a moment in time with my camera. Back then it was all film so we didn't have the instant gratification that digital offers us now. It was shoot, go back to the darkroom, develop your negatives, let then dry, cut and sleeve them then using the enlarger handprint your images. It was such an incredible experience and something I will remember forever.
What was it like shooting your first wedding? Did you set out to become a wedding photographer?
I never set out to be a wedding photographer. I actually wanted to work for National Geographic and travel the world shooting assignments. But like most, my first wedding was for a friend and it was an extremely stressful and really a horrible experience. I would say my first 5-10 weddings weren't that great. I had zero clue on posing couples as my background was documentary, hands off approach. So the portraits were very very awkward.
What is your advice to fellow photographers wanting to start out in the wedding industry? What are mistakes you see newbies make?
My advice to anyone just starting would be to keep shooting and keep practicing. We live in a world where everything is instant and people want to be the best right away and so many seem to not want to put the time and effort into getting better. So my advice would be to be patient. Practice and don't be afraid to make mistakes. More often then not the best way to learn is to fail.
What does it take to truly master the art of wedding photography in your eyes?
I don't think anyone has "truly mastered" wedding photography and I don't think one can. I believe you can get amazing at what you do, but from experience I am always learning and experimenting at every single wedding and I have been shooting weddings now for 14 years. Many of my friends, who are in many peoples opinions are some of the best wedding photographers in the world are still open to making mistakes and trying new things. Learning. Experimenting. I think the way to master wedding photography is to continually be working on your skills.
Any adventures on the horizon? What experiences are you currently planning for?
With 108 days of travel and 120,702 km's traveled in 2017, I am going to enjoy being at home for the next few months. 2018 is going to be another incredible year with some amazing speaking engagements all over the world and most importantly some wonderful couples whom I get to work with. But for now, it's home life for me.
What is you advice for couples looking for a wedding photographer? What to pay attention to? What questions should they ask?
My advice would be to make sure you connect with your photographer. Not only on an artistic level but also personally. For me my best work comes from couples that I connect with. Couples who place 110% of their trust in me and allow me to do what I do so they can just be themselves. Trust is so important for your photographer to create the images that you see of theirs online. Trust however not only comes with a connection between you and your photographer but with a consistent style in the work they are creating. You want to know exactly what your will receive at the end. And the one thing I would ask would be to see a few entire galleries of theirs. We all share our best of the best of the best but you want to see the other 99%.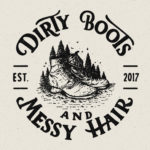 Written by:
Dirty Boots & Messy Hair Team
Connection is what it's all about. Feel free to reach out to us with any comments or questions you might have, even if it's only to say hello. If it wasn't for our beautiful community, this place just wouldn't feel the same.
Photographer Tips
16 Jan 2018