As a photographer, you are often there at life's most intimate moments. Proposals, weddings, births – these are often times reserved for loved ones. But the photographer often gets a secret, special pass into these precious memories. You become the eyes that help people see and relive their best days, over and over again.
Because of this, photographers often form relationships that extend way beyond a single shoot into something that lasts a lifetime. And this is exactly what happened between wedding photographer, Lindsey Boluyt, and Hannah and Chase.
This beautiful maternity home photoshoot was the third of the couple's big life moments that Lindsey has been there for. And the results are spectacular. 
"I've built such a close relationship with Hannah & Chase, so it has been pretty freaking rad to be there for them through all life's adventures. I took Hannah's boudoir and bridal photos, then flew to TX for their wedding last year, and now have been there for this whole new chapter in their life. I even got to feel baby Shepard kick mid shoot!" – Lindsey B.
We love how this intimate maternity home photoshoot captures the vulnerable excitement that comes with a first child. It's so clear how comfortable the couple feel around Lindsey. The photos show the two of them as they truly are, free from the camera's gaze. Natural, in love, and at ease.
"I think *one* of my favorite things about this career is all the relationships I've built throughout everything. I end up staying in touch with most of my clients, some of which, I see and talk to on a regular basis. It's pretty rad." – Lindsey B.
This shoot reminds us that the best photographers are those who reach beyond the lens and touch people's lives. It's a poignant display of how truly great wedding and life photographers often take on an important, cherished role in the lives of those they shoot. We're sure Lindsey will be there to see many more wonderful moments that lie in store for this lovely couple. .…
Photographer: Lindsay Boluyt Photography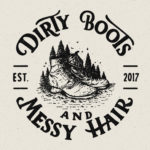 Written by:
Dirty Boots & Messy Hair Team
Connection is what it's all about. Feel free to reach out to us with any comments or questions you might have, even if it's only to say hello. If it wasn't for our beautiful community, this place just wouldn't feel the same.
Weddings & Elopements
11 Mar 2018