Finding ways to show someone you love them doesn't have to break the bank. On the contrary, at DBMH we think the most romantic experiences are often the ones that don't cost a dime.
No matter what you both love to do, there are tons of ways to spring free date nights on your special someone – you just have to think a little creatively. In this article we round up our top 10 cute free date activities. So whether you're an adventure junkie or home bunny, there's something in here just for you.
1. Play tourist in your home town
When's the last time you experienced your hometown with the curiosity of a first time tourist? We're guessing it's been a while. So for your next date, why not plan the ultimate tourist itinerary to the place you call home, and spend the day having fun and exploring?
From the local museum and art gallery, through to the old monuments or buildings you've never paid much attention to, map them all out and create your own private treasure hunt. Keep each place on the map secret and play your way from one spot to the next. All adventures begin at home, so who knows where this free date night might take you?
2. Take a drive to watch the sunset
Live in a city? Rent or borrow a car, grab a few blankets, a bottle of wine and drive somewhere beautiful to watch the sunset. Sunsets are a moment of transition – the end of one thing, but the start of something new. So why not take your sunset date night as an opportunity to discuss and plan your next transition as a couple? Maybe you're on the verge of something big – like a home move, or a wedding – or perhaps it's something much smaller. No matter what your situation, this is the perfect opportunity to shut yourselves off from the world and connect over whatever awaits you next in your adventure together. 
3. Go camping in your backyard
Who needs fancy hotels when you have the night sky? Sometimes we think we need lots of money to treat the ones we love, but actually we have everything we need right on our doorstep. Set up a tent outside, put out some cute lanterns, grab some things to keep you warm, and spend the evening cosying up under the starlit sky. There's nothing more romantic or beautiful than simply creating time to be together. This free date night promises to be an opportunity to do just that.
Sometimes in order to plan where you are headed, you first need to take a look back at where you have been. No matter how long you have been together, there's nothing more fun than reminiscing about the amazing times you've already shared together.
Get an empty jar you have lying around your home, and spend the evening filling it with small notes and trinkets of all your memories together. You can even write yourselves little messages to your future selves. When you are done, store it away somewhere and don't peek again until at least a year later. It will be such a lovely surprise when you finally come back to your time capsule and re-read your memories, and it might even become a yearly ritual that you do together.
An oldie, but a goodie. Nothing beats a classic film night with your best buddy for the perfect date night. Grab some of your old DVDs (or line up a selection of films on Netflix), get some snacks, then cuddle up and enjoy some alone time. Want to go all out? Why not see if you can borrow a projector from somewhere and create your own movie theatre experience in the comfort of your own home. We guarantee your special person will love it!
There's nothing nicer than surprising someone with a pampering session – but normally it costs a fortune. For your next date night, why not then recreate a luxury spa experience at home, using things you probably already have in the fridge. Here's a list of awesome DIY scrubs and treatments you can make using home ingredients. With a little prep work and some candles, you'll recreate the magic of the spa experience at home, for free. 
Better still, why not take the magic of the spa experience outdoors? Find a beautiful natural spot, bathe in the water, and soak away the stresses and strains of everyday life.
7. Create your own unique recipe
Creativity breeds romance. So why not let your creative juices flow in the kitchen, and see what magic you can create together using nothing other than the ingredients you have in your fridge? The more random and mismatching the ingredients, the better. Create your own totally new recipe that will forever go down as uniquely yours, and give it a name. Set the table beautifully, light some candles, and enjoy a beautifully romantic – and perhaps slightly odd – meal for 2. 
8. Childhood memory game night
Everyone has a board game that reminds them of their childhood. Secretly find out loved one's favourite, get hold of a copy, and then surprise them with a cute games night at home, just the two of you. As you progress through the game, take some time to explore some of the memories attached to the game. Not only will you have loads of fun with your special person, but you'll also get to know them just that little bit better. And they'll be so touched that you took the time to scout out something that's a treasured memory for them. 
9. Do something new that scares you
The best thing about relationships is that you have a constant partner in crime to push you to achieve your potential. Often, your other half is the only person in the world who reminds you what you are capable of, and stands right by your side whilst you try to fly. So for your next date night, why not create an opportunity to do something new that scares you? Maybe you could sign up for an open mic night? Maybe you could exhibit some of your work at a local gallery? Whatever your thing is, your next date could be the perfect time to try something new, safe in the knowledge that your partner is right there for support.
You know us, at DBMH we love a good walk in the woods. For your next date night, you could simply pack a bag with snacks and refreshments and plan a couple's hike. Hiking is the perfect opportunity to enjoy each other's company without the constant distractions of the world. So go somewhere you've never been before, experience a new vista together for the first time, and unwind. Take a look here if you need inspiration about which trails to tackle together.
And there you have it – 10 utterly thoughtful, totally free ways to treat your special someone to the date night they deserve. Enjoy!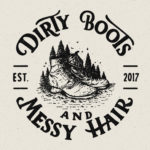 Written by:
Dirty Boots & Messy Hair Team
Connection is what it's all about. Feel free to reach out to us with any comments or questions you might have, even if it's only to say hello. If it wasn't for our beautiful community, this place just wouldn't feel the same.
relationships + dating
07 Jul 2018