Deciding how to plan a winter wedding is a really exciting prospect. Winter weddings can have an extra smidge of sparkle and magic that you just can't replicate on a summer day, but when you dive down the rabbit hole of cold weather logistics, outfits in plummeting temperatures, and how on earth your hair will stay in place on a windy day, you can easily get lost in the negatives.
We're here to keep you from spiraling and to give you some tips on how to plan the enchanting winter wedding you're dreaming of.
1. Keep Your Guests Warm and Dry
This sounds like a no brainer, but you'd be surprised at the amount of people who get so caught up in flowers and food that they forget to check the heating facilities at the venue. For example, if you've booked a marquee, ensure you hire plenty of space heaters.
If your guests have a walk outside between the ceremony and reception, supplying umbrellas and hand warmers is a really thoughtful touch.
2. Make the Most of the Bad Weather
You already know that it's more likely to be raining or snowing on your wedding day, but don't try to work around it, work with it. Embrace the challenge by donning some matching gumboots for a unique photo opportunity, or give your bridesmaids coordinating faux fur shrugs or blankets to wear on top of their dresses so they don't freeze during the photo session.
3. Don't Go Overboard with A Festive Theme
Just because your wedding is near the holidays, doesn't mean you need to adorn your venue with kitsch Christmas memorabilia. Instead, use subtle nods such as wild foliage garlands, candles, cozy throws and tiny, twinkly lights to add sparkle in a chic and understated way.
4. Embrace Seasonal Food and Drink
The trees may be bare and animals in hibernation, but that doesn't mean there isn't plenty of fresh produce available for your wedding catering. Root vegetables such as beetroot, purple sprouting broccoli and squash would all make a colorful addition to your dinner plate. Hot, spiced mulled wine would be the perfect replacement for the traditional champagne reception and adds a point of difference.
5. Have Realistic Expectations of Your Guest List
Traveling around the holidays can be expensive and time consuming, so try not to be too disappointed if some of your guests can't make it. Remember why you are getting married and look forward to seeing all the guests who are able to make it. They're all there to celebrate with you!
On the other hand, what a great way to keep a wedding on the more intimate side without hurting anyone's feelings! 😉
6. Trust That Your Photographer Knows the Winter Light Better Than You Do
If you dream of an atmospheric portrait session at sunset, consider that in wintertime this could be mid-afternoon, so ensure you fully brief your vendors on what you have in mind. If your ceremony isn't until late afternoon, they might suggest taking the portrait shots beforehand (with a romantic first look of course) to capture the best light.
7. Consider Your Own Comfort
Ok, so you've dreamt of a strapless gown or off the shoulder neckline, but you may need to get creative if you have your heart set on wearing no sleeves in freezing temps.
Bridal capes are a beautiful alternative to a long veil, which may not be so practical in bad weather, or you could ask your seamstress to design a delicate lace overlay to wear for the ceremony if it's in a church (which tend to be on the cold side).
If you prefer an edgier look, an over-sized, woven wool jumper can look extremely sophisticated on top of a sleek, silk gown, or a leather jacket with custom hand painting on the back would be very memorable.
8. Don't Forget About the Groom
There is something about wintertime that evokes smarter dress. It's a great opportunity for the groom to wear black tie, or a suit with sumptuous velvet detail on the collar and lapels.
If choosing a black-tie dress code, encourage him to go the extra mile and channel his inner dapper self with a silk evening scarf.
We know this is easier said than done but you have to trust in your planning, and trust that your vendors will figure it out– after all, they do it day in, day out – if things go awry on the day. It's important to let go, and embrace the unpredictable magic of a winter wedding.
Besides, we promise your guests won't even notice if something doesn't go to plan. As long as you are having a great time, they will too.
Hopefully these tips will help you on your exciting journey of planning a magical winter wedding. Still not sure if a winter wedding is right for you? Then take a look at our guide on summer vs winter weddings to help you decide.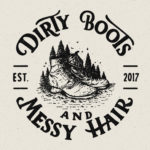 Written by:
Dirty Boots & Messy Hair Team
Connection is what it's all about. Feel free to reach out to us with any comments or questions you might have, even if it's only to say hello. If it wasn't for our beautiful community, this place just wouldn't feel the same.
Wedding Planning
07 Nov 2019