The secret to any successful business is knowing what your customers want. And – good news wedding photographers – I'm here to help you do just that!
When you're just getting started as a wedding photographer, the secret to amazing client relationships can be perplexing.
Hey, it can be just as confusing when you've been covering weddings for years!
That's why you may be pleased to hear that the best way to keep clients happy — and win referral after referral — is actually surprisingly simple.
And I would know; I got married last month and had the best experience with my wedding photographer.
Here's what I know will make your clients recommend you every single time! So, grab a pen and paper and let's get started!
For Starters: You Are So Much More Than Your Photographs! So, Don't Get Stuck Behind The Lens
Sure, every couple wants to get the best possible photographs from their wedding day. But they don't necessarily want this at the expense of a positive, friendly (and highly recommendable) relationship with their photographer.
Whilst my partner and I looked at a lot of online photography galleries and website portfolios during our wedding planning process, we didn't make our final decision on this output alone.
In fact, I knew pretty much instantly which photographer I was going to book in as soon as we got on the phone with him.
Why?
Because I got a real sense of his personality. He seemed honest, fun and — most importantly — like he would really get on with our wedding guests.
We didn't have a big wedding. We married abroad, in Italy, so only a select group of friends and family joined us for the ceremony.
That meant that whoever we invited into our inner circle had to not only deliver the quality and style of wedding photos we were looking for but had to fit in with the vibe on the day.
So, there's two important lessons to learn here.
For one: don't rely on your online portfolio to seal the deal. If you get a wedding inquiry, pick up the phone! Make that extra effort to show who you are, as well as what you can deliver as a creative.
Then, on the wedding day itself: you need to socialize.
Don't shy away in the background, too much. Of course, you can drop back to take some natural, non-posed shots of friends and family, but don't allow yourself to veer on anti-social.
Get to know the guests, as well as the married couple. Talk to people! That's how you'll create a lasting impression.
And this is a really keen business move. Not only will this make your photos more moving and authentic — as the wedding party will feel more relaxed in your company — but because the greater an impression you make, the more likely guests will remember you… and recommend you to their other friends and family.
Nice!
It's Not Just the Happy Couple You're Looking to Impress…
If you only set out to be a good photographer for your direct client, then you're missing a trick.
But if you can make all the guests feel a million bucks… you're onto a winner!
Ideally, once you've made your best edits and circulated the final shots, you want each and every person who was at the wedding to find at least one image of themselves where they think, "Woah… I look A M A Z I N G".
I know a number of my friends have ordered printed pictures from my wedding photographer — and not because they capture a loving moment with me or my husband, but because they just look awesome in it.
If you can do that, then get ready for your email list to be poppin'!
At the end of the day, the business development opportunity of a wedding can be exponential. If at least one person there knows one person who goes on to get engaged in the next year… well, that's a lot of new client leads!
… Having Said That: The Couple Should Always Be Your Priority
It's a delicate balance to strike, between being tuned in to potential business opportunities and remembering to be in the moment. Above all else, the couple getting married should always be your primary focus.
Our wedding photographer certainly made us feel like the center of the universe for the few days we hung out with him.
So wedding photographers: spend time getting to know your couples!
Take the time to have catch ups with them over Skype or FaceTime. Chat with them about all sorts of things, not just the wedding day. Yes, logistics and planning will be a big part of what you speak about, but you want to show them that you care about them as people… not just as clients.
Ultimately, you need them to trust you and consider you a friend. That's the only way you'll get the best possible photographs of their wedding day.
So, ask the right questions about what they want — and make sure you give them space to ask you wedding photography questions, too. Chances are they'll be a little nervous and stressed. At the very least, they'll be feeling a teeny bit of pressure (whether they know it, or show it, or not).
I always felt like we could really talk to our wedding photographer. We bounced ideas back and forth; he was open to our suggestions, and we took his advice on board too.
As a result, we had the most fun working with him on the day. Would we have had as much fun, if we'd got to know him less? I don't think so.
Which leads me onto my final piece of advice…
Say 'Yes' To Activities Outside the Wedding Day
I can't stress this enough: if you have the time and the availability to join in on pre-wedding events, then do!
At my wedding, our photographer flew in the day before the ceremony — so he really had no excuse not to! But, regardless, if you work within your local area (or even an hour or so drive away from the venue) then I'd really recommend you make the extra effort to say "yes" to the invites you are given.
Maybe it's a wedding rehearsal. Maybe it's a little unofficial party before the official "I do"s. Maybe it's a simple as dropping in for a coffee and meeting the couple's nearest and dearest at their hotel.
Whatever this looks like to you and your clients, it can really have a massive impact on your familiarity with each other when the ceremony rolls around.
At the very least you'll already know who everyone is, so you won't need to be briefed on who you absolutely need to get photographed together. This means you'll 100% deliver on the range of final shots to send to the happy couple.
But you'll also have a better time yourself — you'll feel able to chat and have fun, because the ice will already be broken.
So – The One Thing That Is Guaranteed to Make Your Clients Recommend You? Act More Like A Guest, And Less Like A Supplier
Our wedding photographer – Patrick Phillips – absolutely exceeded our expectations.
We'd recommend him to anyone.
Which is why I now firmly believe that a great wedding photographer is both a fly on the wall and a welcomed guest, at the same time.
They can take open, honest, natural photos and really feel like part of the family.
But this is just a reflection of my wedding experience. For other tips on how to exceed your client's expectations, take a read of DB&MH's guide '5 Steps for Building Amazing Relationships With Your Photography Clients'.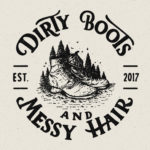 Written by:
Dirty Boots & Messy Hair Team
Connection is what it's all about. Feel free to reach out to us with any comments or questions you might have, even if it's only to say hello. If it wasn't for our beautiful community, this place just wouldn't feel the same.
Photographer Tips
02 Dec 2019