Regular subscriptions are a vital part of any photographer's life and career. Having a strong passion and a hobby/job that comes with a whole host of accessories means that there is always something new that you need, or want, but picking a great subscription service can be far more useful, long-term, but also sometimes quite tricky.
Photography is an expensive business, and while the useful accessories – lenses, flashes, luggage and so on – won't be quite as pricey as a new camera, they are still going to make an impact on your bank balance. This is why one of the most helpful, important, and fun things you can buy for yourself is not, technically, a thing, but rather a subscription.
Wedding photographers rely on a bunch of subscription-based programs, and there are a range of other options – magazines, gift packs, subscription boxes – that are incredibly helpful but that photographers rarely have time to focus on.
We've picked some of our favourite subscriptions below, to give you an idea of where to start. Why not give yourself a gift that literally keeps on giving? Here are some of the must have subscriptions that every wedding photographer needs!
Nowadays the key Adobe photo editing programs, Lightroom and Photoshop, are available not as one-off purchases, but as a subscription service.
Almost every wedding photographer we know uses one or both of these programs, and if they don't, we reckon they should be! There are a few options for subscribing to these programs to consider, depending on whether you want both programs, and how much cloud storage you want to include.
Whatever options you choose, this is likely to be one of the most practical and useful subscriptions you will encounter,  regardless of your skill level, whether you are an old pro or just starting your career.
Our must have subscriptions are:
Pictime, Smartalbums or smart slides: an online gallery service for presenting (and selling) your work
UNUM: To create gorgeous insta story planning (a must for photography marketing!)
Later: for easy breazy social scheduling
A magazine subscription is a truly fantastic option for any photography enthusiast. Who doesn't love a regular supply of inspiration, new kit to lust after, and industry news and interviews through the door every month? There are a huge variety of publications around these days, with something for everyone at every level. Here are just a few of our favorites:
Photography Week – the world's leading digital-only publication, this is jam-packed with tips, tutorials and guides to help you perfect your photography skills.
Aperture Magazine – Aperture has a reputation as one of the most professional and intense photography magazines out there and is a great choice for someone looking to take their photography pretty seriously.
Digital Photo Pro – one of the best options for providing exclusive interviews and first-hand advice from professionals, this magazine is aimed squarely at professionals.
Amateur Photographer – the oldest weekly photography magazine still in print, it was first published in 1884! Although aimed at photographers just starting out, the spread of content makes this a great choice for both beginners and more advanced photographers.
Subscriptions for photographers don't always have to be solely focused on practicality and usefulness, however. Sometimes you just want something that makes you smile, and that maybe you don't have time to consider with a busy schedule of shooting and editing. This is where gift boxes come in!
Gift boxes on subscription deliver a monthly dose of creativity and joy, and are guaranteed to put a smile on your face with each delivery. Here are a few of the ones we especially like:
Mootsh – a great service that recognises that photographers rarely have time to print their own personal photographs, and lets you pick your best 10 shots every month, then delivers them as a beautiful photo album.
Snapsy Box – a monthly subscription aimed at helping you learn and complete new projects, Snapsy Box delivers a combo of practical bits and bobs and hints, tips and advice, to take your photography to the next level.
Paletteful Packs – not everything has to be photography-related, and photographers will often have a number of other creative strings to their bow. Paletteful Packs provides great sets of art supplies to get that creative spark up and running in a slightly different discipline.
Finally, something a little more 'out-there', but worth considering. Parachut works like an equipment rental, but on a monthly subscription, and allows you to rent kit and gear that you otherwise might not be able to access, for as long as you want.
Think a top-of-the-line lens for a special project, or even a drone! It's not the cheapest, but it's a fun way of allowing photographers to play with some cool toys they wouldn't be able to any other way!
Good luck finding the perfect subscription! Why not put the cherry on the cake by picking up your subscription along with a mixtape of our Ultimate Wedding Photography Editing Playlist. Let us know which subscription you go for, we can't wait to see the smile on your face! Tag us at #dirtybootsandmessyhair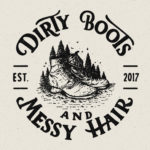 Written by:
Dirty Boots & Messy Hair Team
Connection is what it's all about. Feel free to reach out to us with any comments or questions you might have, even if it's only to say hello. If it wasn't for our beautiful community, this place just wouldn't feel the same.
Photographer Tips
13 Jan 2019