Hollywood actress Ingrid Bergman famously said:
"A kiss is a secret told to the mouth instead of the ear."
That woman was so right.
Kissing is important and so is knowing how to be a good kisser. A great first kiss can tip the scale towards a second date.  It plays a huge part in creating passion and can pave the way for even greater intimacy down the line.
But what are the special ingredients that make a kiss unforgettable? And what makes someone a great kisser?
It would be impossible to create a "one fits all" manual: each kiss is unique and that's the beauty of it. There is no standard set of steps to follow to guarantee bringing in the fireworks.
But before you give up hope and despite the impossibility of nailing down that one perfect formula – being a great kisser is actually pretty simple. And it has nothing to do with elaborate tongue movements or tricks. Kissing is a special language between two people – and the best kisses come straight from the heart.
Let's take a look at 5 keyways to not only being a good kisser, but a great one.
How to Be A Good Kisser Tip #1: Make Sure You're on The Same Page
Let's get one thing out of the way: it is never okay to grab and kiss someone – unless they have given you their explicit consent. And trust us, communicating your intention to kiss your date won't put a damper on the mood. A kiss should be expected and anticipated by both sides, not come as a total surprise (that may or may not be a welcome one).
GIVING YOUR PARTNER THE CHANCE TO REACT BEFORE YOU ACTUALLY LEAN IN FOR THAT FIRST KISS SHOWS THAT YOU TRULY CARE ABOUT HOW THEY FEEL.
So if your first date is going amazing and you can feel the sparks flying in the air – go ahead and speak your mind. Whether it's something cute like "Wow, I could totally kiss you right now" or something cheeky like "Is this the part where we kiss?"
This gives your partner a chance to react, or offer an indication they'd be into it, before leaning in.
P.S. If you think that ladies should wait and "be kissed", please think again. Even science now agrees that taking initiatives in love is good for you!
How to Be A Good Kisser Tip #2: Build the Pace Slowly
Would you consider someone who accelerates from 0 to 100 km in a single second a good driver? You'd probably be much too busy holding on to your hat and figuring out how to get outta there asap.
Kissing is a lot like that.
Movies want you to believe that a good kisser is someone that looks at their partner passionately – and devours their mouth just a second later. Nope, that's not it. And trust us on that one – because movies are greatly responsible for many dating myths that are holding you back from finding love.
A GREAT KISS BUILDS UP SLOWLY – WITH BOTH PARTNERS ENJOYING EVERY STEP OF THE WAY.
A great kisser takes their time – and once they realise their partner is into it might gradually pick up the pace and the excitement right with it.
So, if you want to give your crush a smooch to be remembered, start with a soft, exploratory peck and take your time to enjoy the slow build-up. It may not look as impressive as some Hollywood kisses, but both you and your boo will know what's real and well.
Speaking of real and good, want to know what real people are thinking about kissing and other relationship essentials? Here are the 8 dating blogs you should be reading!
How to Be A Good Kisser Tip #3: Make It Multi-Sensory
We may be living in a digital world, but kissing is probably one of the very few IRL experiences technology will never replace. (By the way, did you know it's possible to find love without dating apps?) A great kisser is someone who understands that, and makes the most of every touch, taste and smell that accompanies the kiss.
After all, it's not just the mouth area that's full of sensitive nerve endings. Use your hands to hold them tight, to caress their hair or their neck; use your breath to tease their ears or cheeks; softly touch their eyelids or the tip of their nose with your lips…
A GOOD KISS INVOLVES THE WHOLE BODY – IT SENDS SHIVERS DOWN YOUR SPINE, MAKES YOUR HEART FLUTTER & SENDS THOSE BUTTERFLIES FLYING.
Every great kiss should be about showing your partner how special they are to you and how much fun you can have together!
And yes, a kiss can totally be a declaration of your feelings. In fact, if you're looking for more romantic gestures to show someone your love, we've got you covered!
How to Be A Good Kisser Tip #4: Take Cues from Your Partner
It takes two — both to tango, and to kiss. Communication and consideration are as much aspects of a great kiss as is consent.
If you've started picking up steam but they reciprocate in a more timid or slow manner, perhaps you should consider switching up gears. Similarly, if you're taking it nice and slow but you see that your partner is being much more intense in their kiss, you shouldn't be afraid to show more urgency and passion.
EVERY KISS HAS A UNIQUE DYNAMIC BECAUSE OF THE TWO UNIQUE PEOPLE INVOLVED – SO MAKE SURE YOU PAY ATTENTION TO EACH OTHER.
Many people are nervous about kissing at first and need more time to become confident and playful. Is that also you? Here are some tips on what to do if you're feeling the jitters before a first date.
How to Be A Good Kisser Tip #5: Don't Be Afraid to Mix Things Up
Like we said, no great kiss will be identical with your next great kiss. So, once you've established a rapport with your partner (i.e. you've established that you both enjoy kissing each other and would like to continue doing so), that's when you get to try out more things!
ONCE BOTH PARTNERS ARE COMFORTABLE, YOU'RE FREE TO MIX THINGS UP AND EXPERIMENT.
Things like softly biting their lip or using a kiss to share that last bit of ice-cream, will make every smooch unpredictable and exciting. Combine it with one of these unconventional first date ideas, and we can guarantee you'll sweep them off their feet.
Having fun and losing yourself in the moment – that's exactly what a great kiss should be all about!
Now you know you don't have to worry about being a great kisser. There are however six other things you should definitely figure out before seeking true love!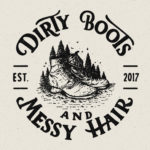 Written by:
Dirty Boots & Messy Hair Team
Connection is what it's all about. Feel free to reach out to us with any comments or questions you might have, even if it's only to say hello. If it wasn't for our beautiful community, this place just wouldn't feel the same.