Seattle-based photographer Caitlyn writes in her bio that she's"madefor those who love poppin bottles as much as they love each other." – and that ethos is woven through her incredible body of work. Each shot just exudes joy, fun and cheekiness – heck we wish we were on set cause her couples look like they're having a blast! 
Hey Caitlyn, where are you sitting as you are writing this right now? How's your day going? How are you feeling?
Hiiiiiii there! *yawning to express the elongated hello* As of now, I'm sitting on my glamorous green velvet couch fit for a queen. But totally not feeling so glamorous with my three day dry shampooed hair and an outfit I'm pretty sure I've worn since Sunday. It's called the "Editing Season" style. It's all the rage *everyone is talking about it*
My day just began and to be honest, I'm feeling exhausted already. I just got home from two back to back out of state weddings – to a house that still needs to be unpacked (just bought a home in the crazy Seattle market whoo hoo). And about 9 other weddings to still edit. But the light at the end of the tunnel is near, so I'm continuing to hustle along! I'm sure there are a lot of other photographers giving me the "amen to that" while reading this post. I feel you.
To those that might not know you just yet, please introduce yourself – Who are you? Cat or dog person? What's your photography style?
To those of you who don't know me, my name is Caitlyn Nikula and I'm based in Seattle, WA. I'm never good at answering "who are you" questions – because realistically I'm still figuring that out. But what I do know is that I'm a Leo, and I'm everything that damn astrologist says I am. I'm loud, blunt, sassy, extreme go-getter, a perfectionist and over achiever. I like fancy things. Just like guac, I can be a bit extra. I begin every day with a homemade latte and the best podcast, My Favorite Murder. #ssdgm
I'm an ENFJ and a Type 3 with no W number because apparently I'm balanced across the board.
That basically tells a lot about a person, am I right? I'm obsessed with running a business, most importantly, I'm obsessed about being in an industry that allows me to be personable, honest, and creative.
I never expected to be a full time wedding photographer – it actually fell into my hands as an opportunity and I just ran with it. It's been a journey to figure out what my "style" is, and what I hope to bring to the table every wedding I capture. I believe that my style orbits around human connection. I'm not here for the trendy presets, dark and moody, or light and airy – and I don't want that to identify my work. I want those who see my work, to ultimately feel. I want my clients to view their photos and remember what the air tasted like, how the wind blew, or how the sun shined. I want their lips to tingle at the sight of kisses, and bodies to feel warm when they look at photos of friends and family embracing them. I want to give back memories in their original form. My editing style is timeless, realistic and forever unchanged. Trends come and go. And, in 20 years, I'd like my clients to experience their wedding day – allowing the photos to remind them exactly how those 24 hours were.
What role does Instagram play for you as a photographer? Is it important for your business?
Oh Instagram. Can't live with it, can't live without it. I've never had such a love/hate relationship with such a tiny little phone app. But I've learned to beat it. Before I transitioned my thoughts on how to use the app to benefit me, I used to experience a lot of anxiety when I'd use Instagram. It was, and still is in most cases, a numbers game. How many followers can you reach? How many likes can a photo get? If you've never been featured on a featured Instagram account, then no one takes you seriously. And if your photo doesn't get a certain amount of likes, then it's meaningless, worthless. Instagram opened up a door for small businesses to have a massive outreach, but it also opened a door of worthlessness, self doubt, and this constant urge to gain popularity. "If you don't post at LEAST 3 times a day, you won't gain followers, you'll lose followers, yada yada yada" it can be SO much, especially for someone so new to the industry. What. A. Headache. It began ruining my creative mind, it began controlling it. "Can't post this – not Insta worthy." "Must. Create. Insta. Worthy. Content. Always" Who ever decided what was Insta worthy anyway?
At the beginning of this year, I took a break from the app to focus on what I wanted it to do FOR me. I decided to focus my energy into my work, my clients, and posting REAL content with real captions – whether I was having a good day, bad day, a funny story, talking about awkward/real life moments – and it changed. I began focusing on the relationships I was creating and the CLIENTS I was gaining, rather than "followers and likes" – now I use it as not only a business marketing forum, but also a personal one. I want people to know the real me.
So, now when I think of Instagram, I think of marketing and reaching target clientele. It has definitely done its job for me as about 75% of my jobs come from Instagram. I noticed a massive shift in inquiries when I stopped caring so much about the numbers and began caring about MY personal/business goals.
Can you show us 1-2 photographs that are particularly meaningful to you and share the story behind them?
I had a hard time with this question, because my mind automatically goes to find the most epic, landscape-y, creative photos I can find to share. When, that isn't the question above at all. As I stated before, I need people to see my photos to feel.
It's hard to write into words about each of these photos, because my words just can't do the memory justice. For this specific one – I am so happy I turned at the right moment to capture my bride's reaction. Her uncle hopped up on stage at the end of dinner to give a final speech before heading to the dancing room. In his hand he held a trombone that looks like it was decades old. He went on to talk about her grandfather – who passed away in recent years. Someone my bride was very close to. He was a fantastic trombone player, and someone Nikki truly admired and looked up to. Her uncle also plays trombone and sings. She knew he would be playing a song "What A Wonderful World" but she had no idea her uncle would be performing it using her late grandfather's trombone. You could feel the whole room stand still as he played this gorgeous tune not only in celebration for the bride and groom, but in honor and remembrance of her grandfather. I get extremely teary eyed just writing this out.
When I was finalizing the photo timeline for Summer and Jeff – they had decided to not do a first look. Which, I've learned, even though we can guide our clients to making the best decisions for their day – it is not our place to tell them what is "wrong" or "right" – you have to work with them not against them. We get far to upset over silly things in this industry. It's not about us. It's about them. First look or not, you serve your client on their terms.
Well, two days before the wedding, Summer texts me saying that due to timing, they decided on a first look. Jeff wasn't too keen about the plan – and I did my best to promise him that it will not ruin his emotions toward the rest of the day. After it happened, he said it was by far the best thing he'd ever experienced. And he understood the importance of the first look even more. His reaction to her was beyond priceless, and they've told me, some of their favorite photos from their portraits. The vulnerability I am honored to capture is the greatest gift of all. These two loved on each other and cried with each other for about 10 minutes. It was such a great experience to show clients that tradition isn't what makes a wedding day.
If you had to pick just one thing, what do you love most about being a wedding photographer?
The people I get to meet. I'm such a personable person, and I truly love mankind. I've met some of the most amazing people because of this career. I've become dear friends with several of my couples. Friendships that will last a lifetime. I've met so many amazing vendors, and other creatives as well. Sometimes, I think this industry can be tough – and all the comparison bullshit, and constantly having to be relevant, being "instafamous" etc – it can really get to you. But all of that goes away when I'm shooting a wedding – and I'm reminded this is about PEOPLE. It's about connection and relationships. It humbles you. I could not do this job if I was working with and for others. It's what keeps me going.
What's the biggest challenge you've faced that you could have a helpful lesson for other photographers?
Self worth. I spent too much time trying to be like other photographers in the beginning. I'd see someone doing "exceptionally well" on social media platforms and believe that is what I needed to do, or who I needed to be, so be relevant and for people to like me. I focused more on trying to fit in than anything else. And it was exhausting. It hurts the spirit, and it WILL kill your business. What we see on social media platforms is only a glimpse into someone's life. We don't know anything beyond that. We have to remember we are ALL human. No one is worth more than the other. And remember we all have journeys. Most of the time you find yourself comparing your work to someone who's been doing it for 5+ years. They started somewhere too. Everyone starts somewhere. Remember that. No one picked up a camera and instantly became a professional. Rather than focusing on what others are doing – focus on what you are doing and what you COULD be doing to better yourself. The only way you are going to learn is practice, practice, practice. And find the artist IN YOU, not in others.
Who or what inspires you?
I'm a go getter. When I set a goal, and then I meet said goal – I don't stop there. I set other goals. I constantly strive to better myself each and every day. Growth is constant. And my greatest fear is stagnancy. I never want to find myself being complacent. I want to be growing and moving every single day.
As egotistical as this may sound… yesterday's self inspires me. Future self inspires me. I see where I've been and I envision where I could be. I want to achieve in every possible way. Sometimes this can be a bad thing because its always a main focus and I'm learning how about that work/life balance right now. I'm learning to take breaks, and that is it OKAY to take breaks and focus on mental health.
I have a tribe that also inspires me: my best friends, my husband, my mom, and a lot of KILLER ladies I've met in this industry – who have given thoughtful advice, guidance and support. If I could give anyone the best and biggest piece of advice to survive this industry – find. your. tribe. Find a select few people who you can lean on, trust and grow with.
What are your dreams for the future of your career?
Photography isn't the only career I want to pursue. Like I said above, it wasn't something I was expecting to do full time – and it really did just fall into my hands. As of now, I was shooting between 30-40 weddings a year (this doesn't include all the other photo work/sessions I do) and I began experiencing extreme burnout. I started this career in 2015 y'all – and this isn't something I want to begin feeling already. I love photography, I do. But I've found that I am more passionate about the people I get to meet and the business I get to grow more than anything. I met several bucket list goals already like: making 6 figures, shooting a wedding in NYC, shooting a wedding in Paris etc, And I'm feeling pretty content on where this business has taken me.
So next year, I'm taking a wild step back and only booking 15-20 weddings total. I actually blocked off SIX full summer weekends where I will not be shooting weddings. As of now, I'm at 19 weddings total. One more to book! I'l be taking the extra down time to focus on other business/creative goals. I'd like to begin a journey into education, possibly begin my life long dream of interior design. There are a lot of things I want to do. Like I've said, my goal list is never ending. So I guess we will have to see where this crazy life takes me. <3
If you are looking for a photographer who's not afraid to be your buddy, make you laugh, and capture you in all your quirkiness, then check Caitlyn out now.
Don't forget to follow her on Instagram.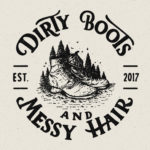 Written by:
Dirty Boots & Messy Hair Team
Connection is what it's all about. Feel free to reach out to us with any comments or questions you might have, even if it's only to say hello. If it wasn't for our beautiful community, this place just wouldn't feel the same.
Photographer Tips
12 Nov 2018