What did we ever do before Instagram? The way we keep in the loop with friends, find new restaurants, follow bands and promote our work has changed so dramatically since the platform was introduced back in 2010.
Yes, the promotional power of Instagram is almost second to none, especially for photographers and other creative professionals. It's super important to be seen posting regularly; showing off your best work to gather momentum and attract a new audience. But, you know, us photographers aren't always the best with words — that's why we take pictures, am I right? 
So if you're wondering how best to write captions for your Instagram updates, then read on…
As a wedding photographer, it's your job to capture the nuance, intimacy and unique story of each of the couples you work with. Love and romance; it's the most enchanting narrative to tell. That's why, when you're sharing from your wedding portfolio on Instagram, you should use the caption to give the viewer an insight into the special moment you captured.
If the newlyweds have a remarkable tale as to how they met, or had a specific vision for how their special day should be, share it alongside your upload and bring your audience along in the journey. You could even quote the couple, either from something they said on the big day or in the meetings you had leading up to it. Of course, make sure you've asked their permission before doing so!
A caveat here: don't forget that people flick through Instagram quickly, scanning their eyes over the content. Try to refrain from going on too much. Be concise, but creative… and avoid soppiness where possible! It's poetic to share the moment, but it's off-putting to over share.
Chances are, a number of your Instagram followers will be either planning their own weddings or have recently been wed, so you should think about how you can use your captions to get their attention. Ask questions in your captions. This will encourage engagement with your posts, sending you higher in the elusive Instagram algorithm. The more people who see your content, the more followers you'll get.
If you're stuck for ideas, how about:
"I had the most amazing day photographing the wedding of [    ] to [    ]. Their neutral color palette really allowed the vivid floral bouquets to pop… what a dream to capture! What color theme would you have on your wedding day?"
"This couple's fun and wild spirit really shone through in their first dance. What song did you first dance to as newlyweds?"
Then, when followers start replying, make sure you respond back — you may find yourself in charming conversations, as well as improving your Instagram standing.
Or alternatively, don't be afraid to be truly candid. Say it loud and proud when you have days where you're struggling with the work-life balance, or with your workload. So many other photographers will be right there with you, and will appreciate your honesty.
Lest we forget, the reason you're sharing on Instagram is to drum up more business. So, you'd be doing yourself a disservice if you didn't self promote.
Photo captions can explain the specific techniques you adopted to get the shot, without getting overly jargonistic; you don't want to alienate followers by going too hard on the nitty gritty detail. 
Explain how you set up the frame, why you chose to include certain elements, and what your artistic vision was for the session. 
There's certainly a large photographic community on Instagram, and using popular hashtags in your captions will make you appear in broader search feeds. #weddingphotography #weddingday #weddingmoments #weddingceremony and #weddingstyle are all good wedding-specific hashtags to use. Whereas #bw_lovers #bw_photooftheday #portrait #portraits_ig #shotwithlove and #photographyeveryday are great to pull in more generalist photography fans. 
Don't feel like you need to rush the writing of your Instagram captions. Write them, edit them, write them again — especially if you're not a very confident wordsmith. 
A tip: for prose that packs the most punch, place the most important words towards the start of the caption, as everyone will see this regardless of whether they click 'read more' or not. An enticing first sentence will leave followers wanting more.
If you're truly stuck for inspiration, there are (of course!) apps to help you out. Hemingway will aid you with grammatical errors and clunky turns of phrase and Captions for Instagram and Facebook Photos provides an extensive library of ideas to springboard off.
Lastly, consider the design of your overall feed; play around with using long form content in some captions, and more snappy one-liners in others. This way, you can monitor engagement and ascertain which approach appeals most to your audiences. And ta-da, easy as that, you'll have effective, impactful captions on all your Insta posts.
Want to take a deep dive into our Insta Caption Writing Guide for Photographers? We have a FREE 10-Page Guide where we give you all of our best tips and step-by-step strategy to perfecting your caption strategy. Get the full guide here!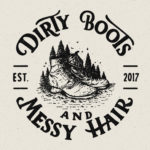 Written by:
Dirty Boots & Messy Hair Team
Connection is what it's all about. Feel free to reach out to us with any comments or questions you might have, even if it's only to say hello. If it wasn't for our beautiful community, this place just wouldn't feel the same.
Photographer Tips
12 Nov 2018