Ah, it's that time of the year again! The leaves are turning gold, the smell of PSL (that's pumpkin spice latte, in case you were wondering) is everywhere… soon it will be time for Halloween.
Now, you may not be a kid anymore – at least according to your passport! – but that's no reason to miss out on all the Halloween fun. If you're lucky enough to be with a special someone, there's a whole world of Halloween outfit ideas for couples out there for you to explore!
But because of the sheer amount of options available, it may seem like an impossible task to choose your couple's costume in time!
Sure, you want to look fun, but not ridiculous. You wouldn't mind looking sexy… but definitely not in a cringe way (and waaaay too many Halloween outfit ideas for couples can go OTT).
So that's where we come in! Our 5 suggestions for your couple's costume below will guarantee you a Halloween that's equally spooky and sweet.
Let's go…
Couples Halloween Costume Idea #1: The Joker and Harley Quinn
Look to Hollywood, and you will not be short of inspiring Halloween outfit ideas for couples.
The silver screen has brought us so many dynamic duos, from Pulp Fiction's Mia Wallace and Vincent Vega, to real-life villains Bonnie and Clyde. And both of these costumes are always well received.
But is there really any on-screen couple more iconic and more suited to Halloween than The Joker and Harley Quinn? Sure, in the film they are actually ex-boyfriend and girlfriend, but let's not get hung up on the specifics.
He's got that super creepy slicked back hair and skeletal make-up look about him. She's fun-loving but ready-to-snap, with cute, pink and blue striped pigtails and… a baseball bat studded with nails?!
You can really have a lot of fun pulling that couples costume together.
But remember: these Suicide Squad stars are likely to be a big hit for Halloween 2019, especially with the latest Joker film only just being released. So how will you make this couples costume your own?
Why not get the whole crew involved? With plenty of characters to go around, turning up to the party as the entire Suicide Squad, is sure to impress.
Couples Halloween Costume Idea #2: Marla and Tyler from Fight Club
Okay, okay: so, ignoring the first rule of Fight Club for a minute…
If you're stuck for options and need a super simple, last minute couple's costume for Halloween, Marla and Tyler is a great option.
For one, there's a few different outfits you could go for and still look totally on point (after all, Tyler had two personalities, so you can choose between Brad Pitt's character or Edward Norton's). And – even better – the pièce de résistance is the easiest part of all.
If you're Fight Club fans, you'll remember how Marla and Tyler often crash support group meetings (despite not needing to be there at all!). And how they wear 'Hello, my name is…' stickers when they do.
So, if you run short of time – or struggle to get hold of a red leather jacket and big, black fuzzy coat with matching hat – you could probably get away with wearing whatever you can that's close to the couple's get-up, then simply add a name badge!
Throw in some fake cigarettes and over sized sunglasses and you're on to a winner.
Sure, it's possible not everyone at the party would get it, but the other Fight Club fans in the room will be totally on your wavelength!
Couples Halloween Costume Idea #3: Stormtroopers
There's always going to be at least one Star Wars fan among us… Perhaps it's even your significant other?
And if you've got a sense of humor and want to do something different to the classic Luke and Leia couple costume, dressing as Stormtroopers could be a lot of fun.
This Halloween outfit idea can also be super cool for same sex couples, as neither half of the costume has any fixed gender. A perfect solution if neither of you wants to go in drag, as many other couple costumes would demand.
Now the only thing you need to think about is how you will drink through the mask!?
Couples Halloween Costume Idea #4: Superhero duo
In this world of Marvel and DC Comics… superheroes are everywhere.
Thankfully, the genre is broad enough to produce hundreds of Halloween outfit ideas for couples!
If you want to do something a little different to The Joker and Harley Quinn, as we've already said before, there are loads of alternative routes to go down. And whereas the Suicide Squad team are sort of anti-heroes, there's no reason Halloween can't be for celebrating the really good guys!
Dressing up as Peggy Carter with Captain America is going to be super easy for you – all you need is a 50s dress or skirt and suit. And who doesn't love a bit of vintage?! Find your nearest second-hand, thrift or vintage store and rummage around to see what you can find.
Then head over to YouTube, where you'll find a selection of different hair and make-up tutorials, so you can absolutely nail that 50s pin-up look.
Then he can have fun with the shield and the iconic cap…!
Couples Halloween Costume Idea #5: Bride and Groom
Yes, really.
And why not?
Whether you've already gotten married and just needed an excuse to wear your gorgeous dress one more time, or you're just playing around with the idea of getting married in the future – dressing up as bride and groom can be unexpected and hilarious.
After all, spontaneous elopement is a thing…!
Although, if it's super early days in your relationship this Halloween costume idea may send your other half running for the hills!
Maybe consider going as an "ex-wife", i.e. a zombie bride, instead!
There You Have It – 5 Couples Halloween Costume Ideas. So, Which One Will You Choose?
Halloween really isn't that far away now, so you'd better get cracking!
Don't forget to tag us in your Instagram pics, we'd love to see the couple costume you went for in the end!
And if you want more inspiration on how to turn spooky tradition on their head, read all about how to make Friday the 13th your lucky day in love!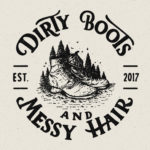 Written by:
Dirty Boots & Messy Hair Team
Connection is what it's all about. Feel free to reach out to us with any comments or questions you might have, even if it's only to say hello. If it wasn't for our beautiful community, this place just wouldn't feel the same.