If you're part of an adventurous duo – and if you're reading this, then we assume you are – then you are probably in search of wedding day ideas that are a little out of the ordinary. 
For wild weddings, the trick is to find the perfect harmony between adventure and romance, which isn't always the easiest balance to strike. You want to stay true to your wandering souls, but also want to honor the lifelong commitment you're about to make to one another. 
So how should you create an unconventional wedding that's true to you? In this article we round up our top tips to help get your wild wedding planning in full swing.
Pick a location that means something to you
You can choose almost anywhere on Earth to get married. After all, your day, your rules. Take your vows at the top of a mountain? No problem. Declare your love under a thousand stars in the desert? Why not. Say "I do" on a deserted island? If you can find one, do it. 
Of course there are are legalities to plan around, but ultimately, if you and your partner are wild, adventurous souls, then your wedding should reflect that. You can transform this important day into a reflection of your travelling spirits. Go where the wind takes you, and declare your love there. If you do this, there's no way you will end up with a conventional day.
Get a wedding planner to be your partner in crime
Unconventional weddings often happen in unconventional places (see point 1). This is where a wedding planner can come in really handy. 
It can be really tricky to know how to navigate a foreign system if you are having an overseas wedding or elopement. If you are planning to have your special day somewhere outside of your home country, then a wedding planner could be a really great option to help you navigate through all the legal, practical and organisational aspects of organising things. 
Usually this kind of planner will be local to the area where you are getting married, so they will have all the insider knowledge and info you need to arrange things. This can be particularly helpful if you're not able to go to your location before the day itself. 
With a trusted planner, you can hand over the responsibility of making sure everything is as it should be in the run up to the event, and to handle all the local vendors and contacts (who may not speak English). Your overseas wedding planner will be 100% on your team, and will give you impartial and supportive guidance to achieve the perfect overseas wedding.
Design your day around your tastes, not convention
We're not knocking it, but the sheer amount of protocol that comes with a wedding can be too much to handle for some. Instead of focusing on the real reason behind the day, many couples instead get distracted with thoughts of centrepieces, and food trucks, and wedding favors… the list goes on.
If you find the thought of a traditional day uninspiring, then go ahead and create a day as wild and adventurous as you both are. 
Want to eat fried chicken in your pyjamas before your ceremony? Why the heck not. Or change the location of your ceremony last minute? If you can find a new spot, then sure thing. Instead of simply doing what everyone else does, an elopement is your chance to really do you.
Involve family traditions in your day
Sometimes moving forwards also requires taking a look back, and honoring, where you have been. Weddings can be the perfect opportunity to pay homage to all the cultures, traditions and family intricacies that have made you both the people you are today. 
We recently featured this incredible Ontario wedding where bride, Tomo found space to honour her Japanese heritage. By blending a relaxed, Canadian backyard wedding with a beautiful celebration of Tomo's culture, the couple created something that was utter magic.
Think about all the activities, foods, songs, dances and clothing that you can remember from your childhood. Are there snippets of those things you can weave into your day? 
Perhaps you could source out some of those recipes your grandma made when you were a kid, and then have one of your wedding day dishes honor that. Or perhaps you can seek out some of of the music from your dad used to play around the house when you were a kid and dance to that for your first song.
Whatever you decide, involving your family traditions into your wedding are sure to create a unconventional, beautiful day to remember.
Remember, there are no rules about how you should get married, so make it fit your personalities. This day of all days should be a celebration of everything you are as a couple! Give yourselves the space and freedom to a design a day that only caters to your tastes. By following your uniqueness as a guide, you're sure to design a day that's as utterly unique as you are. Enjoy!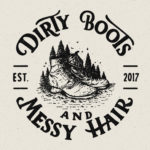 Written by:
Dirty Boots & Messy Hair Team
Connection is what it's all about. Feel free to reach out to us with any comments or questions you might have, even if it's only to say hello. If it wasn't for our beautiful community, this place just wouldn't feel the same.
Wedding Planning
19 Sep 2018