First up – congrats! If you're reading this then chances are that you've made (or are seriously considering) the epic decision to elope. Whilst an elopement might be something you feel is perfect for you and your beau, it's understandable that you're probably also concerned about the reaction of your family and friends. 
When it comes to announcing your marriage – to your loved ones it's important to do so sensitively. Just because you've decided to elope doesn't mean you should totally leave your friends and family behind.
We've pulled together some of our favourite ideas to announce an elopement sensitively, creatively, and in a way that honors the spirit of your special day.
Turn your professional photos into heartfelt notes
One of the things that most of your loved ones will find hardest is not seeing you on your wedding day. They love you, and they've perhaps always imagined sharing this emotional and important moment with you for many years. 
It's therefore a really lovely idea to invite them into parts of your day by posting them some of your professional photographs along with heartfelt letter. Each letter should be personal to the recipient. Let them know about the parts you think they'd most love to hear about. Tell them anecdotes that only they would find funny. Express your feelings about the day in a way that is meaningful to them. This is a beautiful way of letting your favorite people know that they were there with you in spirit, if not in person.
Plan an elopement outdoor movie
We totally get why you want to keep your wedding day just for the two of you. But that doesn't mean you can't invite your people to celebrate with you when you're home. Ask one of your friends if you can host a party in their backyard, and then set things up to show an outdoor screening of your elopement highlights. 
If you had a videographer with you on the day then you can use this, or alternatively you can turn your professional photos into a short video. Grab some popcorn, throw blankets onto the ground and ask your guests to settle in to a personal viewing of the most important day of your lives. 
This is a really  fun way of giving your loved ones a glimpse into your special day. Afterwards you'll be able to share the details of your day and have your friends and family be able to visualise exactly what you mean.
If you would prefer to keep your wedding details and visuals private to the two of you, then you could opt to send a poem to your friends and family to let them know of your decision. Keep the poem simple and to the point with wording along these lines: 
It's easy to be busy,

And forget the little things in life.

One day we stopped to remember,

We couldn't wait to be Husband and Wife.

Though you are miles apart

With all the love in our hearts

You were with us in thought

When we eloped and tied the knot.
If you want to get your creative on, you could home-craft some scrolls that you post to the 
people you want to inform. Take a look at this simple how-to for guidance on how to make a DIY scroll.
Make a fun gif to share on social media
Ok to this idea comes with a big, BIG caveat: only announce your elopement on social media when you've told the people you're closest to in person. Finding out that you got married on social media can be a huge shock for your friends and family, so it's really important that you let your nearest and dearest know in a more sensitive and personal way.
That said, for your extended friends – an Insta announcement can be a super cool (and uber cute) way to let the world know you got hitched. Why not get creative and make a stop motion clip to announce your elopement? This quirky announcement will have your friends grinning ear to ear. Don't want to spend so much time on it? Take a few of your favorite images from the elopement and stitch them together into a fun gif. It'll take you less than 5 minutes to do using any of the free online gif makers. What are you waiting for?
Whatever you decide to do – embrace the awesomeness that is your decision to elope. Sure, it will be tough in some respects. But so rewarding in a thousand others. Congratulations for the journey ahead.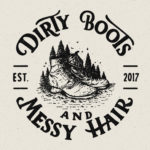 Written by:
Dirty Boots & Messy Hair Team
Connection is what it's all about. Feel free to reach out to us with any comments or questions you might have, even if it's only to say hello. If it wasn't for our beautiful community, this place just wouldn't feel the same.
Wedding Planning
08 Dec 2018