This styled camper van elopement shoot by Vancouver Island based wedding photographer, Kim Jay is bursting with inspiration for any of you wild-at-heart couples who are planning a camper van elopement.
Inspired by the people and landscape of the west coast of Vancouver Island, this dreamy elopement pays homage to love, nature and adventure. The couple featured in the shoot are world travellers Luka and Hayley, whose free-spirit fits the vibe of the day perfectly.
The shoot was set on Sombrio Beach, which is a 3-day hike along the rugged west coast of Vancouver Island. Famed for its sunsets, rolling fog and jagged shoreline, Sombrio Beach has long called surfers the world over. But it's a little known spot for those seeking out a private setting for an elopement.
With its heavenly mix of both lush forest and fiery coastline, this location proved perfect for this evocative shoot. Especially so as Mother Nature gave wedding photographer Kim a curveball to work with on the day. Rather than the summer sunset that she was hoping for, Kim's shoot was shrouded in an eerie fog. But that didn't dampen things one bit. Instead it contributed to an atmospheric session that is teeming with attitude, personality and pazzazz (we rarely use that word, but this time it seemed apt..!)
Best of all, Kim wrapped up the best of Vancouver Island in the styling of the shoot:
"We took a local and sustainable approach to each aspect of this event. The flowers, sourced by Powell Floral Designs, were comprised of wild flowers grown on the island. The dress was made by local designer, Reclamation Design, who repurposes reclaimed fabrics for all of her dresses. Even the bride's bedtime wear was designed and made on Denman Island, by Bees and Bones, a sustainable clothing line. With so many talented entrepreneurs on this island, it wasn't hard to find the vendors that brought this vibe to life."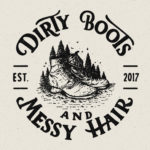 Written by:
Dirty Boots & Messy Hair Team
Connection is what it's all about. Feel free to reach out to us with any comments or questions you might have, even if it's only to say hello. If it wasn't for our beautiful community, this place just wouldn't feel the same.
Weddings & Elopements
21 Apr 2018