Intimacy is one of the key ingredients to a long-lasting relationship. That doesn't mean it's easy to come by. Developing intimacy requires a level of openness and bravery that's often only reserved for a handful of people over a lifetime.
Often mistaken for something that happens in the bedroom, intimacy is actually something that touches every part of our lives as a couple. It's developing a level of ease with one another that you are loved unconditionally, honestly, and with care.
If you're in a relationship with someone and want to take things to the next level emotionally, there are a few key things you can do. In this article we round up a list of proven ways to build deeper intimacy in your relationship, starting now.
Never lose curiosity for one another
Developing intimacy is a never ending process. In the beginning of a relationship it's easy to discover new things about each other that bring you closer. As time passes, it's important that you don't let that level of curiosity slip. To maintain and develop intimacy, be prepared to open up and share things that will bring you closer. From your feelings, to your history, disclose more to allow your partner to get to know you on a deeper level – no matter how long you've been together.
Take a walk together every day
Our lives are busy and we're constantly connected. This can make it difficult for us to take time out to just be present with one another, and simply talk. To counteract this, make time each day to take a short walk together. Leave your phone at home and head out somewhere to share what happened in your day. You'll find yourselves talking about things that you may otherwise have kept to yourself, which will in turn bring you closer.
Travel is one of the most enlightening experiences, not just to help you discover things about yourself, but your travel partner too. By travelling together, you'll have to lean on each other in ways you might not have to in your daily lives. This is especially true if things don't go according to plan. There's nothing like a case of travellers stomach flu to bring you closer together….
Show random acts of affection
As relationships evolve from the passionate early years, we settle into a much more comfortable routine. Whilst routine is in itself a sign of intimacy, it does come with some challenges – namely, loss of affection. After the dizzying early years end where you cant keep your hands over, it's more important than ever to show each other random acts of affection. Be more tactile. Give unexpected kisses. Cuddle. All of these acts of physical intimacy will also bring you emotionally closer, too.
Make commitments to each other that aren't purely emotional ones. Decide to work on something you care about, and make yourselves accountable to one another. This could be planning to redecorate your home, or even organizing a vacation somewhere. Whatever it is, make sure it's something you are both committed to and see where the process of building or doing something together takes you. 
Sex is often one of the first things to stagnate in a relationship. If this happens to you, then tackle it head on by talking about it. Let each other know what is and isn't working. Say what you want more and less of. If you want to try something new, then ask for it. It might be uncomfortable, but intimacy is about making yourself vulnerable and knowing that the other person will support you. So take a deep breath, and go for it. 
Whatever you do to build intimacy in your relationship, remember that it's more than just words or sex. It's the sum of everything you are in your relationship that brings you closer together than you are with anyone else. True intimacy is just as much knowing when to lean in, as when to take a step back. Ultimately, it's about trust. When you tackle it together, you'll find you get closer than ever before. So, what are you waiting for?!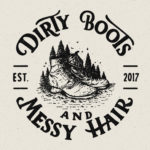 Written by:
Dirty Boots & Messy Hair Team
Connection is what it's all about. Feel free to reach out to us with any comments or questions you might have, even if it's only to say hello. If it wasn't for our beautiful community, this place just wouldn't feel the same.
relationships + dating
06 Sep 2018