Every wild bride deserves to look and feel her fiercest on her wedding day. But finding 'the one' when it comes to your wedding dress can be tricky. With so many beautiful styles to choose from it can be difficult to know where to begin for your wedding dress inspo.
If you're looking to hit Instagram to begin your hunt for the perfect dress but feel overwhelmed by all the choice, fear not. We've pulled together our top 7 wedding dress Instagram accounts that every adventurous bride should have on their follow list. Grab a coffee (or something with bubbles!) and get comfy – you're about to get lost in a world of beauty!
@wearyourlovexo
This California-based designer creates wedding dresses for free-spirited, environmentally conscious brides. The collection is a series of incandescently beautiful and romantic dresses, and the whole shopping experience has been designed for a modern, effortless experience. Rather than traipsing around expensive stores, the Wear Your Love dress is an online-only experience. The aim is that you can effortlessly access a dress you love, at a price and convenience that makes it accessible to any bride. Skip the expensive bridal store markup, and style yourself in a dress that exudes your individual style and beauty with Wear Your Love. 
@ruedeseinebridal
Where to even begin with Rue de Seine…? We can't think of another dress designer that has created a more magical or ethereal collection of wedding dresses. Their dresses are for unbridled spirits. They're for the star-gazers, the beach lovers and the wild romantics. If you dream of a wedding dress that is a free-flowing and understated in its magnificence, then you need look no further than Rue de Seine. Seriously, follow them now.
@daughtersofsimone
Made by sisters Ash and Brit Castaños, these wedding designers were born of an thirst to create something different in the overcrowded world of wedding dresses. The name of the brand is inspired by the legendary philosopher Simone de Beauvoir, a woman who had the bravery to do her own thing. She is the heart and soul of the label, and they infuse her spirit into all of their designs. Daughters of Simone dresses pay homage to the mavens of the 1970's with intricate crochet laces, scalloped trims and sweeping trains. They are for the fearless and adventurous women of this world who want their wedding dress to reflect their bohemian spirit. 
@loversxsociety
Lovers society are the wedding dresses for the modern bohemian bride. With their elegant and simple lace designs, these dresses are the perfect choice for any bride who wants to feel the wind in her hair and the sun on her skin. These are dresses designed to be enjoyed outdoors, so whatever adventure your big day has in store for you, you'll have the freedom your body needs to roam free in a Lovers Society gown.
@dreamersandlovers_
California-based Dreamers and Lovers have created a stunning collection for the modern, laid-back pride. If you are having a low-key wedding with a modest budget, Dreamers & Lovers is the collection for you. Focused on individuality, expression, personal comfort, these dresses are designed to help you express who you are, free of the weight of tradition and formality. The handmade, made-to-measure boho-chic dresses are simple and romantic, and promise to bring a touch of lasting magic to your special day. Best of all, they come at prices that will leave you wondering when you can get started!
@sarahseven
You know how wedding dresses are – for some reason – designed like dresses you'd never wear at any other point in your life? Yeah. About that. It's weird, right? Sarah Seven is designed for women who want to look and feel gorgeous in a dress they'd pick any day of the week. So whether that's a pantsuit, or a simply white flowy number – she's got your back. This label is for any adventurous bride dreaming of wild glamour – someone who's not afraid of depth or details and isn't afraid to break the rules. Get your sass on and check our Sarah Seven's amazing collection now. 
We hope this is the inspo you need to get started with your wedding dress hunt. Enjoy your exploration through fields of lace and endless gorgeousness – and remember that whatever you wear on your big day, you are going to look just perfect. 
@immaclenovias
Immaclé is a Spanish based dress designer, creating works of beauty for any bride who wants a vintage look for her big day. Immaclé dresses are infused with the romance and serenity of the mediterranean. Think pastel and earthy colours, vintage silks and haute couture tulle. Full of intriguing contracts and unique charm, Immaclé dresses are perfect for any adventurous bride who wants her dress to reflect her one-of-a-kind personality.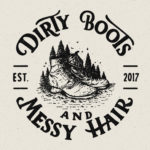 Written by:
Dirty Boots & Messy Hair Team
Connection is what it's all about. Feel free to reach out to us with any comments or questions you might have, even if it's only to say hello. If it wasn't for our beautiful community, this place just wouldn't feel the same.
Wedding Planning
05 Sep 2018