In the lead up to your wedding, you're crossing all the Ts and dotting all the Is; but have you carefully considered the impact your lighting strategy — or perhaps, lack there of — will have on the overall ambience of your big day?
Whilst it's almost impossible to forget about the dress, the cake, the band and the photographer, lighting is something that can easily be overshadowed by other elements. Sorry, sorry… bad pun… moving on…
If you're throwing a Winter Wedding, lighting will be particularly important to help illuminate the best bits, especially when you start to lose natural light sometime in the afternoon. Whether you decide to take on the job of lighting your ceremony yourself — a little DIY can be very rewarding — or opt to hire in a professional — because, you'll have enough to worry about after all — you'll wanna be clued up on the lingo, so you're never out of your depth.
Get your lights in a row…
String lights: a firm wedding favorite, because they're so twinkly and romantic. The 'String lights' family covers anything from fairy lights to bistro or cafe lights, and are oh so flexible, literally string them up across your venue and you'll have the ideal lighting set up, especially if you're on a budget.
Spotlight: on your wedding day, you may or may not want to stand in the proverbial spotlight. But, these types of lights are especially useful to draw attention to one or two items; your cake, for instance.
Pinspot: a bit like a spotlight, but smaller. These guys are good for highlighting table centers or other delicate additions.
Uplighting: you'll have seen this type of illumination at other events, and if you've got a dark ceremony venue then good use of uplifting can truly transform the space. Use lights, in any color you want, to shine up from the floor along the walls; it also creates an optical illusion, making lower ceilings seem higher.
Gobo lighting: think Batman, and you know what a Gobo light is. Of course, these can be tastefully utilized on your wedding day, using shapes such as hearts or flowers… or any symbol, motif or pattern you like.
Texture lighting: this is similar to Gobo lighting, but on a larger scale; it creates texture, such as the night sky, across surfaces. This effect can be stunning if used on an expansive ceiling or blank wall, for example.
Don't be left in the dark when it comes to cost of wedding lighting…
For sure, how much money you end up spending on your wedding lighting will depend on how big your venue is, what final result you're looking for and how much money you're happy to invest in lighting up your day.
However, as a rough guide, one industry expert says the following costs are fairly average for a professional lighting team. The only thing you'll need to add on is labor and delivery fees, which you're better off asking about at the time, as these may flex depending on their availability and the time of year.
Uplighting for an entire ballroom: $700-$2500
Gobo light: $200-$500
Texture lighting: $50-$75 per light fixture
Spotlight: $30-$100
Pinspot lighting: $25-$45 per light/table
String lights: $3-$5 per linear foot
Chandeliers: $150-$300
Pendants: $15-$25 per
Projector, Computer, and Screen: $200-$600
So, you can easily see how wedding lighting can start to add up. But, if you're holding your wedding in winter… you need to have lighting, right? Otherwise your guests won't be able to see their dinner by the time it rolls around. So let's explore the approach you'll need if you're going to sort the lighting yourself.
Step 1: familiarize yourself with your venue
Walk-throughs are always super useful, especially to get a sense of what works needs to be done to transform the venue into your dream space. Make sure you do yours at the actual time of day you'll hold the ceremony, and as close to the day as you can, so you get an accurate read on the level of natural light you'll have to work with.
Step 2: get in touch with the venue managers
It won't be the first time they've had couples sort their own lighting, so the venue managers will be invaluable support in helping you get the result you're after. Check how many power outlets you'll have to your disposal, before you make any purchases.
Step 3: choose a theme
As with all wed-min, once you've got a vision in mind you'll find decision making much easier. Choose whether you'll follow a simple theme, or a very glamorous style. One will feature chandeliers and glitz all around, the other will be far more pared back, with perhaps a string of twinkle lights and some candles.
So there you have it: your ultimate guide to wedding lighting for winter weddings. The rest is up to you; go ahead and shine.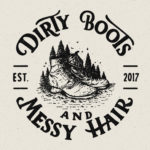 Written by:
Dirty Boots & Messy Hair Team
Connection is what it's all about. Feel free to reach out to us with any comments or questions you might have, even if it's only to say hello. If it wasn't for our beautiful community, this place just wouldn't feel the same.
Wedding Planning
23 Feb 2019