Here at DBMH we're all about celebrating love lived through adventure. But with literally the whole world to explore, it can be tricky to know where to begin when planning your next experience together.
But worry not, if you're part of an adventure junkie duo and are ready to do something wild, then you've come to the right place. We've pulled together 5 grand adventures that should be on your couple's bucket list. Buckle up, it's time to get inspired for your next big trip together. Be prepared to get imminent itchy explorer feet…!
Sleep under the Arctic Sky and go dog sledding in Finland
Immerse yourselves in the unspoiled beauty of the Arctic Circle with a spellbinding trip to Finland.
Located right at the edge of the wilderness, along the road to the Arctic Sea, lies the one-of-a-kind igloo resort of Kakslauttanen. Offering a range of cabins with glass roofs, this incredible resort offers the chance to sleep under the Northern lights in winter and the Midnight Sun in summer. We can't think of anything more romantic or adventurous than cozying up in the comfort of your own private hideaway, whilst surrounded by the Lappish wilderness.
Team up your Finnish adventure up with a dog sledding experience, and whizz through the snow at lightening speed with your furry steeds. If you want to take your trip up another notch, you can even head to Martinselkosen Eräkesus to go bear watching and experience a traditional Finnish smoke sauna.
Visit underground ice caves in Romania
Romania is one of Europe's most underrated treasures. With its lush forested region of Transylvania and soaring Carpathian mountains, this is country of great natural beauty and diversity.
Our suggestion for Romania will take you deep underground, to the hidden world of the Romanian Carpathian's. Here lie over 12000 caves just waiting to be explored.
Of particularly spectacular beauty is the Scarisoara ice cave – home to the biggest underground glacier in Romania. Two of the most astonishing caves inside are the Grand Hall and the Church, vast chambers decked with stalagmites. To visit, simply head to the Apuseni Mountains and follow signs for Garda. You will need a tour guide to explore the caves, but these can be arranged on the day.
When your exploration of the underworld is complete, take a drive on the the Transfagarasan Highway through the Carpathians. With it's series of bends rising up to 2,000m, it's been described as the most exciting road in the world. En route, you can go outdoor swimming at Lake Balea and then on to Polenari, where you can visit Count Dracula's castle. Many Romanian families will happily put you up for a small charge, so if you're feeling adventurous, you can even sleep with a host family.
Spend a night in the Sahara Desert
For couples who need a total escape from the buzz of normal life, this adventure could be just for you.
Your trip will start in Morocco, from where you will head to the beautiful Kam Kam Dunes. This camp is equipped with eleven traditional nomadic Berber tents, built with organic dromedary leather and handmade by local artisans. You'll be immersed in the most stunning natural landscape, surrounded by wild dunes and treated to traditional Berber hospitality. It's absolutely not to be missed!
If you're feeling super adventurous, you can hire a 4×4 and drive there solo (expect a intense full day's drive). For something gentler you can arrange a hired driver, which is best for people who have never off-roaded before. You can also take public transport from Marrakech. It takes 13 hours and won't be the most comfortable experience, but heck, you're on an adventure!
Spend your stargazing, and when morning arrives, you can add on a desert experience to round off your Berber expedition. From Sand surfing, through to camel excursions, there's something to suit every wild couple's taste.
Soar above the jungle canopy in Ecuador
Nestled in amongst the lush Mashpi forest of Ecuador lies the 24-room Mashpi Lodge, labelled one of the world's most unique lodges by the National Geographic. Mashpi Lodge offers a unique opportunity to explore both cloud and rainforest in one of the world's most biodiverse places.
Perched high in the cloud forest, you'll wake to the sound of chirping cicadas and chattering monkeys.
You can add a tour with an expert local guide to explore the rainforest onto your trip – both during the day and (if you're feeling brave!) at night. For daring couples, the lodge even has a one-of-a-kind tandem called "Sky Bike", which lets you explore the canopy whilst dangling from a 656-foot cable stretched between two points of the forest. Eek! Sign us up!
Hit the skies, and the slopes, and go heli-skiing in Idaho
You heard us right – heli-skiing. If soaring through the skies or skiing black runs isn't enough for your adrenaline junkie souls, then why not combine the two with this crazy experience organized by High Mountain Heli-Skiing.
The tour will take you to the centre of the idyllic Teton Valley in Idaho. You'll take on a total of 6 heli-ski runs (totaling 15,000 vertical feet). You'll helicopter into remote areas with totally untouched powder snow, and have the time and freedom to access spectacular slopes.
You can combine your Idaho adventure with a little luxury by opting for a package with Teton Springs Lodge & Spa and – after a tiring day on the slopes – you'll be treated to the best of mountain luxury. The helicopter lands right outside the lodge, where you can then rest up for another wild day.
Heli-skiing combines the magic of flying through mountains, with the privilege of accessing pristine slopes. It's a thrill-seeker's paradise, and definitely one for your bucket list!
We hope these tips help you plan your next couple's adventure. Here's to finding new ways of expressing love through our wild side!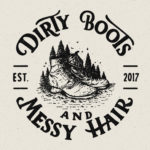 Written by:
Dirty Boots & Messy Hair Team
Connection is what it's all about. Feel free to reach out to us with any comments or questions you might have, even if it's only to say hello. If it wasn't for our beautiful community, this place just wouldn't feel the same.
relationships + dating
18 May 2018