What do you get if you combine a breathtaking mountain backdrop with a freestanding open fireplace, autumnal hues and a dash of pagan chic?
Utter gorgeousness, as shown by this beautiful styled mountain elopement shoot by Pacific Northwest-based wedding photographer, Corrie Mahr.
We love this shoot because it showcases how dramatic and tailor-made mountain elopements can be. With a bit of ingenuity and determination, who says you can't bring your fireplace outdoors? Or create a magical flower tipi for your vows? Or create a seated banquet, overlooking a valley? Corrie has reminded us that there really is no limit to the artistry that you can create when you put your mind to it, no matter how remote the location may be.
Despite being a styled set, there's something so relaxed about the whole vibe of the shoot. Everything feels inspired by nature, by earth, by simplicity. It really makes us feel like we're being transported back to days gone by.
What we love most is the way that color evokes emotion in the shoot. The autumnal color scheme makes the rich green of the forest, the deep brown of the mountain and the intense blue of the sea soar. It reminds us of cosy nights by a roaring campfire and adventures on the road. It's everywhere and nowhere we've been before, all at the same time.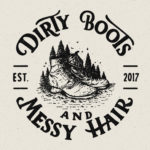 Written by:
Dirty Boots & Messy Hair Team
Connection is what it's all about. Feel free to reach out to us with any comments or questions you might have, even if it's only to say hello. If it wasn't for our beautiful community, this place just wouldn't feel the same.
Weddings & Elopements
16 May 2018