With Easter coming up, we got to thinking about what we will be giving up for lent. Some people choose chocolate, some choose meat – how about giving up dating faux pas instead?
If your New Year's resolution ended in failure and disappointment, we want to get you back on track with newly found motivation. Navigating the dating scene can be overwhelming, and if you've been playing the game for a while it might be time to reevaluate how you're operating. If your happy ending is a meaningful and lasting relationship, tweaking your dating game slightly could be just what you need to find it. So, here are eight dating faux pas that you should give up for lent.
Everyone leads busy lives but there is almost no excuse for running late. Turning up on time sends the message that you respect the person you're meeting, and you're serious about getting to know them. Running in 20 minutes late, flustered and wide eyed, blaming everyone and everything except yourself is never going to go down well. Likewise, if the person you're meeting does that to you, it's not acceptable.
Pay attention when he introduces himself so you can save yourself the embarrassment of asking him to remind you what his name is an hour into your date. A tip here is to repeat his name back to him; this helps your brain to remember it. For example, "Hi, my name is Tim," and you reply, "Great to meet you, Tim." Follow this up with that all-important eye contact and you're on to a winner.
Dominating the conversation
It can be easy to get into the habit of talking about yourself on a date – especially if you're nervous! You understandably want to tell him all about you, but it's important to have a back and forth conversation. Let him ask you questions and when you answer them, you can expand on your response. Just make sure to send that same question right back at him so he knows you're interested.
Your first date is not the advisable time to bring up your hopes and dreams for marriage and children within the next three years. There's a difference between telling someone you see yourself as a mother in the future and telling them you want him to meet your parent's ASAP. Ease up and keep it casual, a light conversation is going to go down far better than getting to the serious stuff straight away.
Whatever you do, don't bring up your "crazy" ex-partner. If they ask about your dating past, keep it top line and positive. You may have had an awful experience but now is not the time to go into the intricacies. Everyone has baggage so there'll be plenty of time to go into it down the line.
Leaving your phone on the table
Not just a date faux pas, but a faux pas for any social scenario. Put your phone away from sight – you don't want any temptation to pick it up in front of your date. It's plain rude to start texting someone else at the dinner table. You need to be giving them your full attention. Plus, any time on your phone is a missed opportunity for flirty eye contact and sparkling chat.
Making inappropriate jokes
You'll want to express your sense of humor to your date, after all you need to find out if you're compatible in that department. But if your idea of a funny joke is making a risqué comment, hold your tongue. Until you know whether your senses of humor align, you don't want to risk offending him.
This is a big one. We can't stress enough that drinking too much on a date is a huge no-no. Having a glass of wine to settle your nerves is fine but finishing an entire bottle to yourself whilst your date sips his first glass leaves a terrible impression and is almost guaranteed to leave your relationship at date number one.
It might sound like we're teaching your grandmother to suck eggs here but doing just one of the above can show you in a negative light. In order to have the best chance of finding your One, you need to be on top form, especially when it's early days. There's plenty of time to introduce him to some of your flaws when you know each other a little better. Make a conscious effort for the next few weeks to be on your best dating game. In fact, these tips aren't just for lent – stick to them all year round and you're bound to find love.
Need some more advice? Check out our scientifically proven tips to finding lasting love.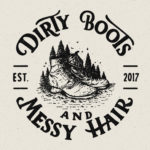 Written by:
Dirty Boots & Messy Hair Team
Connection is what it's all about. Feel free to reach out to us with any comments or questions you might have, even if it's only to say hello. If it wasn't for our beautiful community, this place just wouldn't feel the same.
relationships + dating
28 Feb 2019