It's time for our weekly crush folks! This week, we are crushing on Vladan Gajic. Vladan is a couple/wedding photographer based out of Sydney, Australia. Vladan's eye for detail and raw, real moments have us totally swooning over his work! Take a look at what he has to say below!
Where are you sitting as you are writing this right now? How's your day going? How are you feeling?
At the moment I'm feeling great and blushing at the fact that I'm DBMH weekly crush. Woah guys, we barely know each other!
Besides that good news, I'm currently sitting at my desk and it's 4:46 am right now. I'm pulling an all nighter to get this wedding delivered to a client on time (due today). You all know the feeling!
To those that might not know you just yet, please introduce yourself – Who are you? Cat or dog person? What's your photography style?
I'm Vlad – just your every day guacamolé connoisseur. I'm originally from Sweden but I now live on the Sunshine Coast of Australia, where life is just as hard as it sounds. Dogs over cats, every day and the bigger and fluffier, the better. I hope and aspire for my photographic style to simply be as honest of a reflection of whoever or whatever it is I'm photographing. I guess you could say it's "documentary", if you feel the need to label it somehow, hah.
Can you show us 1 or 2 photographs that are particularly meaningful to you and share the story behind them?
Haha okay, I love this photo (the groomsmen on the table) simply because it captures the groom's personality so well and it never fails to put a smile on my face. It's also from the first wedding I ever shot all by myself and the couple + a bunch of the guests were good friends of mine, so it takes me to a sweet place!
What role does Instagram play for you as a photographer? Is it important for your business? 
Instagram to me is a great extension of my portfolio – an easy way to share my work (since everyone is on it). But perhaps more importantly, it's a platform that allows me to connect with other people, especially creatives! My business isn't dependent on it, but it's a great bonus I wouldn't want to be without!
If you had to pick just one thing, what would you say you love the most about being a wedding photographer?
Hands down the people I get to meet doing this (and the free food).
What's the biggest challenge you've faced that could be a helpful lesson for other photographers? 
Honestly, it may sound so trivial, but it's so easy to let comparison get in the way of believing in yourself and it takes the joy out of everything. It's especially easy to compare yourself in this Instagram and smartphone age. If I could invest in a personal assistant who slapped me on the cheek every time I compared myself, I would.
Who or what inspires you?
Many things inspire me! Music, light, God, nature, but far more than anything; people. I vibe off of other people hugely and play into their energy all the time when I'm photographing.
What are your dreams for the future of your career?
I'd love to keep doing photography for a while and I'm super excited to continue growing and improving my business. I always have a million things on my to-do list with ideas for how to improve things and continue learning, which is great cause it keeps me excited and motivated at all times. There's also honestly a whole bunch of things I'd love to do outside of photography, like flying helicopters or opening up my own cafe, haha.
There you have it folks! Major thanks to Vladan for sharing his thoughts with us! Head on over to the gram and give him a follow to continue seeing his amazing work!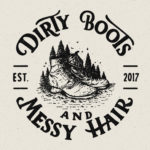 Written by:
Dirty Boots & Messy Hair Team
Connection is what it's all about. Feel free to reach out to us with any comments or questions you might have, even if it's only to say hello. If it wasn't for our beautiful community, this place just wouldn't feel the same.
Photographer Tips
27 Feb 2019