What's in a name? Whilst it might not seem that way, coming up with a name for your photography business can be a real challenge, and the right name can have a surprising impact on your business.
There are really two options when picking a name – use your own name, or come up with something catchy and creative. Given you are here, we figure you are the creative type, and interested in something a little different, so we're going to try and help with a few guidelines for getting your name right.
The name of your business is obviously a key part of your overall brand, and everyone is different. It stands to reason that what works for some people won't work for others, and so the process isn't going to be straightforward for everyone. However, there are a bunch of things to keep in mind when choosing a name for your wedding photography business that can send you down the right path.
This is key. Word of mouth is so important in the wedding photography business, and if your name is complicated or difficult, it is going to be that much harder to get useful recommendations.
Short and sweet is the name of the game here. A simple, catchy name that slips of the tongue will be far more useful in the long run than something you have agonized over for months, or paid vast amounts of money to 'experts' for.
The last thing you want is your potential clients getting confused, or being in a situation where the only way people can get a handle on your handle is with your business card in hand.
Another key element of a name is that people remember it. It's no use perfecting your craft, pulling off the most amazing wedding shots and having a whole host of happy clients, if none of them can remember your name when it comes down to recommending photographers to their friends!
Again, avoiding something complicated is great, but you don't want something dull and boring either. Your name needs to grab the attention, and stick in people's minds. Incorporating alliteration or rhyming is great technique for making your name more memorable.
Your name should set you apart from your competitors, and help you stand out from the crowd. Something like 'Wedding Photography Solutions' is simple, but hardly sets you apart (and dilutes all of your unique you-ness!). You want to work out what appeals and resonates with the clients you want, and pick something that is genuinely unique to YOU.
Your name should be something that can withstand trends, changes in style, or even a shift in the focus of your business.
Opt for something that appeals to all your clients, and that isn't likely to go out of date fast. A classic name will help you to hang on to clients, and build and develop your reputation without having to re-brand every five minutes. The same goes for avoiding having names that hint at a particular style of photography. Your aesthetic and business focus might shift over time, so make sure your name will stay relevant, no matter which creative path you choose over the course of your photography career.
Consider incorporating your own name
There are obviously advantages to using your own name. It is unique, memorable, simple and unlikely to be tied to a passing trend (unless your parents thought 'Pokemon Go Smith' was an acceptable thing to do to a child…).
With wedding photography, you are the business, and your face, and by extension your name, are tied to it.
However many photographers want their brand to be more than just themselves. To obviously recognise their importance in it, but to take it a step beyond and reach out a little further. Having just one individual's name can be limiting for a business that wants to grow. Something less specific can be the foundation on which you expand your business.
Finally, it is worth giving a little thought to your logo, and how you might want to incorporate a name into it. Not every logo will include the name of the business, but it can be a neat and useful way of squaring the circle with your brand.
Hopefully these thoughts will help set you on the right track when it comes to picking an exciting and show-stopping name for your business.
If you are looking for a few more tips on making your wedding photography business the best it can be, check out this post on what you should be doing to get more bookings this year.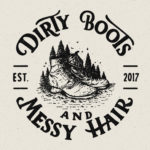 Written by:
Dirty Boots & Messy Hair Team
Connection is what it's all about. Feel free to reach out to us with any comments or questions you might have, even if it's only to say hello. If it wasn't for our beautiful community, this place just wouldn't feel the same.
Photographer Tips
24 Feb 2019