There's so much build up and anticipation involved in planning your big day, it seems almost absurd that once the champagne has been drunk, the guests have made their way home, and the venue's been cleared out… there's little evidence the day ever really took place.
That's why it's so important to have photographs taken at your wedding, to provide you with intimate snapshots of special moments between yourself, your partner, your family and your friends.
The decision then, is whether to keep your valuable wedding photographs on a hard-drive or some cloud-based storage system, or to invest in printing your photos to be used in an album, on canvas or in frames. In our opinion, nothing compares to printing your wedding photos, even despite the additional cost. Let us tell you why…
They deserve to be treated as works of art
Chances are, you'll have invested a lot of time and effort into choosing the perfect wedding photographer to document your one-of-a-kind day. So, seeing as you've already paid top dollar for the best images, why wouldn't you treat them as the works of art they are? 
For an additional fee, your photographer will likely offer a printing service, and will be able to take care of designing and printing a selection of your favorite images in a printed album. This will usually be in the style of the photographer's work, and will be produced with suppliers they know and trust – ensuring you a beautiful quality final product. 
If you prefer to do something more DIY, then be selective when choosing which service to use. You get what you pay for, and to ensure the best result it's safer to go with a printers that has positive reviews and isn't too cheap. If you're not sure, you should order a small number of prints to test the quality, before placing your full run.
You can have a lot of fun on the day of your wedding, if you think ahead to how you'd like the images to eventually be printed. Have a conversation with your photographer before the ceremony, to hear their ideas too. Your creativity, combined with theirs = amazing wedding photos, worthy of exhibition. 
They will send you back in time
Our sense of touch is very emotive. That's one of the reasons some brides wear silk wedding dresses: because of how it feels against their skin. When it comes to your wedding photos, you'll find that being able to physically handle and interact with them will provide you with a very different experience than if you simply have them saved on a digital screen. 
Turning the pages of a chronologically organized photo album, you'll find yourself reliving the story of your wedding day, every time you browse back through. Holding a treasured photo in your hands… sorry, but digital folders simply cannot contend with that.
A wedding album is a treasured memento
We don't want to get morose, but a wedding album is a priceless heirloom and way to remember the family once they are gone. Isn't is strange to think of your children and grandchildren flicking through Instagram and Facebook, to commemorate your memory? "Look at Grandma here, with the funny doggy ears on!" — is that really the long-lasting image you want for yourself? Messing around with a silly Snapchat filter?
It's true, you'll get a lot of mileage out of your photos in your lifetime (you can look back at them as often as you want!). But equally as important, is that you'll be creating a meaningful memento for the future generations of your new family.
New technologies come and go, and who knows what the world of photography will be like in ten or twenty year's time. You can bet, though, that there will always be a role for print, in some way or another. 
You may think that digital production has taken over… but how often do you actually go back through your Facebook albums to relive the memories? How many times have you, unintentionally, forgotten to click through to a friend's wedding gallery online, only to find the link's expired when you at last do remember to visit? Don't let your treasured memories disappear into the ether somewhere. Make them physical, tangible. And Enjoy them again and again as the chapters of your marriage pass.
By investing in printing your wedding photos you're future-proofing the quality and safety of looking back at your special day. 
For these reasons, and many more, we sincerely urge you to do something enduring with your beautiful wedding photos. You won't regret it.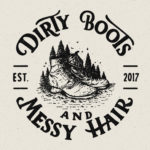 Written by:
Dirty Boots & Messy Hair Team
Connection is what it's all about. Feel free to reach out to us with any comments or questions you might have, even if it's only to say hello. If it wasn't for our beautiful community, this place just wouldn't feel the same.
Wedding Planning
24 Nov 2018