Mother`s Day is one of the DBMH´s favorite days of the year, because it´s a chance to show the women in our lives just how much we appreciate them. But finding the perfect Mother's Day gift can be overwhelming. After all, we want to get it right. So in this article we`ve rounded up 10 thoughtful Mother's Day gifts that are sure to put a smile on her face. Without breaking the bank.
Say thank you to the woman who's had your back since day one with a box filled with messages of how much you love and cherish her. The idea is create a gift box with lots of micro messages of gratitude. Some suggestions for things you might write are, "Thank you for…", "What I love most about you is…", "My most treasured memory from childhood is…".
Write as many messages of gratitude as you can think of and package them up in a gift box, labelled just for mom. If you want to give your gratitude box an extra special touch, why not make your own DIY gift box? Don't worry if you're not a naturally crafty person, it doesn't have to look beautiful. Your mom will be so touched that you went to the effort.
There's nothing nicer than a bouquet of flowers to brighten someone's day. So this Mother's Day, why not treat your mom to a subscription of flower deliveries to bring a smile to her face not just on Mother's Day, but in the weeks and months to follow too?
With Bloomsybox, you can choose either weekly or bi-weekly flower deliveries to be sent direct to your Mom. She'll receive stunning handpicked, hand-tied bouquets from sustainable farms direct to her door at the interval of your choice – who wouldn't love that?
3. Memories of Childhood Prints
Mother's Day is a wonderful opportunity to reflect back on childhood memories and moments spent together. But wouldn't it be amazing to immortalise those memories somewhere your Mom could see and appreciate every day? Well, now you can, with this personalised, illustrated Memories of Childhood print.
The print can be customised with up to 250 words that encapsulate your personal Mother-Child story. It might be weekend trips to the beach, or the sandwiches she made you for lunch. Whatever your treasured memories, this print is a beautiful way to show your mom just how much they touched your life and heart.
If you're looking for a gift that your mom can wear every day, then this personalised bracelet could be just what you're looking for.
Featuring a message of your choice, the bracelet will be engraved in your own handwriting (pretty cool, huh?). It's such a cute way of gifting your Mom a totally unique and personal gift. It's like taking a piece of you around with her every day.
Do you live far away from your Mom? If so, we've got the cutest gift for you to give her this year.
This gorgeous compass can be engraved with a quote, coordinates or the initials of your choice, so no matter where you are in the world, you can gift your mom a reminder that home always points right back to where she is.
If that doesn't bring on a few happy tears we don't know what will.
6. Seed packets for green fingered moms
If you have a mom who likes to potter around in the garden, then this Mother's Day, why not gift her something that she can grow?
We absolutely love these personalised seed packets from Etsy seller TwentySeven. The packets contain around 15 sweet pea seeds, along with a personalised message and instructions on how best to grow the plants.
With a little nurturing, this could be a Mother's Day gift that lasts a lifetime.
7. Donation to a cause close to her heart
Instead of racking your brains to find a gift for someone who already has it all, why not instead make a contribution to a charity or cause that your Mom cares about?
Perhaps you could make a monetary donation, or simply gift your time to a local cause. Create a free gift certificate online using Canva to let your mom know about the donation, wrap it up, and hey presto, you have one super thoughtful gift that not only she'll love, but that will make a real difference too.
Most moms spend all their time thinking about other people and forget to take a moment for themselves. If that sounds a bit like your mom, then why not treat her to a home spa experience this Mother's Day?
This DIY Spa in a box by Brit & Co guides you through how to make a selection of beautifully presented homemade scrubs, masks and facemasks. Everything can be made with common household items, and only takes a little prep work to complete.
Clear your mom's diary, light some candles, and treat her to a well deserved pamper night just for her. She'll love you for it!
If you feel like getting crafty this Mother's Day, then look no further as we've found the cutest handmade gift. This pounded flower tote, as seen on DIY candy, is so pretty and looks like a ton of fun to make.
To create the flower tote, start by preparing a cotton bag for the natural dyes. You do this by soaking it in an alum powder solution. Then simply get some bright colored flowers, tape them down, and hammer until the dye transfers onto the bag.  When you are done, let everything dry, then put another piece of parchment paper on top of the bag. Finally, iron over your design to stop them from fading. You could even play around with creating messages with the flower dyes. Have fun with this one – we can't wait to try ourselves!
10. First Mother´s Day Frame
Are you looking for a gift for a new mom? In which case, this frame for someone's first mother's day could be just what you're looking for.
Personalised with a baby's birth date and a cute little polaroid picture, this frame is a thoughtful keepsake that is guaranteed to raise a smile. Time passes so quickly when you are a mom, and this memento is a wonderful way of documenting the beginning of a journey through motherhood.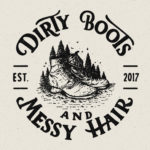 Written by:
Dirty Boots & Messy Hair Team
Connection is what it's all about. Feel free to reach out to us with any comments or questions you might have, even if it's only to say hello. If it wasn't for our beautiful community, this place just wouldn't feel the same.