We are so stoked to bring you another weekly crush feature! We love being able to celebrate the amazing artists within this community.  This week, we are crushing on Ash Powell who is a wedding photographer based out of the UK! Ash has an incredible way of capturing true emotion in her images and hitting her audience right in the feels with her art. Take a look at what she has to say below!
I'm Ash! I am a Wedding photographer based in Cornwall, UK. I am originally from Canada but moved across the pond after I fell in love with a Brit who is also a wedding photographer!  I love to photograph places and people in love. I have always had a deep love for landscapes and nature, so I enjoy incorporating them into my wedding photography.  When I am not photographing love stories, I make sure to enjoy my personal interests such as horseback riding, hiking and reading.  I enjoy a plant-based diet, a good movie and spontaneous road trips.
What are three words your friends would use to describe you?
hard working, intuitive and organized
If you could only take one lens with you on a desert island, which lens would you take?
Would have to be my Canon 35mm 1.4, I love the perspective, and its versatility.
Social media: love it? hate it? love to hate it?
It's certainly not my favorite thing!  It's been very useful in connecting with clients and I have met a lot of amazing people through social media platforms, but I find it's really easy to spend too much time focusing on what is essentially a highlight reel of everyone's lives.  I call it a compare and despair trap! It has and can create unhealthy thinking. I love disconnecting, and being present, getting outside, enjoying the moments as they are happening. I like this saying, "When the phone had a wire, we were all free" And it's something that has really resonated with me. I tend to only really use it for business, and Game of Throne Memes.
What was the most helpful thing you did starting out that you still reap the benefit from now?
Listening to good advice from people who know what they are doing. Connect with successful people, people who inspire you. I had a great mentor when I first started my journey into wedding photography and the things I have learned have stuck with me to this day and have really helped me.
And what's one thing you think photographers looking to grow their businesses should invest in?
Education. I think people make the mistake of thinking they need the best lenses or the most expensive gear to be successful. When what's the point of all that if you don't know composition, how to interact with clients, or even run a business? Workshops are so invaluable in this regard. Workshops not only allow you to cultivate meaningful relationships and knowledge, but they give you a space to create, ask questions and learn to find a voice of your own. Don't put the cart before the horse.
What do you wish you had known when you were starting out?
To stop marketing myself towards other photographers, instead of clients. We innately want to be accepted by our peers, so we start to post the trends, or what we think they will like, because to be honest, we all follow each other, so a lot of our likes are coming from those peers. It's easy to lose your own voice when you are paying too much attention to what other photographers are doing. Another thing I wish I had learned when starting out, was to arrive to a wedding or a shoot and think of it as a blank canvas. Having no expectations of what you think is going to happen or what you may have planned. You need to leave room for the unexpected. Sometimes things don't always go to plan, and sometimes, they are much better than you could have imagined. Just go with the flow and let all the rest fall into place!
What do you see as the role of a wedding photographer? To be an artist that captures the day as they see it? Or are you there to serve the client and his/her expectations? Or is there a balance, and if so, what ought it look like?
I definitely think it's a blend.  How you capture the day and the way you see it; I think is why the client hires you to begin with. But it's also a partnership. I work best when I connect with my couples. Fostering a great connection leads to trust. It's such a great feeling when your clients 100% trust you and allow you to have creative input, from lighting, to even just helping with the timeline of the day. So, it's important for me to get to know them ahead of time. I do this so I capture their story in honest and conscientious way. When you understand your couples, their vision and the important aspects of their story, you naturally serve their expectations, because you have a deep understanding of each other.
What would you like to see change in the wedding industry?
There are certainly a few things because it's an ever-changing industry it seems, but I think I would like to see the self-serving behavior that sometimes rears its head from time to time.  It always is, and always should be about the clients. Whether it's booking too many destination weddings in too little days or cancelling a wedding because something "better" came along. it happens far too often and it's such selfish behavior I can never seem to wrap my head around. We should be focusing on being the best versions of ourselves for our clients and let's not forget they chose us to spend those intimate moments with, and to share in such an important part of their lives and that's so awesome, so we should never take that for granted.
 How do you achieve work life balance? What does self-care look like for you?
It can be tricky sometimes, to just not get sucked into the laptop and begin working on things when you should take a break. Getting a solid workflow certainly helps. I try to set up a timeline of when I want to get things done, to allow myself the time off as I need it. I couldn't think of anything worse than being backlogged, so I know if can maintain an effective and efficient workflow, I'll be giving myself time for me. It's also important for me to step away from wedding photography. Especially when my partner is also a wedding photographer, it's easy to never "leave the office" in relationships where you both do the same line of work. So, we consciously make the effort to step away from talking about it all the time, so our relationship is about more than just the work.  Self-care comes in the form spending time with my partner, being outside, reading a good book, exercising, or even working on other creative interests, such as painting, cross stitching ( yes… cross stitching) or taking a little road trip down the coast to photograph some personal work.
Major thanks to Ash for taking the time to share her thoughts with us! To see more of her incredible work, be sure to follow her on the gram!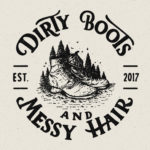 Written by:
Dirty Boots & Messy Hair Team
Connection is what it's all about. Feel free to reach out to us with any comments or questions you might have, even if it's only to say hello. If it wasn't for our beautiful community, this place just wouldn't feel the same.
Photographer Tips
19 Jun 2019