Right from the start, we have to warn you: this is not a piece about photography. This might seem strange as advice for professional photographers, but one of the most important elements of a successful photography business doesn't actually have anything to do with photography itself at all!
Becoming trusted, respected and even liked by your clients is a vital part of growing and maintaining your business and – dare we say it – often is more important than your skills in taking photographs! If you don't find a way to build amazing relationships, you'll likely miss out on those killer emotive shots – the ones that make people stop in their tracks.
That's why focusing on your client relationships can have a huge impact on your work as a professional photographer. Word of mouth is important in this business, and satisfied customer are a huge part of any photographer's marketing strategy. No less important are the relationships you build with other people in your field – fellow photographers, wedding vendors, event planners and so on.
Building amazing relationships with your photography clients can be a tricky thing to master. We have a few key pointers that will give you a head start!
We've all got our own version of an ideal client. One of the most important elements of communicating effectively with them is knowing who you want to talk to, and how you are going to go about it.
The best way to deal with this is to set out a list of who you want to get to know better over the next 12 months. Identify 50 key relationships – previous and potential clients, other photographers, vendors, event planners etc – and ensure that you begin a conversation with each one.
For example, let's say you want to connect with a particular type of prospective client via Instagram. Before launching into it, take a moment to really think about what that client is like: their tastes, their humor, their goals. Be authentic but keep them in mind when you respond to them or reach out.
In marketing, this is often referred to as a buyer persona. We're a big fan of this guide by Hootesuite on how to create your own buyer personas from scratch.
You also need to decide how best to approach your potential clients. Working out the best method of building your relationship will obviously vary from client to client but will also depend on your own skill set.
This might mean face-to-face lunches or coffee meetings might be the best approach, or networking at local events, conferences or industry shows may work better. You'll need to research your contact list and make a judgement on how best to develop a relationship with each one.
Communication and follow-up
Word of mouth can be a powerful tool in the photography business, and the more personal recommendations you can get from happy customers, the newer business you'll attract.
So, it goes without saying that your work will be high quality. But make sure that you communicate with your clients clearly, regularly and amicably throughout the job. People appreciate good communication, and a little effort can go a long way towards giving people a good feeling about you and your work.
Always follow up after a job, to make sure your clients are satisfied, to show you care beyond the scope of the project, and to keep yourself in their thoughts should someone they know need similar work doing in the future.
If you're struggling a bit on this point, here's a simple guide to nailing email etiquette as a wedding photographer.
One thing to bear in mind is reciprocal relationships take time. A great way to spoil a good relationship before it has even begun is to demand something in return for any favors or good deeds you might be asked for or offer. However, a quick way to get in someone's good books right from the start is to give something without expecting anything in return.
If you can offer help or advice, or add value in any way, do. Or you might even consider gifting your clients a wedding guide to help them with their planning process.
Trust us, a little generosity goes a long way towards developing lasting relationships!
Every client wants to feel like they are special and important to you.
Each job you do will be different, even if only in some very small way. As such, adding just a touch of personality and uniqueness into your communications with your clients (heck, with everyone) will be hugely helpful in making people feel valued and appreciated.
Template emails, impersonal responses or (yikes!) forgetting people's names, will turn clients off super quickly. That's why keeping your communication bespoke and focusing on making everything just a touch more personal will really pay off.
Giving people a sense that you have taken time over your messages will earn you goodwill and help keep a relationship productive and rewarding.
We mentioned your high-quality work earlier, but it is perhaps worth reiterating. Ultimately, you will be judged on your photography, so always make it your best work! You can also rig the game a little, by setting reasonable expectations, then going above and beyond to provide amazing, exceptional results.
Little touches at the end of jobs, or small added-value features that just give it a bit of extra glitz can make your work seem exceptional and leave an excellent impression. For example, maybe you can gift a free image or two along with the final edits. Or you could put together a small gallery of the most emotional moments at the wedding, for example, or provide black and white versions of some of the best portrait shots. Once again, a little effort goes a long way.
Building relationships as a professional photographer can take time, but in the long run it's unbelievably worthwhile. Seek out new people to contact, nurture your existing networks, and your business will only benefit.
And remember, sometimes it's ok to say no to a prospective client if it's simply not working. Here's how to do so with professional poise.
If you are interested in a little advice on the more complicated side of photographer-client relationships, why not check out this piece on how to say 'no' to a prospective client?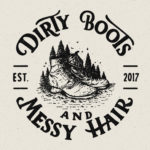 Written by:
Dirty Boots & Messy Hair Team
Connection is what it's all about. Feel free to reach out to us with any comments or questions you might have, even if it's only to say hello. If it wasn't for our beautiful community, this place just wouldn't feel the same.
Photographer Tips
17 Jun 2019