If you became a wedding photographer because you love people and the stories they have to tell, then it doesn't get better than shooting an elopement. As a photographer at an elopement, you are perhaps the only other person in the world who will witness the union of those two people, committing to a lifetime together. That makes it not only a pretty special privilege, but also a huge responsibility.
Far too many photographers approach shooting an elopement in the way they would any other wedding. That's a big mistake, both for you and the couple. To give an elopement shoot the justice it deserves, elopements require a different mindset and approach. In this article we'll walk you through the DBMH top tips for shooting an elopement like a pro.
1. Really get to know your couple
Whilst it's important for any wedding photographer to get to know each couple on a personal level, this is even more so the case when shooting elopements. These are the most intimate kinds of shoots. Your couple have chosen to share their day with only one other pair of eyes in the world: yours. It's therefore so important that you put in the work beforehand to make sure you're totally at ease with one another on the day. 
Spend time on several visits or Skype calls with your couple. Get to know their likes, their dislikes, how they met, what makes them tick. Unearth some cute anecdotes you can bring up on the day to make them smile, and really get to the heart of what they want from the day. When the big day arrives, you should feel more like you're hanging out with friends you really care for, rather than working on a project to pay the bills. 
With so few people around at an elopement, it can be easy for the photographer to be too obviously present. This will only make your couple stiff and less natural in their shots, which will affect the overall quality of your work. The more you can put your couple at ease by really getting to know them beforehand, the more beautiful and authentic your final images will be. 
One of the best things about an elopement is that there is usually no agenda for you to stick to. Often, the couple will have total flexibility of where they want to be and when. This is a dream scenario for you as a photographer, as you'll be able to be impulsive and flexible with what you shoot, when and how. 
Get a clear idea from your couples about their plans for the day. If it's possible, then design your shoot times around when the lighting is at is most dreamy and romantic in wherever your elopement destination is. 
Shooting in the desert? Wait until the sun begins to set and transforms the landscape into a mesmerising golden hue.  Shooting in a forest? Get out early when the first light hits the morning dew. Think creatively about what will work best for your couple and their elopement spot, and you'll be rewarded with the most amazing shoot!
3. Seek out the perfect spot
Elopements are a wild adventure. With literally the whole world to chose from to say your vows, elopement destinations are usually pretty spectacular. We've featured elopements that have been a glorious, relaxed adventure from start to end. Ones where the couple have been totally at ease to work with their photographer on the day to find the perfect spot for their shoot. 
If you're shooting a wild wedding, then approach the whole thing with an adventurous spirit. Nature will provide you with the perfect playground, it's down to you then to explore and get creative. Take your time to find the perfect location to capture the experience and give yourself the freedom to explore what feels right on the day. 
Embrace the free-spirited nature of an elopement, and work with your couple to seek out the perfect spot for your shoot.
Whilst there are definitely technical aspects to elopement shoots, there is no substitute for a photographer who can work with composition to tell a story. You could be the most technically capable photographer in the world, but without a beautifully composed series of images to work with, you're stuffed.
Understanding composition takes time and practice. So it's definitely worth putting in the effort to develop your visual storytelling skills if it's not something that comes naturally to you. Grab your camera and head out to do as many different types of shoots as possible to play around with composition. Think about how they all fit together to tell a complete story, of love and life together. Whilst this is also important for normal wedding photography, it's even more so the case when there are only ever two people in the shot. 
Be mindful to shoot what we like to call 'the moments in between.' Its not only about capturing your couple posing in front of a great location. The smaller moments and details matter, perhaps even more than the posed shots. Those subtle moments and emotions are the ones your couple will want to remember for a lifetime.
Study and practice as much as you can before heading into an elopement shoot. Eventually spotting perfect image series that compliment your style will become second nature.
We can't say this strongly enough…whatever you do: make sure you have enough batteries and memory cards on the day! 
Your couple are totally relying on you to capture their day. There will be no other cameras on the sidelines to photograph the things you miss, so you need to make sure you can last the whole day. There is honestly no excuse for not preparing the equipment you need to make sure this happens. 
If in doubt, then take more than you need. Be over-prepared in case the weather or your adventuring affects any of your equipment. Your couple won't care that it wasn't your fault that you lost your only spare battery when you hiked over a mountain, all they'll care about is that they'll have no reminder of the day. 
6. Have the right equipment
This sort of goes without saying, but make sure you're prepared for the adventure of an elopement. You don't want to be faced with a beautiful shot but then realise you don't have the lens you need to capture it perfectly. 
Do as many shoots as possible in different settings and lightings before the big day. Get to know your equipment intimately, as well as how to change between your gear as quickly as possible. When you are in full swing at the elopement shoot, you should have absolute confidence in how to use your camera, and how to edit the images during your post-processing to do the day justice. 
Above all, remember to enjoy every single moment of your elopement shoot. It's truly one of the most wonderful experiences for any photographer interested in capturing the intimate nuances of love and life. 
We can't wait to see what you produce. Don't forget to tag @dirtybootsandmessyhair on Instagram for a chance to be featured!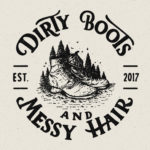 Written by:
Dirty Boots & Messy Hair Team
Connection is what it's all about. Feel free to reach out to us with any comments or questions you might have, even if it's only to say hello. If it wasn't for our beautiful community, this place just wouldn't feel the same.
Wedding Planning
05 Jul 2018