How many times have you heard a bride or groom say: "Our wedding day went so fast – I wish we could do it all over again"?
Chances are many, many times.
And that's because — despite the months, if not years, of planning — the wedding hours from dawn 'til dark go by in a heartbeat. With everything going by so fast, it can be a struggle to really commit the most important parts to memory.
In fact, you'd be surprised about what you will actually remember after your wedding day.
Your grandma tearing up the dance floor with the groomsmen? That's a recollection you wanna hold onto for the rest of your life.  But the fact you found serviette rings which exactly matched the glassware? Or that you almost broke the bank buying the best wedding favors for your guests?
Trust us when we say: these things — however significant they feel to you now — won't matter one iota by the time you first wake up as newlyweds.
If you're in the midst of planning panic, this can be difficult to believe. So, if you won't take it from us, maybe you'll listen to the following words of wisdom from a recently married bride. Our contributor, Dani, just got married in Italy and has some (perhaps surprising) post-wedding learnings to share.
Over to you, Dani…
First Things First: Stay Calm
Personally, I wasn't really stressed at all in the lead up to my wedding day.
Everyone kept asking if I'd had any 'Bridezilla' moments and I could honestly say that I hadn't.
My partner and I had been so methodical and thorough with our wedding planning — here's to you Post It notes! — that I wasn't really worried.
But, seriously: there's no amount of planning you can do to prepare you for how you'll feel on the day. When the morning of my wedding ceremony came around, all at once I felt overwhelmed.
Suddenly everything felt like it was happening all at once. Things were going a bit off plan. Worst of all: We were in Italy. It was hot. I was getting more flushed by the minute.
That's why my first piece of advice for any soon-to-be brides and grooms is: stay calm.
You want to look back at your wedding experience — from proposal, to planning, to party — and remember feeling happy. So, whenever you can, wherever in the wedding process you are, try to take a step back and ask yourself: Is this worth stressing over?
Sure, sometimes there are fires that need fighting. But you'll be much more ready to tackle sudden challenges if you can remain calm and collected.
Another great way to do this is by surrounding yourself with the best possible bridal party.
My Maid of Honor was one of my oldest friends, I knew I could trust her to keep me on track. She was my compass throughout the whole experience — guiding me towards the matters that needed my attention and letting go of the things that were nothing more than unnecessary details.
Because, as I've learnt, what you'll really remember from your wedding day is how you felt.
I can laugh now about my pre-ceremony flip out, because I know it came from wanting the perfect wedding.
That's the problem with destination weddings – when you tell your guests you want to marry abroad; they suddenly have to spend time and money to be with you… so you really feel the pressure to make the day 110% amazing.
I can post-rationalize it now. But it also would have been great to have nipped my panic in the bud before it made me red in the face!
Try to Forgive Minor Shortcomings
With something as high stakes as a wedding day, it's almost impossible for everything to exceed, or even live up to, your expectations.
So, when things go a little awry — and they will — try to let it pass you by.
Before our destination wedding in Tuscany, we had a civil ceremony back in the UK. And, whilst in my head this wasn't "the real wedding", I still wanted everything to be perfect.
… but it wasn't. In fact, it went hilariously wrong. The registrar really stumbled over both our names; eventually, she just stopped trying to say them at all.
I had a choice, in that moment, to either get frustrated or laugh.
And I chose to laugh.
Because, even though this isn't the level of professionalism you'd expect or hope for, it really didn't change anything. (Our marriage certificate says the right names, don't worry!).
Which leads me into my next pearl of wisdom: try to forgive minor shortcomings.
If you have a priest, vicar, celebrant, registrar or other officiant who gets your name wrong — so what? Maybe your bouquets turn up in the morning and aren't exactly what you'd ordered with the florist.
Or you arrive at your reception venue, to find the staff have forgotten to lay out some table decorations.
Trust me: you won't necessarily remember that these hiccups took place. But you will remember how you chose to react.
If I'd chosen to be frustrated by the registrar, that may have dragged a dark cloud over the legal ceremony as a whole.
Remember, you may not be in control of other people's mistakes. But you are in control of your response to them.
Avoid Big Stresses by Being That Little Bit More Organized
That being said, you can take steps to expect the unexpected.
For one: ladies, please try on your underwear with your dress before the day of your wedding.
I did not. And I had major VSL (visible Spanx line).
Aside from that, what can you do to make sure you've crossed as many Ts and dotted as many Is as possible?
For example, I'd always recommend one of you doing a quick sweep of the table plan, just to make sure everyone is sat where they are supposed to be, before your guests enter the reception venue.
Think About How Long You'll Need to Get Ready… Then Add an Hour
Another "this happened to me" story…
Even if you're going for a super laidback look for your wedding, getting ready will take you much longer than you thought. Not necessarily because you're obsessing over getting the perfect wing on your eyeliner (although that probably will happen)… but because you're having fun!
Once you pop the champagne and start enjoying the experience of getting ready with your bridal party, time will go quicker than you planned. And that's the sort of wedding memories you want to cherish — laughs with your girlfriends, spontaneous toasts with your groomsmen.
So, allow yourself the time for these memories to be made.
Yes, Your Wedding Dress Will Be Dirty – Don't Worry About It!
Okay, so yes: it's important to feel, and look, your best for the wedding photos.
When the time comes to sit and look back over your printed wedding album, you want to remember how amazing you felt in that moment. How authentic your big, beaming smile was. And how you felt like you were walking on cloud nine.
But, once the professional photos are out of the way, I'd really recommend you simply accept that your wedding dress is going to get dirty.
If your best friend accidentally bumps into you with a glass of red wine — how will you react?
Hopefully, you'd be able to laugh it off.
Because even if you plan to keep your wedding dress hanging in the wardrobe forever, there's little that a good dry clean won't sort out.
On the other hand, if you spend the rest of your reception and wedding party dodging potential dirt stains, you'll never really let go and have fun.
Me? I jumped in the swimming pool with my evening dress on.
Whilst I'm not saying you need to do that… I had the most fun drinking, dancing and laughing all night with my wedding guests, fully clothed and carefree in the swimming pool.
Those memories are what I will remember from my wedding day.
At the End of The Day, You Should Be Having Fun!
The morning after our wedding day, everyone kept saying: "Last night was sooo funnnnn".
And I have to agree! My wedding day was probably the most fun day of my life, so far.
So, when I look back with fondness at my wedding day, I won't remember the clumsy registrar, or my red, puffy face covered in makeup.
I'll remember the laughs. And the love. I reckon my guests will remember the same.
So, that's what you should always come back to, during the lead up to your wedding and throughout the day.
If you're not having fun. Stop. And start living the best possible version of your wedding day.
Enjoy!
For more tips on a stress-free wedding day, check out DB&MH's article 'Essential questions to ask yourself upfront to make your wedding planning a breeze'.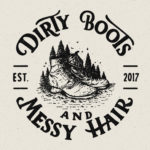 Written by:
Dirty Boots & Messy Hair Team
Connection is what it's all about. Feel free to reach out to us with any comments or questions you might have, even if it's only to say hello. If it wasn't for our beautiful community, this place just wouldn't feel the same.
Wedding Planning
14 Nov 2019