These days no wedding is complete without a wedding website. Thanks to the many tools cropping up online, it's never been easier to keep your guests organized and up-to-date on your wedding plans. Best of all, by capturing all of your wedding info essentials online, you can free up your time to focus on the day itself. 
Sounds simple – but what exactly should you include on a wedding website? In this article, we guide you through the key things you need to put on your website to create a killer online wedding tool.
Above all, your guests are going to need to know exactly when and where your reception will be. So make this information front and centre of your wedding website. 
Include high level details such as the venue name, the kind of venue it is – i.e. is it a fancy castle? Or a relaxed outdoor event? Also try to include some of the more intricate details such as whether your guests will need to travel between the ceremony and reception, and whether there's parking on site. 
Most guests will need to organize accommodation for your wedding, so be sure to include any relevant information on this topic. If you're booking a hotel upfront for guests to use, let guests know how to go about reserving one of the available rooms (as well as the cost, and deadline to sign up).  Your guests will also find it helpful if you include some tips and tricks of things to do in the local area so that they can entertain themselves during their downtime.
If you're having an overseas wedding, don't forget to include the nearest airport, and the best way to get around. Will your guests need to hire a car? Should they organise train tickets ahead of time? All of these small details will really help to make sure your guests have the smoothest experience in the run up to your big day.
Most guests really appreciate having a run down of what to expect from your wedding. Thankfully, your wedding website is the perfect place to let them know! 
Depending on how long your wedding will be, give an hourly or daily breakdown of the schedule, including when things kick off, when the ceremony will be and when the day will wind down. Most wedding website builders have scheduling features so that you can easily update your schedule in the run up to the day.
Your guests will undoubtedly want to treat you to a wedding gift. Help them to pick the perfect thing by setting up a wedding registry. No matter whether you would like physical goods, a donation to a charity, or contributions towards your honeymoon, your wedding website is the perfect place to let your guests know what you would most appreciate. Though it may feel a little awkward to ask for specific gifts, your guests will certainly be thankful for some pointers to make sure they buy you something you'll love.
You'll want to know well ahead of time exactly who is going to show on the day. So be sure to include all relevant RSVP details on your wedding website. 
Many wedding websites have built-in RSVP features that allow guests to sign up directly through the site. However, if you prefer, you can simply set up a dedicated inbox for your invitees to confirm their attendance. 
It also helps to clearly show any other contact details you want guests to have, for example, a phone number for you or your wedding planner. This will give them the chance to run through any questions or concerns they have ahead of the day.
If you're having a wedding with guests who may not necessarily know how you guys got together, then your website is the perfect place to tell a little love story. 
How did you meet? Where did your romance begin? And what do you imagine for the future together? Adding small snippets that help your guests truly connect with the magical journey you're about to embark on will bring them even closer to you on the day.
Any other  'need to knows'
Depending on the kind of wedding you're going for, use your wedding website as a space to let your guests know anything that will affect their day. 
One of the big things to cover off is the dress code. If your guests have to hike to get to your ceremony spot, make sure they know to bring appropriate footwear. If you're planning a wedding by a lake, let your guests know to bring swimwear in case you decide to have a celebratory dip. Or quite simply if you would like all of your guests to be in a certain color or level of formality, then be sure to tell them clearly on your wedding site. There's nothing worse than when your guests feel underprepared or inadequately dressed for your day, so make sure they know all the essentials well ahead of time.
Above all, remember that your wedding website is simply a tool to help your guests have the best possible time at your wedding. There's no need to overthink or overcomplicate it. Make it easy to use, easy to read, and then simply enjoy it!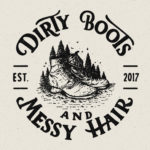 Written by:
Dirty Boots & Messy Hair Team
Connection is what it's all about. Feel free to reach out to us with any comments or questions you might have, even if it's only to say hello. If it wasn't for our beautiful community, this place just wouldn't feel the same.
Wedding Planning
29 Sep 2018