Okay, okay, we know what you're thinking…
How can you say that clients don't care about a photographer's images?
But hold up — we aren't saying they don't care. Honestly!
More that they don't make their final decision as to which wedding photographer to book based on images alone.
In fact, lots of other factors come into play. And if you want to grow your wedding photography business, this is the sort of stuff you need to know.
So, what do wedding photographers need to do to make sure they clinch those much-needed clients?
We touched base with a recent newlywed (one of our writers, Dani!), to find out…
Online Portfolios Are Important, But You Need Stellar Supporting Website Copy Too
As our beaming new bride confirmed, images displayed in online portfolios and on social media feeds are super important when you're in the initial browsing phase.
Your online portfolio absolutely helps them understand the various wedding photography styles they have to choose from.
But after that — once an engaged couple has already narrowed down their potential photographer pool — they use a lot more than recent wedding shoot images to make their choice.
To stand the best chance of making a shortlist of photographers, you need to make sure your website makes clear: who you are as a photographer; what you'll deliver in terms of value; what previous clients have thought about working with you; and why a soon-to-be-wed couple would be mad not to book you in for their happy day.
And it's through your website's 'About me' page you can start to tell this story.
Think of this website copy as your initial verbal pitch — what would you be saying to a new client, if you were looking to sell your services?
Is there a particular photography niche you work in?
Do you have any unique specialisms which may appeal?
Once you've given a little background to who you are as a photographer — and as a human being! — then you should also link to some recent client testimonials.
Reviews and testimonials carry real influence and persuasion, thanks to a little behavioral theory called "social proof".
Put simply: a client will feel much better about getting in touch, if they know other couples have had a positive experience of your work.
(Psst: if you're only just starting out as a wedding photographer, try to get a few gigs as a second shooter and ask permission to share the reviews on your own site.)
Think of it this way, you'd probably think twice about staying in an Airbnb which has no customer reviews or hopping inside an Uber aside someone with no driver rating.
And that's just short-term accommodation and a ride across town — for them, this is (possibly) the most important day of their lives!
And that's exactly why you need to treat every client lead with utmost care and respect, if you want to win them over…
If You Want to Show You Care… Pick Up the Phone!
For Dani, her big deciding moment happened at the point of first human-to-human contact.
She and her husband knew right away which wedding photographer they'd book in — Patrick Phillips, if you wanna know — as soon as he picked up the phone to call them.
Yes, the style he exhibited on his website was what they were looking for. And yes, they liked what they saw in terms of bio and client testimonials.
But it was in their first initial call that the magic happened.
So, what did they get from this telephone call, which they didn't get from the other potential photographers in their list?
Butterflies!
As soon as the conversation started flowing, the couple felt so energized and enthused. They had those bottom-of-the-tummy jitters; the excitement you get when you're about to do something really great.
Now, there's no magic formula for making your clients feel this way.
But one thing is for sure: if you never pick up the phone and call, they'll never feel that feeling.
Then, once the initial excitement had come and gone, this particular wedding photographer went above and beyond to show he was the one for them…
The Best Wedding Photographers Are Open to The Couple's Creative Input, And They Make That Clear
Not all engaged couples are creative types — it just so happens that Dani is, and so for her it was especially important that their photographer showed he was open to their ideas.
Nevertheless, there's always a time and place for a wedding photographer to take on a client's input.
"What do you think about…" is one of the best questions a couples can ask their wedding photographer. So, make sure you're well versed in giving your honest — but helpful — opinion, and offer alternatives to ideas which you don't think will work! In Dani's case, this approach ended up in some amazing shots on a Vespa they found around the corner from their wedding venue
After all, a photographer who is only interested in doing things their way is never going to make their clients feel like the center of attention.
But that's exactly how we want them to feel.
We cannot stress this enough: a couple's wedding day is so, so special to them.
For you, it may just be another day in the office. But for them, they are planning the happiest day of their life so far!
So, to be able to help them make that dream vision come to life, you need to be willing to listen — and respond — to their input.
… But Great Wedding Photographers Also Bring Exciting Ideas to The Table
Let's face it: no one wants to feel their wedding day is cookie-cutter.
Even if a lot of similar elements are there — a white or cream dress, a big bouquet of flowers, dashing men in suits — each and every wedding is personal and unique to the couple saying, "I do".
And so, it's also your role as a wedding photographer to suggest added touches and little flairs to make their wedding day look the best it possibly can.
Remember: you've been too far more weddings than they have (probably!). So, if they are short on ideas for perfect bridesmaid "thank you" gifts, or meaningful father-daughter dance songs… you may be well placed to help them out!
The Happy Couple Need to Know They Can Trust You: That's the Most Important Thing
Whatever you do, and however you play it, there's one absolutely vital thing you need to do: develop and nurture trust from the start.
It's no small thing to be invited to share in a couple's wedding day, is it?
And as our lovely bride told us: the best way to do this is by building a relationship, all the way from Day 1.
Whether you're sending a follow up email, discussing lighting ideas, sorting out logistics, or posting your final invoice — you need the trust to be there.
And nail that trust from the first moment their enquiry drops into your inbox, then you're onto a winner!
You Can Do It – Go Ahead and Win Those Clients!
So now you know.
Yes, your images are important, but they are really just one part of a much bigger picture.
If your ambition is to make your wedding photography business grow, then following these tips and tricks now and into the future.
And if you're looking for other ways to keep your clients happy, then check out our guide, "5 Steps For Building Amazing Relationships With Your Photography Clients".
That's all for now — so go get 'em!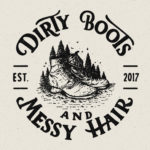 Written by:
Dirty Boots & Messy Hair Team
Connection is what it's all about. Feel free to reach out to us with any comments or questions you might have, even if it's only to say hello. If it wasn't for our beautiful community, this place just wouldn't feel the same.
Photographer Tips
28 Oct 2019