The lady behind the lens, Chelsea Gould, has an exquisite eye for – yep, you guessed it – light. It's not hard to see why people love this talented photographer so much. Her images are literally illuminated with sunshine, happiness and bright, warm tones that make love feel like an endless summer.
Hey Chelsea, where are you sitting as you are writing this right now? How's your day going? How are you feeling?
Currently at a cute coffee shop near my house where I go to work when I get a little stir crazy at home! It's totally a pro/con situation of working from home – it can get lonely all by yourself all day but it's also nice to have the freedom to take my laptop and get out to somewhere with good coffee and cute atmosphere! I feel really blessed and am thankful for the schedule flexibility that comes with the job.
To those that might not know you just yet, please introduce yourself – Who are you? Cat or dog person? What's your photography style?
I'm an animal person in general but I have two rescue cats that I'm obsessed with, so I guess that makes me a crazy cat mom at the moment. 🙂  My hottie british husband and I live in South Florida in the house we just bought, #adulting, which I'm having way too much fun decorating.  We have been together 8 years and he's my best friend.   My photography style can be described as warm, bright and happy!  I'm all for the warm tones, contrasty pops of color and happy, feel good, candid moments.  On weekends when I'm not weddingining you can find me wining and dining, traveling, going to concerts or lets be real – probably just on my couch in yoga pants a lot of the time too.
What role does Instagram play for you as a photographer? Is it important for your business?
Instagram has been such a game changer!  I like to think of it as an extension of my website and portfolio, and therefore my brand as well – and because its so accessible with such a wide reach, I pay a lot of attention to posting and work really hard to stay consistent with a true brand identity and voice.  It's a really easy way for people to connect to you and feel like they know you, so I like to take advantage of that and use it to it's full potential!  I also love having a bunch of insta friends that I haven't met yet!  It's a cool era to be a part of for sure.
Can you show us 1 or 2 photographs that are particularly meaningful to you and share the story behind them?
I took this shot of my grandfather almost 5 years ago. It's not particularly creative, or edited with the newest style presets, it's not staged, he didn't even know I was taking it – but it's so him.  From the crossed legs to the furrowed brow to the book choice, even down to that chair he's sitting in. 
This was taken right before he got sick, and since his passing it's my favorite photo of him.  The chair he's sitting in is now at my house with this photo printed on the wall above it.  It makes me feel close to him, and reminds me of how important our jobs as photographers are with freezing time and making moments into memories.
If you had to pick just one thing, what do you love most about being a wedding photographer?
I'd have to say witnessing all the emotions and connections between loved ones is my favorite thing about what I do.  It's really cool to be able to observe love and document it in my own creative way, almost like translating other peoples moments into my own interpretation of them.  It's a really unique job and responsibility and I'm so grateful for it!
What's the biggest challenge you've faced that you could have a helpful lesson for other photographers?
My biggest challenge has been the business side of things.  I'm a true creative right brainer and the business, numbers, taxes finances etc. side definitely is the challenge for me.  My lesson has been to outsource for these things and not try to do it all.  Embrace what you're good at and pay someone else to do what you're not good at!  My CPA is the best and I'm forever grateful for him.
Who or what inspires you?
I find inspiration in SO many ways.  From films and their color grading, to music, to home decorating – honestly, I try to find it from any way OTHER than comparing myself to other photographers.  That shit is toxic.
What are your dreams for the future of your career?
I would love to get into teaching and host a workshop someday soon!  I don't see myself being a wedding photographer forever-ever, but I really do love the industry so it would be really cool to own a venue one day too.  Lots of ideas, not enough time!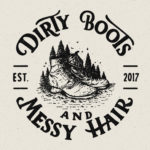 Written by:
Dirty Boots & Messy Hair Team
Connection is what it's all about. Feel free to reach out to us with any comments or questions you might have, even if it's only to say hello. If it wasn't for our beautiful community, this place just wouldn't feel the same.
Photographer Tips
30 Oct 2018