Online dating profiles are super hard to construct. But here are a few ways you can optimize your dating profile – so that future Mr/Mrs Right can figure you out!
Like it or not, online dating is a major part of finding a partner in the 21st century. And there are some really amazing true love stories coming from Tinder, Bumble, OkCupid, eHarmony… and all the other digital platforms now promising to match singletons into happy relationships.
Just remember: If they can do it, so can you!
But the fact you're reading this means something isn't working for you yet.
Have you had a string of first dates? Or just can't seem to match with the right person?
Honestly, it's got nothing to do with you — you are great!
However, it might be your online dating profile that isn't quite there yet!
1. Really Work Those Images on Your Dating Profile!
The pictures are what catches our attention when we first click on a profile. You'll know this is true.
So, put in that extra effort if you want to make them stop and stare!
A good selection of photos helps build an image of who you are — what hobbies you have, who you hang out with, the kind of adventures you like to go on.
But you can also really help maintain visual interest by uploading a variety of images: some full body shots, some selfies or close ups of your face.
If you've got eight photos, all kinda exactly the same… well, that's just not showing you off the way you should be!
2. Use Your Bio to Show Your Sense of Humor and Personality
Simply stating your name, age and location isn't going to get much interest.
You've got maybe a couple of seconds with a potential match, to see if you've got anything in common — so use them!
Your online dating bio should portray who you are; what makes you laugh, how you speak, your perspective on the world.
You needn't get too philosophical or heavy! But, a little something to help a swiper work out if they'd like to get to know you better… that's much more attractive than a boring, blank profile bio.
3. If You Don't Know What to Write, Get A Friend to Do It!
Coupled up friends always love to "play" online dating.
Siiiiiiiiigh. They just don't understand the struggle, do they?
Having said that: friends can come in really handy if you're suffering bio writer's block.
A lot of women tend to underplay their best qualities, or struggle to find the words to describe their best features.
We tend to be way too humble to write accurate and attractive profile bios. But our friends have the ability to say it as it is and identify the truly wonderful things about us.  So why not get them to write your bio?
A potential match never needs to know that you didn't write your profile, so don't worry about that. It'll just give you an opportunity to show off who you are and why you're great, summed up in a way you may never have written yourself.
4. Make Sure Your Dating Profile Explains What It Is You're Looking For
Honesty is always the best policy, right? So, if you're looking to meet "the one", then you don't want to be matching with a bunch of guys who are just looking for a good time.
Equally so, if you've just come out a relationship or you're not in the place to get involved in a serious relationship. You don't want to be chatting with other users who are looking for something you're not.
Add in a simple sentence to your bio explaining why you're using online dating and what you want to gain from the experience. It might feel scary to be so upfront, but — seriously — taking the initiative and making the first move can really pay off.
At the very least it will signal to non-like-minded daters to head elsewhere. But it could also bring you exactly the type of person you're looking for…!
5. Linking Out to Instagram or Snapchat Can Give Potential Matches More Background
Now, this one probably comes down to personal preference. Some online daters love the idea of browsing potential partners' social media platforms to find out more about who they are.
Others hate it — and for fair reason. Plenty of women have shared the exhausting experience of having rejected users from dating sites – only to find them popping up in their Insta DMs.
So, it's totally up to you: but if you feel you can't sufficiently explain who you are in just a few pics, linking your online dating profile to your Instagram or Snapchat is definitely an option.
6. Avoid Negativity (Even If You're Feeling Jaded by Your Dating Experience)
There's no two ways about it: positivity attracts positivity.
So even if you feel like you've been single for aaaages, and you're losing your will to keep on dating, don't let that come across in your online dating profile. At best, being negative and bitchy will leave you without any matches at all.
At worst, it might attract others who are also in a bad place. Two of you, both in bad moods…? Doesn't sound like a great date night, if you ask us!
Sure, a pout may look sexy… but if you want to attract matches, you've gotta smile.
And don't just take it from us: actual scientists have crunched the numbers and concluded that smiling faces are more attractive to potential partners.
That being said: if you feel more confident in a pic where you're pulling a sultry expression, a wry smile, or even a modelesque pout then go for it!
But we'd recommend your lead photo is one where you're wearing a big, beaming smile! Remember, There Really Is No Right or Wrong When It Comes to Constructing Your Online Dating Profile.
At the end of the day, you've gotta do what works for you! But, take on just a few of these tips to optimize your dating profile and see how things change. Hopefully you'll be inundated with the right kind of matches, from now on.
Of course, online dating isn't the only way to find love — even in 2019! — it is still possible to meet a new partner without apps. Click here to read our article all about that.
Happy dating!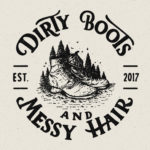 Written by:
Dirty Boots & Messy Hair Team
Connection is what it's all about. Feel free to reach out to us with any comments or questions you might have, even if it's only to say hello. If it wasn't for our beautiful community, this place just wouldn't feel the same.